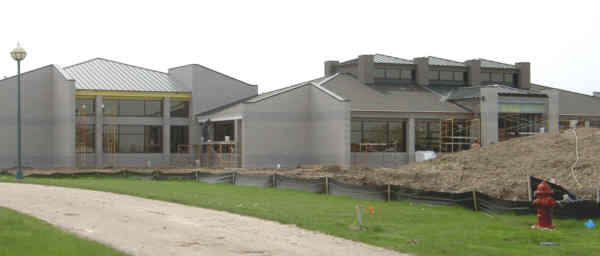 Developments like these buildings for Straits Corp. in Valley Center Technology Park in Monitor Township may proceed for the present but end after a current warehouse project is financed.
---
$12 Million Distribution Center, 200 Jobs, OKd;
Park Expansion May End
After Months of Wrangling, Huge Warehouse Plan Gets Official Green Light
A huge business project in Monitor Township is moving ahead but a "sunset" clause may spell the end of development in Valley Center Technology Park at US-10 and Mackinaw Road in 10 years.
The current opposition of Bay County officials to tax increment financing through Downtown Development Authority legal provisions may impact all local development, including the City of Bay City DDA, Williams and Hampton townships DDA proposals, as well as the Monitor DDA. All DDA tax increment financing plans are subject to approval by the Bay County Commission.
---
--- Advertisements ---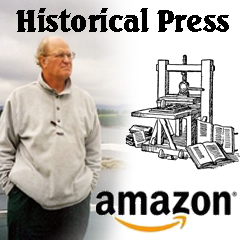 ---
One of the largest buildings in mid-Michigan will be constructed at the intersection of US-10 and Mackinaw Road under terms of a development agreement approved recently by the Bay County Commission and the Monitor Township Board.
Throughout the course of tortuous negotiations, parties have privately cited the county's position of "philosophical opposition" to the DDA tax increment financing program.
That process involves "capturing" property taxes to fund development of park infrastructure to attract businesses, industries and commercial ventures. It has been a highly successful process especially in downtown Bay City and other areas.
Negotiators have included Brian Elder, private attorney in Auburn, County Commission chair and vice president of Bay Future, Inc., public-private economic development agency; Fred Hollister, president/CEO of Bay Future; Bill Bartlett, manager of Straits Corp.; and J. Patrick O'Brien, DDA board member representing owners of 20 business enterprises occupying Valley Center Technology Park.
County Executive Thomas L. Hickner, while one of the main organizers of Bay Future, Inc., is not a board member and has not been involved in the negotiations, he said. Commissioner Elder represents the county on the board of Bay Future, which receives about $75,000 ayear in county funds and $36,000 from the City of Bay City.
---
--- Advertisements ---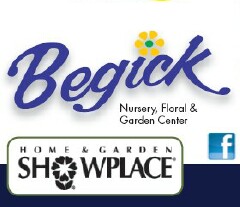 ---
The progress of negotiations that reached the "sunset" were not made public nor disclosed in any news or official statements. The sunset of the Monitor DDA is part of the agreement on the Northern Michigan Land Investment project.
Whether such meetings are subject to open meetings laws and disclosure to the public is a question that could only be determined by an attorney general's opinion or judicial proceedings, sources state.
Apparently the "philosophical" differences between the parties involve needs of the county and township for tax dollars. The opposing side cites the primary need for development to provide industry and jobs which produce economic growth and tax dollars, but often funds do not flow to government for many years.
The classic "what came first the chicken or the egg" dilemma is posed in this discussion. Without tax increment financing, many projects cannot move ahead. The position of some in government is that business can provide the financing for its own projects.
A 200,000 square foot building is planned by Northern Michigan Land Investment LLC, according to attorney Phillip J. Stahle, of Braun Kendrick Finkbeiner P.L.C., Saginaw.
Under the agreement, the county, township and Monitor DDA must perform certain agreed upon obligations for theproject to proceed to the construction phase.
Infrastructure (roads, sewers, drains, detention ponds, and utility ponds will be financed under a $1 million agreement between the Monitor DDA and the developer, according to the agreement.
The DDA will use current reserve funds as well as captured tax dollars and proceeds of sale of DDA property to pay down the debt on the project.
The DDA, headed by Mr. Bartlett, is required to submit an annual budget to the township that includes expenditures in connection with the recent agreement.
Several lots remain for sale in the Valley Center Technology Park at about $25,000 per acre, DDA officials have said. This price is about 10 times cheaper than land costs in Oakland,Macomb or Washtenaw counties in the Detroit area, they note. Utility costs here also are much cheaper and electric power and water, especially, are available in abundant supply.
Provision of the agreement apparently call for an end to the Monitor Township DDA when the present project is completed in 10 years. The agreement states: "Upon full payment of the Acquisition Indebtedness, the County shall take the necessary steps to suspend the DDA and/or take the steps necessary to remove the area described in the current DDA from any future DDA."
.###
---
---

Dave Rogers




Dave Rogers is a former editorial writer for the Bay City Times and a widely read,
respected journalist/writer in and around Bay City.
(Contact Dave Via Email at carraroe@aol.com)

More from Dave Rogers
---
Send This Story to a Friend!
Letter to the editor
Link to this Story
Printer-Friendly Story View
---
--- Advertisments ---