Michiganians Oppose Liberal Immigration Policy, Favor Border Control
Deportation of Illegal Aliens Wins Backing of State Residents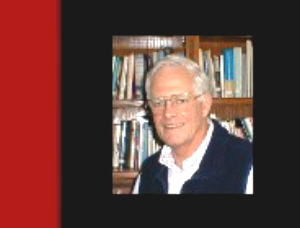 Dr. John Tanton, retired Petoskey ophthalmologist, is co-founder of a nationwide anti-immigration group.
(EDITOR'S NOTE: Following this article on opinions of Michiganians regarding immigration, please see a first person account of an American worker with the Mexican government, providing a real study in contrasts.)
Michigan has more than 500,000 immigrants, making it the 12th ranking state in the nation for foreign-born population.
But most folks here don't seem too happy about illegal aliens in the United States; a recent poll shows Michiganians favor deportation of illegals by a small margin of 43 percent agreeing to 40 percent disagreeing.
About half the state's population growth in recent years has come from immigrants. In some Michigan cities, 20 percent of the population is foreign born.
Immigrants and supporters held rallies earlier this month in Grand Rapids, Kalamazoo and Holland but stopped short of joining a proposed boycott of schools, work and shopping.
Before any talk of immigration rules changes, Michiganians want the government to control U.S. borders, the polls show, 74 percent to 17 percent.
In response to reported abuses, the State Legislature recently adopted laws to protect immigrants from exploitation by so-called "immigration consultants."
"Michigan is a state that owes its very identity to immigrants who come to our cities today to improve their quality of life and economic opportunity," says Gov. Jennifer Granholm.
Historian Arthur Woodford says Detroit has the largest multi-ethnic population of any city in the U.S., the largest Arabic-speaking population outside of the Middle East, the second largest Polish population in America, following Chicago, and the largest U.S. concentration of Belgians, Chaldeans and Maltese.
"Michigan's diversity is her strength, and these new laws will help us better serve those who come to Michigan seeking to better their lives," says Gov. Granholm.
The Bush Administration is urging the Senate to adopt an extensive guest worker amnesty program that reclassifies millions of illegal aliens as "guest workers.
A Michigan man John Tanton, M.D., retired Petoskey ophthalmologist, is a national board member of the Federation for American Immigration Reform (FAIR) that opposes theguest worker amnesty program. Nancy S. Anthony, a Boston survey researcher and social activist, is chairperson of the group.
Dr. Tanton is widely recognized as the leading figure in the anti-immigration and "official English" movements in theUnited States. Tanton in 1979 co founded what has become the most influential anti-immigrant policy institute in the nation: FAIR, whose leaders state:
"This push for a vastly increased guest worker program is being promoted by the U.S. Chamber of Commerce and some in the business community based on the argument America faces a long-term labor shortage and, without access to millions of foreign workers, America's economic growth will be impeded.
"On careful analysis, the claims of an existing or impending labor shortage are misleading and self-serving. Implementation of a new massive, unchecked guest worker amnesty program like the one envisioned by President Bush and some Senate leaders would undermine America's economy and American workers and exacerbate income inequality."
Among FAIR's talking points:The rhetoric of "jobs Americans won't do" and "labor shortages" are myths;
The benefit for a guest worker program goes to big business; the cost is borne by society at large;
A guest worker program will not stop illegal immigration;
A guest worker program is an amnesty;
FAIR estimates there are 70,000 illegal aliens among the nearly 600,000 foreign born in Michigan.
Questions on a recent national poll received the following percentage responses (in brackets) from Michiganians:
1* How closely have you followed news stories about the Congressional debate on immigration legislation...very closely, somewhat closely, not very closely or not at all? (40%)
2* Some people believe that the goal of immigration policy should be to keep out national security threats, criminals, and those who would come here to live offour welfare system. Beyond that, all immigrants would be welcome. Do you agree or disagree with that goal for immigration policy? (57% agree, 31% disagree)
3* Some people say it makes no sense to debate new rules for immigration until we can control our borders and enforce the existing laws. Do you agree or disagree? (74% agree, 17% disagree)
4* There are currently 11 million illegal aliens living in the United States. Most have lived here for more than five years. Should the United States forcibly require all 11 million illegal aliens to leave this country? (43% agree, 40% disagree)
5* Suppose a woman enters the United States as an illegal alien and gives birth to a child in the United States. Should that child automatically become a citizen of the United States? (29% agree, 60% disagree)
Historian Arthur Woodford says Detroit has the largest multi-ethnic population of any city in the United States, the largest Arabic-speaking population outside of the Middle East, the second largest Polish population in America, following Chicago, and the largest U.S. concentration of Belgians, Chaldeans and Maltese.
Following is an e-mail received from an American regarding his experiences with the Mexican government:The following from a director with SW BELL who spent five years working in Mexico.
I worked under a tourist visa for three months and could legally renew it for three more months. After that you were working illegally. I was technically illegal for three weeks waiting on the FM3 approval.
During that six months our Mexican and US Attorneys were working toSecure a permanent work visa called a FM3. It was in addition to my US Passport that I had to show each time I entered and left the country. My wife Barbara's was the same except hers did not permit her to work.
To apply for the FM3 I needed to submit the following notarized originals(not copies) of my: 1. Birth certificates for Barbara and me. 2. Marriage certificate. 3. High school transcripts and proof of graduation. 4. College transcripts for every college I attended and proof ofGraduation. 5. Two letters of recommendation from supervisors I had worked for atLeast one year. 6. A letter from The ST. Louis Chief of Police indicating I had no arrestRecord in the US and no outstanding warrants and was "a citizen in goodStanding." 7. Finally; I had to write a letter about myself that clearly stated whyThere was no Mexican citizen with my skills and why my skills wereImportantTo Mexico. We called it our "I am the greatest person on earth" letter. ItWas fun to write. All of the above were in English that had to be translated into Spanish and be certified as legal translations and our signatures notarized. It produced a folder about 1.5 inches thick with English on the left side and Spanish on the right. We spent about five hours accompanied by a Mexican attorney touring Mexican governmentoffice locations and being photographed and fingerprinted at least three times.
We could not protest any of the government's actions or we would be committing a felony. We paid out $4,000 in fees and bribes. When this was done we could legally bring in our household goods that were held by US customs in Laredo Texas. This meant we rented furniture in Mexico while awaiting our goods. There were extensive fees involved here that the company paid.
We could not buy a home and were required to rent at very high rates and under contract and compliance with Mexican law.
We were required to get a Mexican drivers license. This was an amazing process. The company arranged for the licensing agency to come to our headquarters location with their photography and finger print equipment and the laminating machine. We showed our US license, were photographed and fingerprinted again and issued the license instantly after paying out a $6 fee. We did not take a written or driving test and never received instructions on the rules of the road. Our only instruction was never give a policeman your license if stopped and asked. We were instructed to hold it against the inside window away from his grasp. If he got his hands on it you would have to pay ransom to get it back.
We then had to pay and file Mexican income tax annually using the number of our FM3 as our ID number. The companies Mexican accountants did this for us and we just signed what they prepared. I was about 20 legalsize pages annually.
The FM 3 was good for three years and renewable for two more after paying more fees.
Leaving the country meant turning in the FM# and certifying we wereleaving no debts behind and no outstanding legal affairs(warrants, tickets or liens) before our household goods were released to customs.
It was a real adventure and If any of our senators or congressmen went through it once they would have a different attitude toward Mexico.
The Mexican Government uses its vast military and police forces to keep its citizens intimidated and compliant. They never protest at their White House or government offices but do protest daily in front of the U.S. Embassy. The US embassy looks like a strongly reinforced fortress and during most protests the Mexican Military surround the block with their men standing shoulder to shoulder in full riot gear to protect the Embassy.
These protests are never shown on US or Mexican TV. There is a large public park across the street where they do their protesting. Anything can cause a protest such as proposed law changes in California or Texas.
Please feel free to share this with everyone who thinks we are being hard on illegal immigrants.###
---
---

Dave Rogers




Dave Rogers is a former editorial writer for the Bay City Times and a widely read,
respected journalist/writer in and around Bay City.
(Contact Dave Via Email at carraroe@aol.com)

More from Dave Rogers
---
Send This Story to a Friend!
Letter to the editor
Link to this Story
Printer-Friendly Story View
---
--- Advertisments ---