Studio 23 Chalk Walk Topic Of Rotary Program
August 7, 2018 Leave a Comment
By: Stephen Kent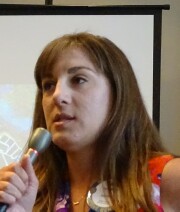 Tara Welch
It was 2008 when the first Chalk Walk occurred in Bay City. At that time it was a program of the Red Cross and brought out artists from around town to decorate streets with artwork that was temporary in nature.
In 2010 the program returned with volunteer Silas Dooley Warren taking over. The event moved to 3rd street. The walk happened again in 2011 with a live music component. The final event was in 2012 before a break of three years.
2016 saw the return of the Chalk Walk, this time sponsored by Thelen Subaru and with the help of Studio 23. Now, two years later, the
Chalk Walk Art Festival
returns on August 18 as an official event of
Studio 23
and sponsor
Thelen Subaru
.
Rotary's President-Elect
Tara Welch
, director of Studio 23, presented the program to Rotary. Tara reviewed the history of the
Chalk Walk
and talked about how the program is expanding to be an annual fundraising program of Studio 23.
This years program will spread into a wider downtown area. With a goal of promoting community involvement and awareness of the arts, the program will provide a canvas where everyone is welcome to participate. Visitors can anticipate 45+ artists, family fun, art and food vendors, and live music under the Star Bridge and in other areas.
Two competitions will be offered, one for teens and one for adults. The teen program will feature a Friday workshop with two local chalk artists. Participants will learn the ins and outs of shading, dimension, and color. Saturday will see the kids imaginations let go as they prepare their art for judging. Prizes are gift baskets from local businesses.
The Adult competition hopes to attract as many as 50 artists. The art will be juried by local artists and volunteers who will select 1st, 2nd, and 3rd prizes. There will also be a people's choice prize. The entry fee for this event is $30.
Studio 23 will provide much of the supplies. The Chalk is a Michigan-made product designed specifically for vibrant colors and to be used on streets and sidewalks.
Community members are invited to join the Studio 23 "Paint N' Take" event. You supply the image and any snacks you want and Studio 23 provides the supplies and instruction needed to create your masterpiece. All ages welcome and the entry fee is only $10 for a 6×6 canvas!
The day will also feature a "Fill a Forester" event where the public can bring art supplies and attempt to fill a Subaru Forester vehicle. The supplies collected will help the John Glen High School Art Room.
For more information visit
www.studio23baycity.org
.


---
CLUB NEWS and ANNOUNCEMENTS
OFF SITE MEETING - August 14, 2017

Meet at the Delta Planetarium
Board meets at 11:00 prior to regular meeting.

The board meets this week
August 14 at 11:00 before the regular meeting.
Meet at the Planetarium!
Everyone is welcomed.
Agenda, minutes, treasurers reports and other information
is in the member's area of the club web site.
or will be passed out at the meeting.



The annual Zombie Run needs a new chairperson. As one of several major fundraisers, this event is important to the club. We are already getting inquiries from the public asking what the plans are.

In his "Rotary Foundation Minute", Chuck Cusick reviewed how funds contributed to the Rotary Foundation are invested, used, and then returned to local districts.

There are still a couple of openings for board members. If you have an interest in serving, please contact Harvey.

PLEASE NOTE The club must account for all Golf Outing raffle tickets. If you still have tickets, please return them to Tim or to Cindy Chadwick immediately.

The July to December, 2018 dues cycle is under way.

Dues notices were delivered by E-MAIL on June 6.
Past due notices have also been e-mailed.

If you have not paid your dues, or have not received your invoice please inform the Secretary!

You may mail your dues as usual, or deliver them to the Secretary at a meeting.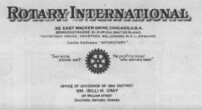 click picture for details
MEMORIES

Dig out your favorite Rotary memory photos and
let Brenda Scramlin use them for the weekly
Club slide show. It'll be fun for everyone!



---
---- DATES TO REMEMBER ----


August 14, 2018 Board Meeting
11:00, prior to the regular meeting.
Everyone welcome.
OFF SITE at the Planetarium!

September 18, 2018 Service Club Social
An evening in the Wenonah Park Pavilion.
Make plans to attend.



---
Upcoming Programs
(See the official schedule at RotaryBayCity.org )


August 14, 2018: The Normandy Institute (Tentative) Dylan Steele researched the life of a local WWII soldier, PFC Donald Owen Freidinger from Linwood who died on D-Day as part of The Normandy Institute program. The program included a week in Washington DC and a week in France culminating in Dylan's eulogy of PFC Freidinger at the cemetery in Normandy. August 14 was PFC Freidinger's birthday.

August 14 - OFF SITE MEETING AT THE PLANETARIUM


August 28, 2018: District Governor (DG) Michael Elliott To Speak to Club. DG and Asst. DG Larry Arendt will visit Rotary Meeting.



Rotary
is an intimate affiliation of carefully selected business and professional people,
having as its objective the promotion of high ethical standards in private, commercial
and civic life, and dedicated to the ideal that the basis of all worthy endeavor is unselfish service.
---

Current and past DISTRICT DISPATCH newsletters are available on the District site shown in the LINKS section below.







Rotary Bay City on Facebook!
Click on the Blue Facebook to visit us there.

Remember! Check attendance sheets at the front desk.
---
LINKS
---
---

Stephen Kent




Steve Kent and his family have lived in Bay City for 40 years. He is VP of Technical Services at MMCC which produces MyBayCity.Com. Kent is active in many Bay City civic organizations.

More from Stephen Kent
---
Send This Story to a Friend!
Letter to the editor
Link to this Story
Printer-Friendly Story View
---
--- Advertisments ---