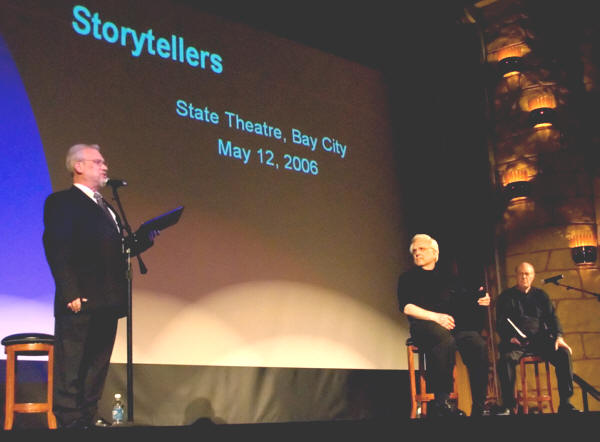 Storytellers: tv-radio newsman Eric Jylha, attorney Dave Skinner and historian Dave Rogers. (Photo by Andy Rogers )
---
Storytellers Draw Crowd to State Theatre; Format May be Repeated
Dramatized Historical Reports May Be a Staple of Local Stage
"I love this format," exclaimed Patti Loree, executive director of the State Theatre. "And, you have an audience!"
A modest crowd arrived Friday night on short notice to hear three Storytellers: tv-radio newsman Eric Jylha, attorney Dave Skinner and historian Dave Rogers, assisted by Tommy Anderson, magician, musician and actor.
State Theatre backers enthused about the format indicated it may be reprised with different storytellers and, of course, new material. Tv newsman Jay Brandow, author of "The Captain's Chair," has already been mentioned as one possible presenter on maritime history. Local history has a fascination for many folks.
Archival information about crimes of yesteryear was uncovered in the process of preparing the script for this program, a last minute replacement for Maynard Ferguson who was forced to cancel because of health concerns.
---
--- Advertisements ---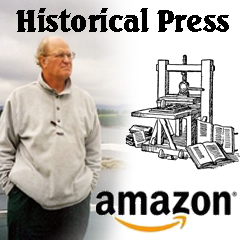 ---
"In the last few days I found some original pictures from the 1943 murder of Floyd Ackerman," said Dave Skinner. "Also in that file were police pictures of the accused killer with scar painted on his cheek for the lineup in 1944."
Skinner recounted how he and colleague Eugene Penzien won a defense of Woos on retrial of the murder case in 1967. "Court cases like Gideon v. Wainwright caught up with Woos and much of the evidence was thrown out as a result. The jury voted for acquittal."
The 1964 Gideon case, on which a bestselling book, "Gideon's Trumpet," was based, ironically was from Bay County, Florida. The U.S. Supreme Court held that persons accused of crimes must be provided adequate legal counsel under the U.S. Constitution.
Minutes before the performance, Skinner learned from a member of the audience that Detective John Olepa had lived in the same rooming house with the accused killer, Yuen Woo, alias Johnny Woos.
That fact explains how Olepa wasable to learn that Woos had been spending heavily in cigar stores that were fronts for gambling joints in Bay City during the 1940s.
Tipped off by Olepa, police broke into Woos' room and found part of the loot from the bank robbery in the wall. They lay in wait and arrested him. He confessed and was convicted and sentenced to life in prison. He served 24 years until winning a new trial based on judicial error.
Another criminal who lived only a block away from Woos, had similar hair and a real scar on his cheek, was the key to the appeal, Skinner noted.
---
--- Advertisements ---

---
A feature of the Friday night presentation was Skinner's cross-examination of Detective Charles Harrison, played by Anderson. The arrest card was a key, Skinner noting that only minor crimes were listed on one side of the card but a list of major crimes was on the other side, at first unnoticed.
Other stories linked the arrest of two members of the Bonnie and Clyde Gang of Oklahoma in 1932 with the formation of a vigilante group in downtown Midland to protect against bank robbery. News reports from the arrest alerted Midland to the fact that the Chemical State Savings Bank, and its bimonthly Dow Chemical Co. payrolls, had become a target for bandits.
Five years later, when Hamtramck bandit Anthony Chebatoris and Jack Gracey entered the bank shooting, a Midland vigilante posse was ready for them.
Gracey was killed and Chebatoris winged by shots from the deer rifle of Dr. Frank Hardy, a vigilante member who heard shots at the bank. After a wild melee, Chebatoris was wrestled out of a getaway car by a burly road worker, Sheriff Ira Smith and a deputy.
Chebatoris became the first, and last, person to be executed in Michigan since it has been a state, dating to 1837. Details of the hanging and events leading up to the historic event, were part of the story unveiled Fridaynight.
Storytellers also reviewed the incident in which financier James E. Davidson saved his Commercial Savings Bank, on the corner of Washington and Fifth, in 1931 during the bank closings. That same bank was later the scene of the murder ofAckerman.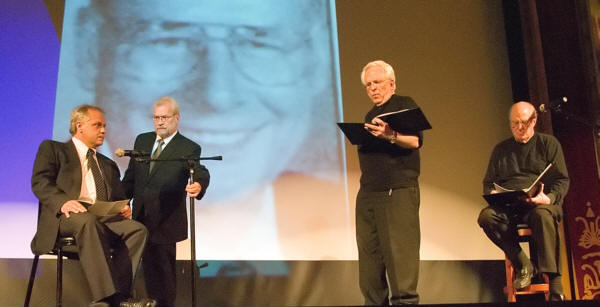 Tommy Anderson (sitting) plays Bay City Detective Charles Harrison with Eric Jylha as Judge John X Theiler and Defense Attorney Dave Skinner plays himself in recreating a 1967 trial. Dave Rogers is at the far right. (Photo by Andy Rogers)
---
---

Dave Rogers




Dave Rogers is a former editorial writer for the Bay City Times and a widely read,
respected journalist/writer in and around Bay City.
(Contact Dave Via Email at carraroe@aol.com)

More from Dave Rogers
---
Send This Story to a Friend!
Letter to the editor
Link to this Story
Printer-Friendly Story View
---
--- Advertisments ---