Rotary District Governor Visits Bay City Noon Club
August 28, 2018 Leave a Comment
By: Stephen Kent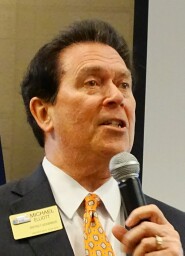 District Governor
Michael Elliott
Promising that he'll visit the club 3 more times during his term,
District Governor (DG) Michael Elliott
addressed the club on issues that he is championing during his term.
With statistics on all of the clubs in the district, Mike reviewed the giving history, membership levels, and goals the clubs should strive for.
Membership in all service clubs is a concern. Rotary District 6310, the largest in the area, has dropped from 1,357 last year to 1,300 this year. Mike says he has decided to be bold and has set the district's goal at 1,500 by the end of his year. He feels we can do that if we look for new ways to attract and keep members.
As society has changed, young people have different ambitions, needs, and interests. Mike talked about ways to reach out to these younger people. Rotary has always been a prestigious, but also a "senior" organization. The average age has come down some but needs to come down more.
Several ways to attract the younger person were mentioned, including a "happy hour club" meeting. Perhaps the most promising avenue is the Rotaract club designed for students and young professionals. Interestingly, foreign students are by far the predominant demographic for these young clubs. Students from overseas see Rotary as an achievement they want to have. Rotaract is a path toward that goal.
The role of women in Rotary is also worth a look. In the beginning, there was a noted reluctance by some to accept the fairer sex. In fact, it became almost immediately apparent that Women in Rotary was one of the best things to happen to the organization. Women have taken a major leadership role and are today an integral part of the success of clubs. As Mike says, it's time for a female Rotary International President.
Among other goals is to keep the club's giving levels up. Bay City has dropped in some areas, although as was pointed out by members the club is a leader in other areas such as Polio Plus.
Lastly, Mike encouraged all members to get on-line and sign up for "My Rotary" at
www.rotary.org
. This resource is important to connect individuals with Rotary and signing up is not automatic. If you haven't done it, do it now! (Member's RI Numbers can be found on your dues invoice as well as on the club website, or by asking the club secretary.)
---
CLUB NEWS and ANNOUNCEMENTS
Connie Schweitzer
presented
Cindy Chadwick
with her
Paul Harris Plus Eight
pin. Thanks Cindyfor your continued support of the Rotary Foundation and it's causes.
The club's annual
Zombie Run
is taking a year off. Due to a number of considerations, the popular event just could not be set up in time for the usual October race. The plan is to bring it back, bigger and better, next year.
Frank Janca
announced that the Service Club Social scheduled for September 18 has been canceled due to difficulties coordinating with the various clubs. Look for a Bay City Rotary event at the State Theatre in the near future.
In the "Rotary Foundation Minute"
Chuck Cusick
related the beginning of the Polio Plus campaign. As the Rotary International leadership begin preparing for the organization's 75th anniversary in 1979, they looked for a signature cause. The Philippines was a hotbed of Polio at that time and it was decided that Rotary would try to eradicate the dreaded disease there. Allocating $750,000 over five years, the effort was begun. Success was achieved and that proved that "WE CAN DO IT!" Polio Plus grew out of that first effort and today only FIFTEEN cases have been detected worldwide!
---
---- DATES TO REMEMBER ----
September 18, 2018 Service Club Social
CANCELLED
November has been designated as Bay City Rotary's
"Month of sharing"
. Programs for the month will emphasize the many things we have to be thankful for and will encourage ways we can share with our family, friends, and community.
2018 Off site Meetings:
Marriott, Uptown Bay CIty
Sept 11
Sept 18
Oct 9
Oct 23
---
Upcoming Programs
(See the official schedule at RotaryBayCity.org )
September 4, 2018: Genesis of McLaren Bay Regional Medical Center
presented by Rotarian Mark Jaffe.
September 11, 2018:
September 11 - Off site meeting at the Marriott
September 18, 2018: Update on the services provided by Community Home Solutions,
a local, not-for-profit agency celebrating its 25th anniversary providing a portfolio of housing related services for income eligible families. Services include housing counseling (first-time homebuyer, pre-purchase process, financial capabilities training, and foreclosure prevention), down payment assistance and homebuyer rehabilitation, as well as homeowner substantial and emergency rehabilitation services.
September 18 - Off site meeting at the Marriott
September 25, 2018: McLaren Bay Regional Medical Center Update continues.
October 9, 2018:
October 9 - Off site meeting at the Marriott
October 23, 2018:
October 23 - Off site meeting at the Marriott
October 30, 2018: Festival of the Trees.
Laura Horwath will speak about the annual event. As the Junior League of the Great Lakes Bay Region's largest annual fundraiser, the Festival of the Trees presents over 100 designers contribute fabulously decorated trees and wreaths, which are raffled off to lucky winners. Local vendors are on hand to sell their specialties. The money raised throughout the weekend supports the Junior League of the Great Lakes Bay Region's mission of promoting voluntarism, training its members, and improving the community.

Rotary
is an intimate affiliation of carefully selected business and professional people,
having as its objective the promotion of high ethical standards in private, commercial
and civic life, and dedicated to the ideal that the basis of all worthy endeavor is unselfish service.
---
Current and past
DISTRICT DISPATCH
newsletters are available on the District site shown in the LINKS section below.


Rotary Bay City on Facebook!
Click on the Blue Facebook to visit us there.

Remember! Check attendance sheets at the front desk.
---
LINKS
---
---

Stephen Kent




Steve Kent and his family have lived in Bay City for 40 years. He is VP of Technical Services at MMCC which produces MyBayCity.Com. Kent is active in many Bay City civic organizations.

More from Stephen Kent
---
Send This Story to a Friend!
Letter to the editor
Link to this Story
Printer-Friendly Story View
---
--- Advertisments ---