McLaren Bay Region, Part 2, Presented to Rotary
September 25, 2018 Leave a Comment
By: Stephen Kent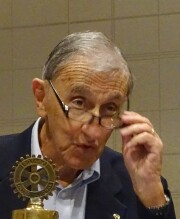 Mark Jaffe
Rotarian
Mark Jaffe
returned on Tuesday to present the second half of his talk on McLaren Bay Region Medical Center. In the
first part
he related the history of hospitals in Bay City culminating with the present McLaren facility, formerly known as Bay Regional Medical Center or just Bay Med.
Citing a number of statistics, Jaffe talked about the improvements to the hospitals both financial and service rankings in recent years. Today the hospital has grown to be one of the leading institutions in Michigan. The number of doctors, nurses, procedure and facilities has expanded to offer almost any service required.
Discussing financial concerns, it was noted that health care is unlike any other business. There's simply not guarantee that the provider will be paid for the services performed. In most businesses, management knows what it cost to provide a product or service. They price those items in a way to make money. In health care the community that pays for services, mainly the insurance companies and government, actively work to avoid paying. Hospitals do what they can to overcome these obstacles.
In a similar vein, health care providers are prevented from cooperating and efficiently allocating services. Hospitals must compete to provide care even when another facility in the same area does the same thing. Jaffe said it would be far more practical to allow providers to work together to provide the most cost effective service. Instead, we see huge investments in advertising to compete for the same customers.
Local hospitals, no matter that they have world class facilities and provide world class services, find that they are considered to be out of the mainstream because of the geography. McLaren has some of the top providers in all areas. They have the newest cutting edge equipment. Mid-Michigan offers a great life style with Yet they still must compete to attract top doctors to the area.
Jaffe concluded by listing the top level of service and the quality of life in the McLaren Bay Region service area. Citizens can be proud of what we have here.
---
CLUB NEWS and ANNOUNCEMENTS
The club's meeting on October 2 will be at the DOUBLETREE as usual.
Reminder: After several years of service as Chair of the Club Foundation,
Ed Keating
will soon step down. Anyone interested in taking this position is asked to contact Harvey.
In the "Rotary Foundation Minute"
Chuck Cusick
talked about
the Aral Sea
and how the Rotary Foundation is tackling one of the biggest environmental and political crises of the 21st century. The Aral Sea has been devastated by political conflicts and mismanagement. Rotarians are leveraging their ability to build connections to try to restore and preserve this magnificent Middle East natural resource that is so vital to all of the countries that surround it's water.
---
---- DATES TO REMEMBER ----
October 2, 2018: Executive committee will hold a short meeting after the regular meeting.
November has been designated as Bay City Rotary's
"Month of sharing"
. Programs for the month will emphasize the many things we have to be thankful for and will encourage ways we can share with our family, friends, and community.
2018 Off site Meetings:
Marriott, Uptown Bay City
Oct 9
Oct 23
---
Upcoming Programs
(See the official schedule at RotaryBayCity.org )
October 2, 2018:
Paul Wiese
presents his story in a 10 Minute Rotarian talk.
October 9, 2018:
October 9 - Off site meeting at the Marriott
It's a two-for-one deal.
Patrick Tobin
present's Delta College's "Dual Enrollment" in which classes can count toward high school graduation and college credit. Dual enrollment gives the student a feel for what college instructors expect and how college is different from high school. When they get to college, they will have a heads up and be ready for what's to come.
October 16, 2018:
Beth Eurich
, Director Bay County Deparment on Aging, will speak about senior resources and programs available through the Bay Co. DOA
October 23, 2018:
October 23 - Off site meeting at the Marriott
Rotarian CJ Miller
talks about
Downtown, Downhome
, the 1st in a multi-part video series highlighting what we love about Bay City, as seen on his web site
Through These 4 Eyes
.
October 30, 2018: Festival of the Trees.
Laura Horwath will speak about the Junior League of the Great Lakes Bay Region's largest fundraiser, the
Festival of the Trees
. The annual event presents over 100 designers contribute fabulously decorated trees and wreaths, which are raffled off. Local vendors are on hand to sell their specialties. The money raised throughout the weekend supports the Junior League of the Great Lakes Bay Region's mission of promoting voluntarism, training its members, and improving the community.

Rotary
is an intimate affiliation of carefully selected business and professional people,
having as its objective the promotion of high ethical standards in private, commercial
and civic life, and dedicated to the ideal that the basis of all worthy endeavor is unselfish service.
---
Current and past
DISTRICT DISPATCH
newsletters are available on the District site shown in the LINKS section below.


Rotary Bay City on Facebook!
Click on the Blue Facebook to visit us there.

Remember! Check attendance sheets at the front desk.
---
LINKS
---
---

Stephen Kent




Steve Kent and his family have lived in Bay City for 40 years. He is VP of Technical Services at MMCC which produces MyBayCity.Com. Kent is active in many Bay City civic organizations.

More from Stephen Kent
---
Send This Story to a Friend!
Letter to the editor
Link to this Story
Printer-Friendly Story View
---
--- Advertisments ---