"Textualism," Justice Scalia, Intrigue Supreme Court Justice Maura Corrigan
Cites "No Public Support" for Changing Michigan's System of Electing Judges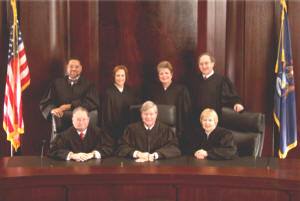 Michigan Supreme Court Justice Maura Corrigan, top row, second from right, and fellow justices, bottom left, Michael F. Cavanagh, Chief Justice Clifford Taylor and Elizabeth A. Weaver, top row right, Robert Young, Marilyn Kelly, Corrigan, Stephen Markman.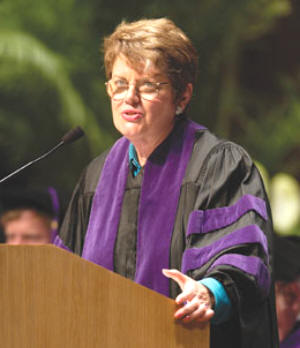 Justice Maura Corrigan
Addresses an MSU Graduation Ceremony
Do judges rewrite the law to do what they see as the public good?
Or do they follow the Constitution or original law adopted by legislators?
Michigan Supreme Court Justice Maura Corrigan advocates "applying objective meaning to the text of a law," a concept known as "textualism."
In that regard she is a fan of U.S. Supreme Court Justice Antonin Scalia, a prominent conservative and one of the most outspoken advocates of textualism in statutory interpretation and original meaning in constitutional interpretation.
Justice Corrigan spoke to the Saginaw Valley Torch Club's annual guest night last week at the Midland Country Club and her remarks caused a buzz, especially among the many legal professionals on hand.
Her remarks were pertinent to a nationwide debate over how judges interpret the law and what are the bases for their opinions.
The state high court has been described as the most conservative in the nation, an unusual dichotomy in a heavily Democratic and liberal leaning state.
Legal scholars describe textualism as "the plain meaning of a legal text that would be understood by competent speakers of the natural language in which the text was written who are within the intended readership of the text and who understand that the text is a legal text of a certain type."
Justice Corrigan contrasted the Michigan court's reversal of a 1981 Poletown decision applying eminent domain to about 4,000 homes for a General Motors plant with the U.S. Supreme Court's Kelo vs. New London case that allowed taking private property for economic development.
"I predict you have not seen the last chapter in the 'takings' debate," she commented.
The Michigan court sees itself as "faithfully interpreting the Constitution, not rewriting it as we see the public good," the justice added. "We are doing the job you sent us to Lansing to do."
She would not throw out one of the most significant civil rights cases, Brown vs. Board of Education, since "it can be squared with textual philosophy," the justice commented.
The judicial world is engaged in a broad debate over process and many liberal judges have come under fire for rewriting the laws as they see fit rather than following foundation documents like constititutions or statutes.
Republicans have introduced legislation in Congress to create the judicial inspector general's post, with broad power to subpoena records and question employees. The sponsors say their goal is to ensure that judges comply with ethics laws and eliminate fraud and waste.
The inspector general would not be authorized to investigate particular rulings or criminal sentences. But critics fear proposedlanguage authorizing investigations into "matters pertaining to the judicial branch."
An inspector general could punish judges for particular opinions, critics fear. The Republican majority in Congress has frequently denounced judges' rulingsand even threatened retribution.
Justice Corrigan said she has explored changing Michigan's scheme of electing judges and finds "no public support" for changing it to an appointive process. Thirty-seven states have elected judges, she said.
She noted that three justices spent a total of $16 million on their campaigns in the last general election, noting "they have to walk a fine line" between politics and judicial ethics.
Justice Corrigan was elected to the high court in 1998 and served two terms as chief justice, 2001-2004. She was graduated from Marygrove College and the University of Detroit Law School.
She was an assistant U.S. attorney and partner in a Detroit law firm and was appointed to the Michigan Court of Appeals in 1992 by Gov. John Engler. She is the widow of law professor Joseph D. Grano and mother of a son and daughter.###
---
---

Dave Rogers




Dave Rogers is a former editorial writer for the Bay City Times and a widely read,
respected journalist/writer in and around Bay City.
(Contact Dave Via Email at carraroe@aol.com)

More from Dave Rogers
---
Send This Story to a Friend!
Letter to the editor
Link to this Story
Printer-Friendly Story View
---
--- Advertisments ---