Delta College's "Dual Enrollment" Program Presented to Rotary
October 9, 2018 Leave a Comment
By: Stephen Kent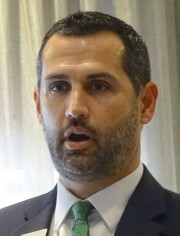 Patrick Tobin
Patrick Tobin
, Director of Delta College's "Dual Enrollment" program spoke about the program and its impact on students who take courses at Delta while still in High School.
The program is dictated by laws enacted in 1996 and 2000. All postsecondary institutions are required to offer courses to high school students. Public act 160 of 1996 is to "Provide a wider variety of options to high school students by encouraging and enabling them to enroll in courses". PA 258 of the year 2000 says "Provide a wider variety of options to high school students in courses in career and technical preparation".
To be eligible, students must be enrolled and taking at least one class at a public school, academy, or state-approved nonpublic school. They must have at least one parent or guardian who resides in the state, and, generally, not have enrolled in more than four years of high school.
Schools are required to provide general information to students in grade 8 or higher regarding their enrollment options. The schools must send a letter to all students in grades 9 to 12 advising them of their options.
Most college courses are eligible for the program, provided the course is not offered by the high school. Subjects such as PE, theology, divinity, or religious education are excluded from the programs. If there are additional college requirements, such as prerequisites, then those apply.
A number of rules govern how many courses a student can take. Even with these restrictions, it is possible for a student to achieve a college level certificate by the time they leave high school. Don Carlyon commented that during his term as president of Delta at least one student actually graduated from Delta a few weeks before graduating from high school.
Most costs are covered by the college or the program (excepting items like transportation, parking, and activity fees). Tobin offered a number of examples showing how a high school student could earn college credit at no cost at all.
There are numerous advantages to students who take advantage of their dual enrollment options. These advantages go far beyond the potentially significant money saved. The students receive credit on their permanent college transcript, they are more successful in high school and they are more likely to graduate from college.
Tobin offered numerous facts, statistics, and testimonials from students and parents showing the benefits of the program. Most importantly, Delta and Tobin's department provides complete support for students through their Dual Enrollment Center.
For more information visit
www.delta.edu
or
www.Michigan.gov/dualenrollment
You can also send an e-mail to
DualEnrollment@delta.edu
---
CLUB NEWS and ANNOUNCEMENTS
The club's meeting on October 16 will be at the DOUBLETREE as usual.
In the "Rotary Foundation Minute"
Andreas Teich
talked about Rotary's "Hand Washing" program. He passed around a flyer that was posted on classroom doors saying "If you could see the germs (with a picture of a hand) You would wash your hands". October 15 is
"World Hand Washing Day"
when schools and other programs will bring attention to this important part of personal hygiene. Attention will also be given to food preparation and the need to wash hands after using restrooms. For more information visit
globalhandwashing.org
---
---- DATES TO REMEMBER ----
November has been designated as Bay City Rotary's
"Month of sharing"
. Programs for the month will emphasize the many things we have to be thankful for and will encourage ways we can share with our family, friends, and community.
2018 Off site Meetings:
Marriott, Uptown Bay City
Oct 23
---
Upcoming Programs
(See the official schedule at RotaryBayCity.org )
October 16, 2018:
Beth Eurich
, Director Bay County Deparment on Aging, will speak about senior resources and programs available through the Bay Co. DOA
October 23, 2018:
October 23 - Off site meeting at the Marriott
Rotarian CJ Miller
talks about
Downtown, Downhome
, the 1st in a multi-part video series highlighting what we love about Bay City, as seen on his web site
Through These 4 Eyes
.
October 30, 2018: Festival of the Trees.
Laura Horwath will speak about the Junior League of the Great Lakes Bay Region's largest fundraiser, the
Festival of the Trees
. The annual event presents over 100 designers contribute fabulously decorated trees and wreaths, which are raffled off. Local vendors are on hand to sell their specialties. The money raised throughout the weekend supports the Junior League of the Great Lakes Bay Region's mission of promoting voluntarism, training its members, and improving the community.

Rotary
is an intimate affiliation of carefully selected business and professional people,
having as its objective the promotion of high ethical standards in private, commercial
and civic life, and dedicated to the ideal that the basis of all worthy endeavor is unselfish service.
---
Current and past
DISTRICT DISPATCH
newsletters are available on the District site shown in the LINKS section below.


Rotary Bay City on Facebook!
Click on the Blue Facebook to visit us there.

Remember! Check attendance sheets at the front desk.
---
LINKS
---
---

Stephen Kent




Steve Kent and his family have lived in Bay City for 40 years. He is VP of Technical Services at MMCC which produces MyBayCity.Com. Kent is active in many Bay City civic organizations.

More from Stephen Kent
---
Send This Story to a Friend!
Letter to the editor
Link to this Story
Printer-Friendly Story View
---
--- Advertisments ---