County, City, Face Good News, and Bad, on the New Year
Hickner, Belleman Give Prognostications on Problems, Progress
December 31, 2002 Leave a Comment
By: Dave Rogers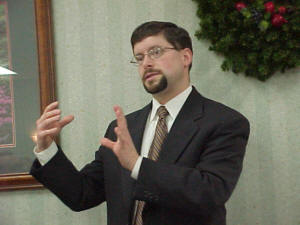 Acting City Manager Robert Belleman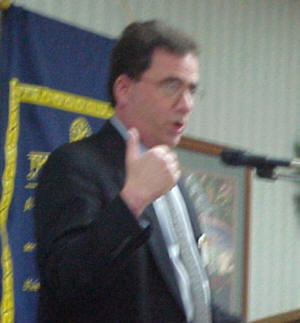 County Executive Thomas L. Hickner
There was the proverbial good news about local government and the economy. And, of course, the bad news.
Among the good news, a proposed new public-private economic development coalition will have agreements signed in 60-90 days, says County Executive Thomas L. Hickner. And the Doubletree Hotel/Conference Center now under construction on the riverfront at Veterans Bridge may open early, in spring 2004 "if not before," said Acting City Manager Robert Belleman.
The county and city leadersaddressed the Bay City Rotary Club on New Year's Eve on the challenges facing local government and the community as we enter 2003. Both agreed the challenges facing the city and county in the new year are daunting:
1) The city faces neighborhoodopposition to its Neighborhoods at Heritage housing project in the South End which could provide about $3 million in sorely needed additional tax base.
2)Both city and county governments will probably lose significant operating dollars if state revenue sharing is cut as is projected. (Facing a $1.5 to $2 billion state deficit, new Gov. Jennifer Granholm has pledged not to raise taxes and not to eliminate tax cuts enacted under outgoing Gov. John Engler.)
3) Demolition of old Industrial Brownhoist buildings at the Bay Aggregates site "won't happen anytime soon" because a pending grant from the Michigan Department of Environmental Quality cannot proceed until a development plan is in place. Another developer will be interviewed soon, Belleman said.
4)The County faces demands from 10 bargaining units for six percent pay raises and 100 percent health care funding which would total about $3 million and already has cut about $1.3 million from the budget with minimal layoffs.
5) The City of Bay City needs to hire a new city manager but has been advised by a Michigan Municipal League official to wait until after the recall election and "should probably start with a clean slate" in seeking a new city manager, says Belleman.
6) The County Commission has five new faces, mainly political neophytes, and has lost commissioners with about 100 years of experience so an adjustment and educational period is necessary.
Solutions to the current problems must be addressed by "working together" through a team effort, both leaders said. "The community has a lot of things going for it and I am very optimistic," said Hickner. "We are the envy of the Saginaw Valley in many respects."
The city needs a manager who is a "visionary" willing to take on personnel issues and make necessary budget cuts, said Belleman. He pointed to several areas of progress in the past year, including a S.C. Johnson Co. expansion, $750,000 brownfield project, sale of the Farmer Peet property on Morton Street, completion of a financing project for the hotel/conference center, construction of two boat launches and purchase of the Bay Aggregates property.
Hickner said the county will have to reduce staffing on a dollar-for-dollar basis if costs increase due to contract negotiations.
Although metropolitan government is "not realistic" since it is not allowed by the state constitution, some services such as fire, ambulance and police could be "logical areas" to start discussions toward saving money through sharing services, Hickner said. Local school districts "should look at whether or not they can consolidate" in order to address the Number 1 economic development need -- education, he said.
The county executive added a personal note: he is entering the hospital Jan. 20 for a bone marrow transplant operation which will require a hospitalized recovery period of two to three months. He will continue to work through telephone and computer contacts.
---
---

Dave Rogers




Dave Rogers is a former editorial writer for the Bay City Times and a widely read,
respected journalist/writer in and around Bay City.
(Contact Dave Via Email at carraroe@aol.com)

More from Dave Rogers
---
Send This Story to a Friend!
Letter to the editor
Link to this Story
Printer-Friendly Story View
---
--- Advertisments ---