Rotary Celebrates Longest Serving Members
November 20, 2018 Leave a Comment
By: Stephen Kent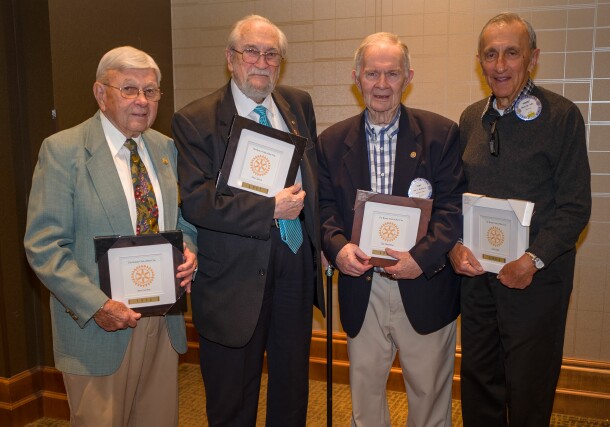 FIVE WHO MAKE A DIFFERENCE
Shwon left to right with years of Rotary service:
Jerry Lewless (65), Don Carlyon (58), Tim Moulthrop (55), Mark Jaffe (56)
Harry Farris (57) (not shown)

November 20 was a day to celebrate "
Five Guys At Fifty-Five
": Members who have been Rotarians for 55 or more years. The five Rotarians honored today are the longest serving members of this club. Together they have
291 years of service
as Rotarians.
Tara Welch introduced each man and presented a plaque commemorating their years of service. The Rotarians then spoke briefly to relate a memory or statement about Rotary and what it means to both himself and the community. (Harry Farris was unable to attend as he is spending the cold months in Arizona.)
Tim Moulthrop
joined the club in 1964. He related the experiences he and Jane had hosting Foreign Exchange Students. He remembered that Jack Shaw and he (who had chaired the committee for years), took a busload of exchange students to the Shakespeare festival in Stratford, Canada. Returning to the states the customs officer came on board to ask where each student was from. He then examined the passports only to learn that these were ONE ENTRY passports. Quickly assessing the situation he said "it's time for me to take my break. Have a nice trip.". He went one direction and the bus went another.
Jerry Lewless
, the longest-serving member, joined the club in 1954. Jerry related the story of a WW I veteran in Florida who invented the bailing and strapping system, which he later sold for a fortune! The man lost his sight later and Jerry regularly drove him to Rotary meetings. The two had great fun and memories but shared the fact that everyone gets old.
Joining in 1961,
Don Carlyon
was sponsored by Oscar Anderson (who's son Andy Anderson and later his granddaughter Ashley Anderson joined the club). "When asked, I didn't know that you had a choice, so I joined." (Although Don's father had been a Rotarian for years). Don commented on all of the great things Rotary does worldwide.
Mark Jaffe
became a Rotarian in 1963. ""A delegation came to my office to tell me that I was to be considered as a member of Rotary". In those days we were a smaller club, an all-male club, an all-white club. Mark was the only Jew in a group that was, in hindsight, somewhat discriminatory. "Rotary was an elite organization then. The heads of all the important companies were expected to be Rotarians." Mark talked about the evolution of Rotary and how much better it is now; how much more inclusive; how much more service orientated.
Today Rotary is the largest, oldest, and most influential service club in the world. The growth of the organization can be traced through its history as it evolved from that February 1905 day in Chicago when founder Paul Harris and three associates met for the first time. The SUCCESS or Rotary, however, is the results of people like those honored by this club today.
---
CLUB NEWS and ANNOUNCEMENTS
In the day's "
Rotary Foundation Minute
",
Rod Sundstrom
remembered his first exposures to polio. A young girl, crippled by the disease would, with her mother, make her way to the front of the church each week. Later Rod had the occasion to visit a polio ward and see the rows of iron lungs and hear the sound as they breathed for the young victims. In the last weeks, the world has heard how the number of cases worldwide has increased from 20 to 27. Rod says that he hopes that, with effort's like Rotary's, someday nobody will be able to remember Polio.
Cindy Chadwick reminded us of the movie "Breathe" which was shown at Saginaw's Court Theater on Rotary's World Polio Day. That movie is not available on Amazon streaming service for $1.
Last week
Major Rick Ray
told the club about the "Traveling Trophy" that the Salvation Army is awarding to each year's top Bell Ringing collections. Sign up sheets were passed around again today to fill one hour slots at Wal-Mart on November 24 and December 14. Anyone who missed the list, but is interested, should contact Rick at the Salvation Army.
Trevor Keyes reminded everyone that Vocation Day is scheduled for December 11. He asked that anyone who can host one or more students please consider doing so. An e-mail was sent later in the afternoon with the information. A section of the club website tells about the program and has links to the application forms.
---
---- DATES TO REMEMBER ----
November is Bay City Rotary's
"Month of sharing"
. Programs for the month will emphasize the many things we have to be thankful for and will encourage ways we can share with our family, friends, and community.
Rotary meets at the Doubletree, as usual, on Nov. 27, 2018 and for the foreseeable future.
---
Upcoming Programs
(See the official schedule at RotaryBayCity.org )
November 27, 2018: Giving Thanks Month, Rescue Mission of Mid Michigan.
Former member
Dan Streeter
will talk about the Rescue Mission's capital project that includes a shelter in Bay County for Homeless Teens.
December 4, 2018: River Jordan Foster Care Transitional Housing
December 11, 2018: VOCATIONAL DAY 2018
Details available from Trevor Keyes and Matt Felan
December 18, 2018: Studio 23's 60th Anniversary
Tara Welch will give an update about Studio 23's 60th Anniversary project. The organization will be renovating their current space to increase space for students and educational activities. Learn about the exciting project and their plans for 2019!
December 25, 2018: Merry Christmas Rotarians! No Meeting today
January 1, 2019: Happy New Year Rotarians! No Meeting today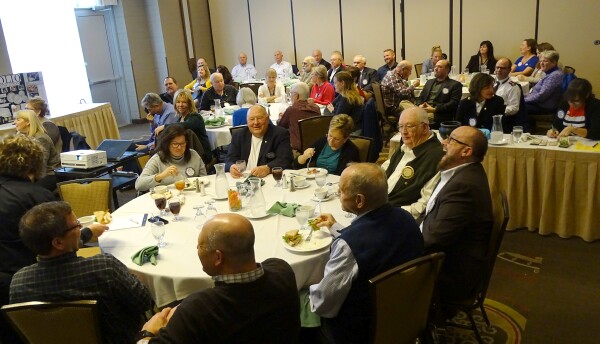 Rotary
is an intimate affiliation of carefully selected business and professional people,
having as its objective the promotion of high ethical standards in private, commercial
and civic life, and dedicated to the ideal that the basis of all worthy endeavor is unselfish service.

Rotary
is an intimate affiliation of carefully selected business and professional people,
having as its objective the promotion of high ethical standards in private, commercial
and civic life, and dedicated to the ideal that the basis of all worthy endeavor is unselfish service.
---
Current and past
DISTRICT DISPATCH
newsletters are available on the District site shown in the LINKS section below.


Rotary Bay City on Facebook!
Click on the Blue Facebook to visit us there.

Remember! Check attendance sheets at the front desk.
---
LINKS
---
---

Stephen Kent




Steve Kent and his family have lived in Bay City for 40 years. He is VP of Technical Services at MMCC which produces MyBayCity.Com. Kent is active in many Bay City civic organizations.

More from Stephen Kent
---
Send This Story to a Friend!
Letter to the editor
Link to this Story
Printer-Friendly Story View
---
--- Advertisments ---