Rescue Ministries of Mid-Michigan Presents to Rotary
November 27, 2018 Leave a Comment
By: Stephen Kent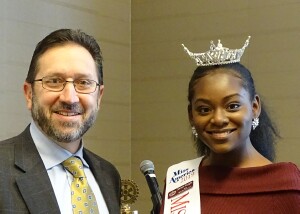 Dan Streeter and Simone Vaughn
Former Rotarian
Dan Streeter
spoke to the club about the evolution of the "
Rescue Ministries of Mid-Michigan
", also known as "
R3M
".
Most Rotarians are familiar with the Rescue Mission just a few blocks away. Dan noted that while people don't always know it, there were 487 homeless individuals in a recent count. The mission averages 70 people a night and the night before they accepted 116 people. "It's worth noting that we turn nobody away. Even if we're full we will find a place if someone is in need."
A recent planning session identified needs in the community and resulted in the "Vision 2020" campaign. The Mission plans to build a 10-bed youth dorm to provide shelter to youngsters ages 10 to 17. This program is in partnership with the state, and the mission is state certified.
"Homelessness is a bigger problem than most realize." Most youth that become homeless have their first experience around the age of 15. A third of those kids leave home dues to abuse or neglect. One out of 15 come from a home where one or both parents are incarcerated.
Dan showed a proposed floor plan for the dorm, which will be built by the Serenus Johnson company. Fundraising is ongoing now and with the planned opening in September 2019.
Dan introduced
Miss Bay County, Simone Vaughn
who talked about her background. Simone came from one of those situations where she found herself homeless twice. She suffered many of the problems that kids in that demographic suffer.
Simone was in an abusive relationship at the age of 17 and found herself homeless for a second time. She turned things around and started Delta College, walking to school. One day she was offered a ride by a woman from the Rescue Mission. That was the start of a new life and direction for her.
Now a student at SVSU, and working as a product specialist for Ford Motor Company, Simone's rise to the position of Miss Bay County was an inspiring story of perseverance. She related how she felt competing in pageants against girls who had so many advantages until she realized she was in charge of her life and could do it.
Today Simone works with the Rescue Mission and the Vision 2020 program. She goes into schools, speaks to groups like Rotary, and represents the work of the Mission.
---
CLUB NEWS and ANNOUNCEMENTS
A note to all members.
Dues invoices
for the January to June term have been e-mailed. Please take care of this as soon as possible.
Chuck Cusick
announced that another
polio immunization trip
is being planned. Rotarians will spend one day in India working with children. Chuck, who's been on several such trips, said it's a great experience. You work out your own transportation and side excursions around the vaccination day.
The
Bay City Central High School Jazz Band
has been booked for the Annual Holiday Program on December 18 at the Doubletree. Other service clubs have been invited. It promises to be a great day for fellowship.
In the day's "
Rotary Foundation Minute
",
Nancy Greve
commented on how impressed she was with the number of previous speakers who personally knew one, or more, people who suffered from polio when they were kids. Nancy related the story of one of her own doctors who lived with the consequences of the disease. She noted that this was "Giving Tuesday" and noted that it was a perfect reminder for everyone to support the Rotary Foundation.
During Happy Bucks, Dee Dee announced that she had a bunch of "
Buckeyes
" that everyone could have in honor of the Ohio State football successes and for the fact that they are supposed to bring good luck. That statement brought many good-natured catcalls and statements like "Those are an invasive species" and "I think those are poisonous".
This year's
Vocation Day
is scheduled for December 11. There are still opportunities for anyone who can host one or more students to sign up. A section of the club website tells about the program and has links to the application forms.
---
---- DATES TO REMEMBER ----
Rotary meets at the Doubletree, as usual, throughout December 2018.
There is no meeting on December 25 and January 1.
---
Upcoming Programs
(See the official schedule at RotaryBayCity.org )
November 27, 2018: Giving Thanks Month, Rescue Mission of Mid Michigan.
Former member
Dan Streeter
will talk about the Rescue Mission's capital project that includes a shelter in Bay County for Homeless Teens.
December 4, 2018: River Jordan Foster Care Transitional Housing
December 11, 2018: VOCATIONAL DAY 2018
Details available from Trevor Keyes and Matt Felan
December 18, 2018: Holiday Cheer
The Noon Rotary hosts other local service clubs for a Holiday Feast at the Doubletree. Entertainment will be provided by the Bay City Central High School Jazz Band.
December 25, 2018: Merry Christmas Rotarians! No Meeting today
January 1, 2019: Happy New Year Rotarians! No Meeting today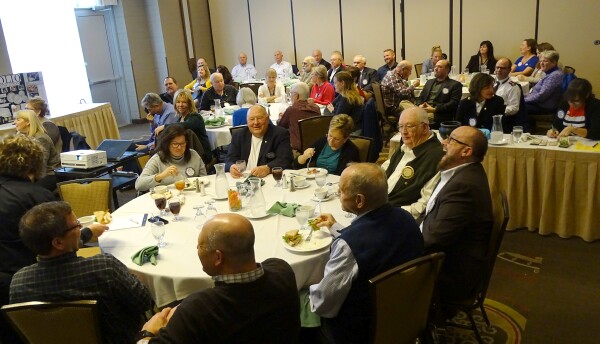 Rotary
is an intimate affiliation of carefully selected business and professional people,
having as its objective the promotion of high ethical standards in private, commercial
and civic life, and dedicated to the ideal that the basis of all worthy endeavor is unselfish service.

Rotary
is an intimate affiliation of carefully selected business and professional people,
having as its objective the promotion of high ethical standards in private, commercial
and civic life, and dedicated to the ideal that the basis of all worthy endeavor is unselfish service.
---
Current and past
DISTRICT DISPATCH
newsletters are available on the District site shown in the LINKS section below.


Rotary Bay City on Facebook!
Click on the Blue Facebook to visit us there.

Remember! Check attendance sheets at the front desk.
---
LINKS
---
---

Stephen Kent




Steve Kent and his family have lived in Bay City for 40 years. He is VP of Technical Services at MMCC which produces MyBayCity.Com. Kent is active in many Bay City civic organizations.

More from Stephen Kent
---
Send This Story to a Friend!
Letter to the editor
Link to this Story
Printer-Friendly Story View
---
--- Advertisments ---