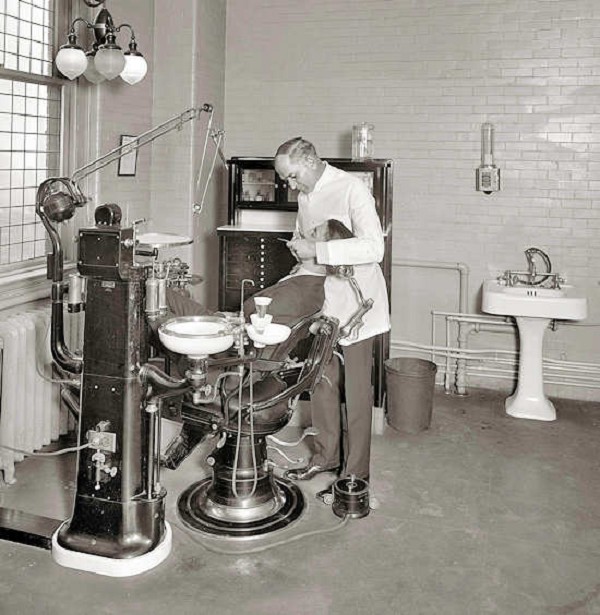 Congressman Roy O. Woodruff in Bay City dental office, 1914
(Photo courtesy Bay-Journal.com)
---
ANTI-LYNCHING: Bill Backed by Bay City Solon OK'd by Senate After a Century
Racism Dies Hard in Land of the Free & Home of the Brave
February 11, 2019 Leave a Comment
By: Dave Rogers
Along with many other aspects of political history, Bay City -- as well as Michigan -- has left its mark on the nation.
The recent passage of an anti-lynching bill a century after it was first proposed shows clearly that racism dies hard in America.
While lynching was once a serious problem -- upwards of 4,700 people, most of them black, were lynched between 1882 and 1968, according to the NAACP, and over 99 percent of the perpetrators escaped punishment -- it's not exactly a popular pastime for even the most repugnant of hate groups anymore.
In 1918, when Bay City Progressive Congressman Roy O. Woodruff supported an anti-lynching bill, he was investigated by the F.B.I.
Congressman Leonidas Dyer of Missouri first introduced his Anti-Lynching Bill (known as the Dyer Bill) into Congress in 1918. The NAACP supported the passage of this bill from 1919 onward; they had not done so initially, arguing that the bill was unconstitutional based on the recommendations of Moorfield Storey, a lawyer and the first president of the NAACP. Storey revised his position in 1918 and from 1919 onward the NAACP supported Dyer's anti-lynching legislation.
In 1935, Woodruff wrote to the magazine Crisis: "Replying to your letter of the 14th in which you ask for an expression of opinion from me regarding the Costigan-Wagner anti-lynching bill, please be advised that I shall vote for this measure if and when it comes before the House of Representatives. Believing that due process of law should be resorted to under any and all circumstances. I naturally feel that no more worthy cause could engage the attention of Congress or anybody else than to stamp out the crime and disgrace of lynching.
Bay-Journal relates Woodruff's history: "Woodruff was born of English and Scottish ancestry to Charles Woodruff and Electa (Wallace) Woodruff in Eaton Rapids, Michigan. He attended the common schools and the high school of Eaton Rapids and apprenticed to the printing business from 1891 to 1899. He enlisted as a corporal in Company G, Thirty-third Regiment, Michigan Volunteer Infantry, during the Spanish-American War. He saw active service and was mustered out.
"Woodruff graduated from the dental department of the Detroit College of Medicine in 1902 and practiced dentistry in Bay City from 1902 to 1911. In 1906 he married Vera May Hall, the daughter of Michigan Republican State Central Committee member De Vere Hall. He was mayor of Bay City from 1911 to 1913.
"In 1912, Woodruff defeated incumbent Republican U.S. Representative George A. Loud to be elected as the candidate of the Progressive Party from Michigan's 10th congressional district to the 63rd Congress, serving from March 4, 1913, to March 3, 1915. Woodruff and William J. MacDonald (12th district) were the only two Michiganders elected to the U.S. House from the Progressive Party. He was not a candidate for re-nomination in 1914 and served for two years in the First World War as an infantry officer, acquiring the rank of major during his service in France.
"In 1920, Woodruff returned to Congress, elected as a Republican from the same district to the 67th Congress. He was subsequently re-elected to the fifteen succeeding Congresses, serving from March 4, 1921, to January 3, 1953.
Recently, the United States Senate unanimously, and finally, approved a bill to make lynching a federal crime in the country.
Three black senators introduced the bill in June to allow lynching to be charged as a hate crime alongside existing crimes such as murder.
Senator Kamala Harris, D-CA - one of the bill's architects - commented that the vote was "history." Co-sponsors were Senators Cory Booker, D-NJ, and Tim Scott, R-FL.
For much of U.S. history, lynchings were rarely prosecuted at all.
More than 200 anti-lynching bills have been introduced to Congress since 1918, all of which have been voted down.
Lynching is murder by a mob with no due process or rule of law. In the US South in the 19th and 20th Centuries, thousands of African Americans were lynched by white mobs, often by hanging.
The vote needs to be passed by the House and signed by the President.
Michigan has been at the forefront of racial issues throughout its history. In 1930, Gov. Frank Murphy refused to extradite one of the "Scottsboro Boys," Haywood Patterson.
On March 25, 1931, after a fight broke out on a Southern Railroad freight train in Jackson County, Alabama, police arrested nine black youths, ranging in age from 13 to 19, on a minor charge. But when deputies questioned two white women, Ruby Bates, and Victoria Price, they falsely accused the boys of raping them while onboard the train.
The nine teenagers -- Charlie Weems, Ozie Powell, Clarence Norris, Andrew, and Leroy Wright, Olen Montgomery, Willie Roberson, Haywood Patterson, and Eugene Williams -- were transferred to the local county seat, Scottsboro, to await trial
Only four of them had known each other before their arrest. As news spread of the alleged rape (a highly inflammatory charge given the Jim Crow laws in the South), an angry white mob surrounded the jail, leading the local sheriff to call in the Alabama National Guard to prevent a lynching.
Eventually, one of the white women, Ruby Bates, came forward to repudiate her testimony, acknowledging that she and Price had been pressured into falsely accusing the Scottsboro Boys, and she became part of the campaign to save their lives.
During May 1937, Thomas Knight died.
On July 15, 1937, Clarence Norris was convicted of rape and sexual assault and sentenced to death. Governor Bibb Graves of Alabama in 1938 commuted his death sentence to life in prison. He was paroled in 1946 and moved north, where he married and had children. In 1970 he began seeking a pardon, with the help of the NAACP and Alabama's attorney. In 1976 Governor George Wallace pardoned Norris, declaring him "not guilty." Norris' autobiography, The Last of the Scottsboro Boys, was published in 1979. Norris died on January 23, 1989, of Alzheimer's disease.
On July 22, 1937, Andrew Wright was convicted of rape and sentenced to 99 years. He was paroled, but returned to prison after violating parole. Finally released in 1950, he was paroled in New York State.
On July 24, 1937, Charlie Weems was convicted of rape and sentenced to 105 years in prison. He was paroled in 1943.
On July 24, 1937, Ozie Powell was brought into court and the new prosecutor, Thomas Lawson, announced that the state was dropping rape charges against Powell and that he was pleading guilty to assaulting a deputy. He was sentenced to 20 years. The state dropped the rape charges as part of this plea bargain. Powell was released from prison in 1946.
On July 24, 1937, the state of Alabama dropped all charges against Willie Roberson, Olen Montgomery, Eugene Williams, and Roy Wright. The four had spent over six years in prison on death row, as "adults" despite their ages. Thomas Lawson announced that all charges were being dropped against the remaining four defendants: He said that after "careful consideration" every prosecutor was "convinced" that Roberson and Montgomery were "not guilty." Wright and Williams, regardless of their guilty or innocence, were 12 and 13 at the time and, in view of the jail time they had already served, justice required that they also be released.
After Alabama freed Roy Wright, the Scottsboro Defense Committee took him on a national lecture tour. He joined the United States Army. Later he married and joined the Merchant Marine. After Wright came back from a lengthy time at sea in 1959, he thought his wife had been unfaithful. He shot and killed her before turning the gun on himself and committing suicide.
On July 26, 1937, Haywood Patterson was sent to Atmore State Prison Farm. The remaining "Scottsboro Boys" in custody, Norris, Wright and Weems were at this time in Kilby Prison.
###
---
---

Dave Rogers




Dave Rogers is a former editorial writer for the Bay City Times and a widely read,
respected journalist/writer in and around Bay City.
(Contact Dave Via Email at carraroe@aol.com)

More from Dave Rogers
---
Send This Story to a Friend!
Letter to the editor
Link to this Story
Printer-Friendly Story View
---
--- Advertisments ---