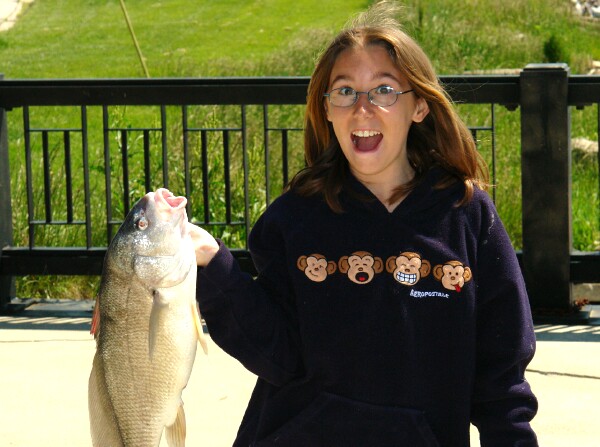 Tiffany Anderson shows off her big catch
---
Holy Cow - Good Fish!
When you're 11 years old, a fishing trip doesn't take much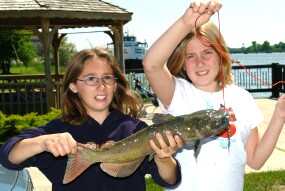 When you're 11 years old, a fishing trip doesn't take much more than a coffee can of worms, a rod, and a friend to bike down to the river with. With just a little luck you can land a few carp and even some catfish!
Sunday found Tiffany Anderson and Marissa Janiskee at the gazebo near the Princess Wenona dock. The McGregor School fifth graders have been coming down to the river since the weather got warm. Tiffany's mother had just brought the girls some burgers and she said that Tiffany has been coming down here for three years. Watching the youngster bait up, cast, then handle the fish attested to her experience.
"I guess my Mom taught me to fish" said Tiffany. Marissa was not as experienced. "Tiffany taught me" she said. "Well, I guess really my Dad taught me, but I was just three years old then and I pretty much forgot it all before now."
Marissa had the first catch of the day, a large catfish on a stringer, which the girls proudly showed off. Tiffany had just caught the carp and said that she'd probably just throw it back. The catfish was destined for the table! Both girls were handy at stringing a bigold crawler onto the hook. It's gross, said Marissa, but she didn't hesitate to handle the worm.
As Tiffany tied a new hook onto her line she said getting the line snagged was their biggest problem. "We walk it back and forth to see if we can pull it off whatever it's hooked on. If that doesn't work we just pull the line straight until it breaks. I'm sure the next question you're going to ask is what I do when the fish swallows the hook." she went on. "I have this plastic tool that I push down the line and try to get the hook out. If that doesn't work I just have to cut the line."
With that, "Tiff" expertly baited a fresh hook and headed for the seawall to see if there wasn't another big old catfish just waiting for her offering.
---
---
--- Advertisements ---

---
---
The way we did it in South Louisiana in 1950.
Yep, that's your's truly. These photos appeared sometime around July 1950 in the Lake Charles, Louisiana "American Press" newspaper, where my uncle Burt Goode was a staff photographer.
---
---
Outdoors Article 1149
---

Stephen Kent




Steve Kent and his family have lived in Bay City for 30 years. He is VP of Technical Services at MMCC which produces MyBayCity.Com. Kent is active in many Bay City civic organizations.

More from Stephen Kent
---
Send This Story to a Friend!
Letter to the editor
Link to this Story
Printer-Friendly Story View
---
--- Advertisments ---