Bay County Health Department Topic of Rotary Program
April 9, 2019 Leave a Comment
By: Stephen Kent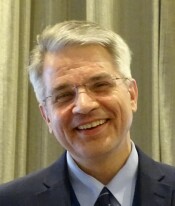 Joel Strasz
In recognition of
National Public Health Week
,
Joel Strasz
, Public Health Director, gave an update on the
Bay County Health Department
and answered a number of questions.
The County Health Department's mission is "to protect and promote a healthy community and safe environment by providing quality services through all stages of life. "
The Department accomplishes its mission through assessment, policy development, and assurance. Among their tasks are clinical services, monitoring and investigating diseases, enforcement of public health laws, and providing a health and human services policy. Strasz laughed and said "Sometimes I feel like Bay County's Dad. I'm the one who has to say
Clean that up, don't do that, and you can't go there!
"
Strasz talked about five things one should know:
Michigan has a measles outbreak. It's worse in other parts of the state and country, but it is here. It's more important than ever for everyone to be vaccinated. Part of the cause is the rise in un-vaccinated children.
Michigan still has a Hepatitis A outbreak. Strasz talked about the three strains of Hepatitis, the vaccines that are available, and the problems that providers have in getting vaccines.
Innovation plus partnering equals better care and a clean environment. Bay Health is a leader in partnerships with other organizations and was recently honored with an award for this leadership.
Expect a new MCDC Dental Clinic to be opening in Bay County in 2020.
The Bay County Health Department was the 2018 recipient of the MDHSS Director's Award.
Among the questions, and one that stood out, was about the shingles virus. Regardless of how important this one could be as the population ages, it is very hard to get and can be expensive. He noted that there is a newer vaccine and that's the one you want to get. He was concerned about " over-the-counter " vaccines where the provider may not tell you which vaccine is being offered, or the difference. You should call the Health Department for more information.
For more information visit
www.baycounty-mi.gov/health/
.
---
CLUB NEWS and ANNOUNCEMENTS
A note to all members.
Past Due Dues invoices
for the January to June term are past due. A dozen members who have not paid are asked to please take care of this as soon as possible.
If you did NOT receive an invoice, please contact the secretary.
Tim Holsworth talked about the
Golf Outing
coming June 24. Raffle tickets should be ready soon. A list of sponsors will be out soon,.
Jeff Yantz updated the club on the
"Mitten State Music Revival"
on May 11. Tickets are $10. The posters will be ready very soon.
In the day's "
Rotary Foundation Minute
"
Bob Chadwick
asked how many women from the audience went to college. Then he asked it there was ever a question about them going. The question was relevant when he talked about his friend and our Ambassadorial Scholar Mohibullah Israr. After returning to his home in Afghanistan, Israr started a school with the help of the Rotary Foundation and our district. A year later he received more aid to start a school for women, and soon found himself under a death warrant from the religious fundamentalist there. The success of that school for women was a direct result of the help from RI and those who contribute to that cause. Sometimes we forget what we have. Our foundation dollars that helped women's education stands as a reminder.
Chuck Cusick
followed by telling about envelopes he placed on the table for donations to be mailed to the Foundation. What could be easier? Write a check, put it in the envelope, drop it in the mailbox. Simple!
The club will meet off-site on these dates:
June 4
June 18
July 30
COUNTING DOWN

At the board's direction, these Breezes, the club web site,
and the member database will be dropped as of July 1, 2019.

Replacing these systems, used for the last fifteen years, will be the Club Runner program. If there are features of the current system that you like or rely on, be sure to ask board members or incoming administration if there will be a replacement for that feature.
---
---- DATES TO REMEMBER ----

Mitten State Music Revival
22 ACTS!
4 STAGES
One Night May 11, 2019
June 24, 2019: Golf Outing
- 9:00 am Maple Leaf Golf Course
2018 Off site Meeting April 9
Marriott, Uptown Bay City

Board meets at 11:00, prior to regular meeting.
---
Upcoming Programs
(See the official schedule at RotaryBayCity.org )
April 16, 2019: Optimist Youth Awards
The club will join the Optimists at the Doubletree for this awards program.
April 23, 2019: Zac Brannigan
of the
Saginaw Basin Land Conservancy
will talk about new Bay City Projects.
April 30, 2019: Community Foundation Give Local Bay
Kirsten McIlvenna will talk about the upcoming 24-hour online giving campaign that unites our community in supporting our local nonprofits, agencies, and parks in Bay and Arenac counties. Your support on Give Local Bay on May 7, 2019 helps these nonprofits build their endowment funds at Bay Area Community Foundation so that they are able to provide for many generations to come.
May 7, 2019: Great Lakes Bay Region Families Against Narcotics
presented by GLBR founder Lori Ziolkowski.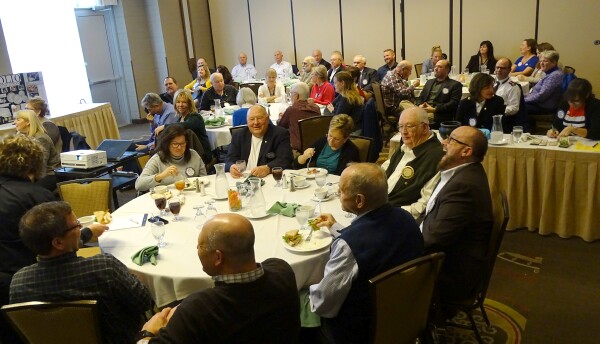 Rotary
is an intimate affiliation of carefully selected business and professional people,
having as its objective the promotion of high ethical standards in private, commercial
and civic life, and dedicated to the ideal that the basis of all worthy endeavor is unselfish service.

Rotary
is an intimate affiliation of carefully selected business and professional people,
having as its objective the promotion of high ethical standards in private, commercial
and civic life, and dedicated to the ideal that the basis of all worthy endeavor is unselfish service.
---
Current and past
DISTRICT DISPATCH
newsletters are available on the District site shown in the LINKS section below.


Rotary Bay City on Facebook!
Click on the Blue Facebook to visit us there.

Remember! Check attendance sheets at the front desk.
---
LINKS
---
---

Stephen Kent




Steve Kent and his family have lived in Bay City for 40 years. He is VP of Technical Services at MMCC which produces MyBayCity.Com. Kent is active in many Bay City civic organizations.

More from Stephen Kent
---
Send This Story to a Friend!
Letter to the editor
Link to this Story
Printer-Friendly Story View
---
--- Advertisments ---