SVSU International Studies Program Topic Of Rotary Program
April 23, 2019 Leave a Comment
By: Stephen Kent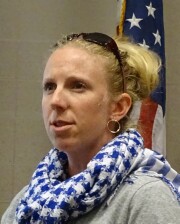 Jenna Briggs
Jenna Briggs
from SVSU's Graduate and International Studies Program, spoke to Rotary about the mission and program of that program at Saginaw Valley State University. There are just over 600 international students, representing 57 countries at the school. Saudi Arabia, China and Nepal have the highest number of students.
The mission states "The OIP creates diverse global learning opportunities that encourage intellectual and intercultural development. We cultivate a community that values peace, exploration, empathy, and ethical leadership. We provide transformative experiences that enable participants to be agents of positive change in their communities and beyond."
There are many benefits of a vibrant international education. Among those Briggs cited are
International experience for many of our domestic students.
Passport to the World - K-12 outreach.
Intensive English Training for "domestic" K-12 students.
Cultural events for the Great Lakes Bay Region
Peace and nation building through education.

Briggs told of a number of events. The recent HOLI, or Festival of Colors, is a celebration gaining popularity in the States. An ancient Hindu festival signifying the arrival of Spring. Among the events is a gathering where participants cover themselves and others with colored powders to create a rainbow of people. (The SVSU festival runs a little later than most because the weather stays colder longer.)

Other programs include an international food festival, an intercultural night, and "The Traveling Tap", which is a TED talk type of program held at breweries and pubs around the region. In a partnership with the U.S. Department of State the program includes
A World Learning Global UGRAD Program with 5 students from developing nations
The Thomas Jefferson Pakistan Program
An IREX Tunisia program with two female STEM majors.
A YEAR program for Russian students.

SVSU is also the home to a ROTARACT club. Founded by international students, the club held a backpack project where backpacks were filled with supplies for younger students. They also build and sponsor "Little Libraries" and "reading lofts".

Briggs encourages the public to get involved. "Check out our Facebook page by searching for SVSU International. Join our friends and family program. Attend one of the events, most of which are open to the public.".


---
CLUB NEWS and ANNOUNCEMENTS


Thanks to Andy Rogers for providing musical accompaniment to our opening song using his squeeze box.

The club extends it's best wishes to long time member Bob Sherman who is under hospital care.

Tim Holsworth reminded member of the Golf Outing coming up on June 24. Long time grand prize sponsor Wildfire Credit Union will be the title sponsor this year. Moving up a notch, Michigan Sugar will become the grand prize sponsor. The first "T" sponsor has been named. We just want more players now.

Jeff Yantz gave a reminder for the "Mitten State Music Revival" on May 11. Tickets are $10. To illustrate the variety of musicians, Jeff passed out the small program card that will be distributed at the event. Check out throughthese4eyes.com for an article about the Revival.

Griff Acker, who has recently returned from Florida, related a story of interest. The area he visits has some 250 lagoons to fish. He and his grandson were fishing one when Griff notices an alligator gliding toward the youngster. Griff yelled until he got his grandson's attention enough for the boy to get moving. A nine food gator came out of the water, grabbed the boy's raincoat on the ground then moved on to the landing net. There proved to be no danger but also reminded everyone down there to keep their eyes open!

The club will meet off-site on these dates:
June 4
June 18
July 30



COUNTING DOWN

At the board's direction, these Breezes, the club web site,
and the member database will be dropped as of July 1, 2019.

Replacing these systems, used for the last fifteen years, will be the Club Runner program. If there are features of the current system that you like or rely on, be sure to ask board members or incoming administration if there will be a replacement for that feature.






---
---- DATES TO REMEMBER ----

Mitten State Music Revival
22 ACTS!
4 STAGES
One Night May 11, 2019


June 24, 2019: Golf Outing - 9:00 am Maple Leaf Golf Course


---
Upcoming Programs
(See the official schedule at RotaryBayCity.org )


April 30, 2019: Community Foundation Give Local Bay Kirsten McIlvenna will talk about the upcoming 24-hour online giving campaign that unites our community in supporting our local nonprofits, agencies, and parks in Bay and Arenac counties. Your support on Give Local Bay on May 7, 2019 helps these nonprofits build their endowment funds at Bay Area Community Foundation so that they are able to provide for many generations to come. v

May 7, 2019: Great Lakes Bay Region Families Against Narcotics presented by GLBR founder Lori Ziolkowski.




Rotary
is an intimate affiliation of carefully selected business and professional people,
having as its objective the promotion of high ethical standards in private, commercial
and civic life, and dedicated to the ideal that the basis of all worthy endeavor is unselfish service.

Rotary
is an intimate affiliation of carefully selected business and professional people,
having as its objective the promotion of high ethical standards in private, commercial
and civic life, and dedicated to the ideal that the basis of all worthy endeavor is unselfish service.
---

Current and past DISTRICT DISPATCH newsletters are available on the District site shown in the LINKS section below.







Rotary Bay City on Facebook!
Click on the Blue Facebook to visit us there.

Remember! Check attendance sheets at the front desk.
---
LINKS
---
---

Stephen Kent




Steve Kent and his family have lived in Bay City for 40 years. He is VP of Technical Services at MMCC which produces MyBayCity.Com. Kent is active in many Bay City civic organizations.

More from Stephen Kent
---
Send This Story to a Friend!
Letter to the editor
Link to this Story
Printer-Friendly Story View
---
--- Advertisments ---






0200 Nd: 10-27-2020 d 4 cpr 0






SPONSORED LINKS
---
LOCAL LINKS
(Ads not affiliated with Google)
---
---
---
---
---
---
---
---