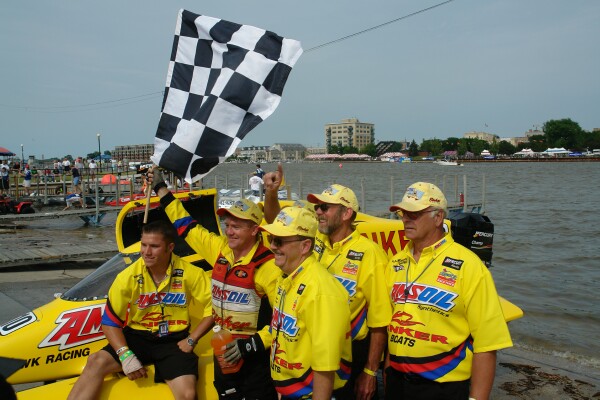 Champ Boat Winner Terry Rinker and Crew
---
19th Labadie River Roar Highlight of Weekend
Power Boat Racers Return to Popular Summer Event
June 25, 2006 Leave a Comment
By: Stephen Kent
What a perfect weekend for power boat racing on the Saginaw River. One of the favorite stops on the race circuit, the course between the bridges in downtown Bay City provides thrills and spills as the wind and boats beat the water into a choppy mess between the seawalls. But the drivers say they love it. The course is great, access to river is great, the crowds are great, and Bay City throws a good party.
Bay City has always boasted great seating and viewing for the race. This year there's a new option at the Waterfall Park and Pier on the East side of the river. The area has been designated for handicap access and was manned by volunteers and clients of New Dimensions and the Disability Services Resource Center. With offices in the Industrial Park, Disability Services provides training and jobs for disabled and handicapped residents of the county. Besides contract jobs in their own facility, they have placed over 91 individuals in jobs in the community.
The Waterfall Park provides wheelchair access to the river. For many of those viewing the races it was their first opportunity to come to event and get a front row seat. The park was still open to the public but everyone was asked to give wheelchairs the front row.
This year's race was predicted by some to hold the prospect of more accidents than usual because of the strong north wind blowing in from the bay. Although there were two incidents, there were no serious injuries.
Don Pierce
, owner of Power Boat Racing Rescue from Chattanooga Tennessee was on hand with his equipment and a team of local firefighters, divers and the assistance of Bay Med's paramedics and ambulance. "With those seawalls reflecting the waves, and running a 50 lap race, that water's going to get choppy" said Pierce. "That wind won't help. If we're going to have any blow overs they'll probably be up on the north turn."
Pierce says that he contracts with the American Power Boat Assn. to provide the rescue services. He's been doing it since about 1983. Since retiring as a firefighter with the Chattanooga department five years ago, he's spent more time at the races. "Bay City is an easy one for us" he said. "We know everyone around here and everyone knows what they have to do. I don't even have to call ahead. The crew is here and ready to go."
Shaun Torrente is brought in for a mandatory check after one of the few blow overs of the race.




A visit to the pits reveals that this is a family affair as much as a professional sport. Everyone knows each other and there are wives, kids and relatives all over the place. Tim Brehm, crew chief for John Broge of Wyandotte, says that being just a couple of hours away lets everyone come to this race. "Wives, kids, grandparents; they're all here". The extra help on the engine might have helped since John came in second in the Champ 2 class.


Another family affair is the Super Light Tunnel or SLT boats. These rubber boats with a big outboard engine carry a driver and a co-driver at about 60 miles per hour. Fast enough to bounce you around pretty well. Gary Kowalewski, co-driver for Mark Hodorek was able to give a "swimmers report" to the great amusement of everyone in the pits. "We just hit a wave and I went straight up. My arms were just not strong enough to hold on and I went in. I can tell you the wind speed, the water temperature and what it taste like" he said.

"Many of the crews are husband and wife teams" said Mike Venier who's co driver is wife Linda. "Our son Shane and his wife, Julie, race too. It's a real family affair." Mark Hodorek said that a number of drivers retire from the big boats and start racing the SLT's. "It's not as fast and the rubber boat tends to not bounce so hard. When the knees start to go you can still race without quite so much physical punishment."

Bay City owns some fame in the SLT circles as Bay City's own Jeff Spencer is the current world record holder with a speed of 66.4 mph!






---








---

River Roar stories from the MyBayCity.com archive: