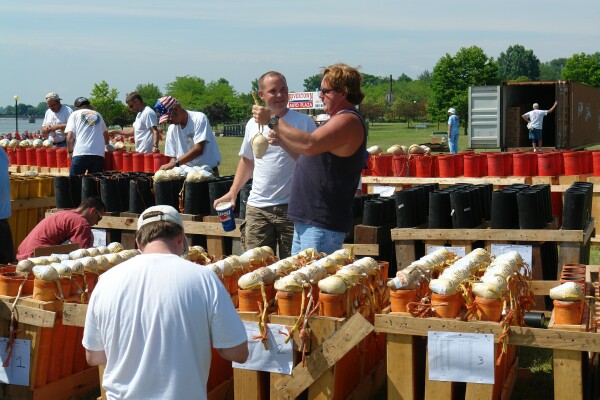 Blowing Stuff Up. What Could Be More Fun?
Bay City's Polish Pyros Light Up Shows All Summer Long
Bay City is known for its fantastic Fourth of July Fireworks Festival. People come from far and wide to take in the show. It's a high energy, professional show. Everyone knows all that. What they may not know is that the show is designed by a local company, Wolverine Fireworks, and is fired by a local group known as the Polish Pyros who bill themselves as "Fire for Hire". Both groups spread the name of Bay City throughout the country as Wolverine sells fireworks and the Polish Pyros hire out to fire twenty or more shows a year.
The Pyros, which is a club, is run by the Dabrowski brothers Tim, Mark, Dave, and Greg. The club was started in the mid 1950's by their late father who loved fireworks and passed that on to his sons. Today the boys are watched over by their mother Maxine. "Mom is 79 but still helps us with every show. She's not too crazy about the computer firing systems. She'd rather fire them by hand." said Mark.
"We're a licensed organization and everyone is state certified to handle fireworks. We have to pass an annual safety inspection, but our main safety credential is our experience. We are paid to fire a show, but it's not something we make our living at. Our people have day jobs, or they're family, or they're retired." said Mark Dabrowski, a Systems and Facility manager at Dow Corning when he's not having fun blowing up fireworks.
Setting up a show like Bay City is quite a job. Wolverine holds the contract for the Bay City show. They design the program and provide all the fireworks and equipment. They hire the Polish Pyros to do all the setup and actually fire the show. The setup will involve over 30 people. The short shows take several hours to set up and the 45 minute final show may take eight hours.
The entire program is designed on a computer running commercial fireworks software. Every shell is cataloged, numbered, and assigned to a tube and a spot on a control board. The shells are laid out on the tubes and the printed shot chart is taped to the side of the rack. Each shell is double checked, a firing wire attached and is loaded into the tube. The wire is then connected to a firing system which communicates with the main computer over standard Cat 5 cables.
This is a complicated show, said Scott Stevenson, who's runs the computer and fires the show each night. "We'll have over five miles of wire out there connected to three computers. This time we're using a remote system and a second fire controller on the other side of the river. We'll have two safety guys over there but it's all run from here."
When asked about his experience, Stevenson said that he's a safety coordinator at SC Johnson in real life. He's been a Polish Pyro for about eight years. "You know, we're all home town boys (and girls). When we were kids my brother and I sat on that hill watching the show and wished we could be down here setting things off. Now here we are. Just three people get to be in the fallout zone, the fire control person and two safety guys. What more could you ask for?"
Stevenson went on to say that the three guys running the show wear full safety gear, a hard hat with a metal screen face shield, hearing protection, and full Nomex fire suits.
"Balls, strobes, cakes, salutes, casters"... Listening to the Polish Pyros at work makes it clear that the business has a language of its own. But even with lots of people around there's no horsing around and most of the talk is rather quiet. Hundreds of powerful fireworks is not to be taken lightly. Two people work together checking and double checking as they go.
Rhonda Dabrowski said that it's serious work but they have fun. It's also a family thing with husbands and wives and some kids involved. Rhonda said she would never have believed that she'd be handling high explosives before she met husband Greg. Now, after 12 years, she's at home with fireworks but said "I'm still more scared of them than most folks. On the other hand, I'd love to lie down between the big tubes with a camera and take a picture from that angle." Then she laughed.
This year's show was special to Rhonda and Greg. They lost their 15 year old daughter Jessica to a traffic accident last year. "There's going to be a special shell in her honor in the show. They're building it today and it will have a cobalt blue butterfly pattern" Rhonda said. "We were at an association show earlier in the year and a friend from China was there. He took a pinch of Jessica's ashes back to China and put them in a shell that was part of a large show there. Jessica always wanted to fly and she got her wish."
The Polish Pyros fire most of their shows for other organizations, but once each year they run their own show just for fun. The public is welcome to watch but it's not organized or sponsored by anyone. On June 29, keep your eyes on the sky at the end of Bangor road out on the bay. Like Mark Dabrowski said "Give a bunch of Pollock's x dollars and x number of shells and tell them to blow 'em up and you're going have some fun!"
---
---
--- Advertisements ---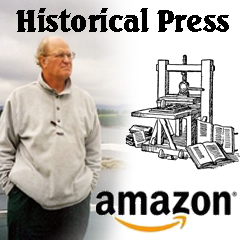 ---
---
---

Stephen Kent




Steve Kent and his family have lived in Bay City for 40 years. He is VP of Technical Services at MMCC which produces MyBayCity.Com. Kent is active in many Bay City civic organizations.

More from Stephen Kent
---
Send This Story to a Friend!
Letter to the editor
Link to this Story
Printer-Friendly Story View
---
--- Advertisments ---