City Has Estimated $60 Million Unfunded Liabilities, Manager Tells Rotary
On Tap This Week: Doug Chapman of Dow Gardens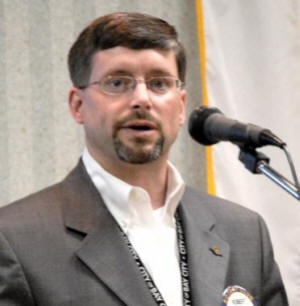 Robert Belleman, City Manager of Bay City (Photo by Andy Rogers)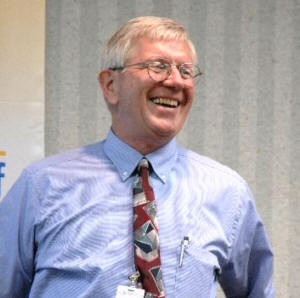 Water-Sewer Director John DeKam used visuals to explain the condition and operations of the city's water system. (Photo by Andy Rogers)
SPECIAL NOTICE
FROM PRESIDENT GENA:
The last issue of the Breezes says that board meetings will be held on the 1st Tuesday of the month. Our bylaws require that the board meetings be held on the 2nd Tuesday of each month. That is not changing; we're just changing the time from 7:30 am to 11 am and will see how that works for everyone. There will be a special board meeting on August 1 (first Tuesday) because of the district governor's visit. This will not be a regular board meeting and no decisions will be made. The governor, Bill Parlberg, just wants to meet with the board before the regular meeting.) BOARD MEETING: Tuesday, Aug. 8, 11 a.m., Clarion Inn, Bay City.
PINCONNING CLUB: Meets noon, Thursday, Aug. 10, Third Street Deli, Pinconning.
REMINDER: Start thinking about auction items for International Night.
GROUP STUDY EXCHANGE: Group from India is due here Aug. 20-24 to make presentations to both Rotary clubs in Bay City. Housing is needed for the following: Mehul Kothari, 43, married, vegetarian, auto dealer, involved in local education; Shalini Talwar, 33, married, vice-principal/professor; Margi Kirtikumar hathi, 30, unmarried, vegetarian, college lecturer in English; Ruchi Halakhandi, 32, unmarried, vegetarian, senior manager, designer tile manufacturer; Dr. Ravi Singhvie, M.D., 36, married, vegetarian, cardiologist/internist, also practicing astrologer, palmist, numerologist and Tarot card reader. See Mike Stoner.
In an eye-opening "Utilities Road Show" at last week's meeting, City Manager Robert Belleman, Water-Sewer Director John DeKam and Acting Electric Department Director Phil Newton laid out the good, the bad and the really ugly for Rotarians.
THE GOOD:
Water:
The essential water supply is safe and reliable and there is plenty of capacity with 40 million gallons a day available and 10 million gallons a day usage; About 85,000 chemical tests a year show there are no carcinogens in the water; quality exceeds regulations since the system was designed to handle the type of water in Saginaw Bay;
Although the water rate is going up from $2.31 per 100 cubic feet to $2.43 (5.2%), this is below inflation and will only cost the average customer about 84 cents a month;
Electric Power: Electric power is 11 percent lower than charged by Consumers Energy and residential rates are 12th among 24 other municipal utilities, commercial rates are 10th and industrial rates are 6th;
The city, third largest municipal electric system in the state, plans to "buy into" some more power sources in an attempt to stabilize rates;
Overhead lines are being converted to underground, particularly in the downtown area, and most new construction is underground;
THE BAD
:
Water:
About $27 million in improvements is needed to the water system over the next 15 years, including replacing aging mains, meter replacement, water plant, raw water pumping station and lagoon rehabilitation;
Electric:
Purchased power comprises 54 percent of the total and costs are rising rapidly, including labor, benefits, health care and retirement comprising 75 percent of costs;
Capital expenditure costs also are going up, with wholesale prices of plastics and metals up 50 percent since 1998 and no end in sight;
Residential and small commercial power rates (average 600 Kilowatt hours a month) will go up about $55 a year beginning in October;
THE REALLY UGLY:
Underfunded pensions and health care costs built up over the past 30 years are expected to be about $60 million in the next estimate, according to the city manager.
"This is not manageable at current levels of operation," the manager said in response to a question from Rotarian Tim Moulthrop. Mr. Belleman said he forsees "a very difficult road ahead."
Although the defined benefit system has been closed to new employees since 1999, the Michigan Employees Retirement System is seeking to shrink amortization of unfunded pension and benefit liabilities to five years from the present 30 years.
All collective bargaining agreements expired June 30 and attempts are being made to negotiate modifications without creating negative working conditions, the city manager said.
The city is looking for a partner to create water authority in one attempt to control costs and maximize income, he said.
Information is available at http://www.baycitymi.org
PROGRAMS UPCOMING: Aug. 1: District Governor and Paul Barbeau on Midland baseball; Aug. 8: Strategic planning with Chuck Brooks; Aug. 15: Open; Aug. 22: Brian McCarty and Dennis Ouillette, Mid-Michigan Medical Center, "Gamma Knife" brain surgery.
---
---

Dave Rogers




Dave Rogers is a former editorial writer for the Bay City Times and a widely read,
respected journalist/writer in and around Bay City.
(Contact Dave Via Email at carraroe@aol.com)

More from Dave Rogers
---
Send This Story to a Friend!
Letter to the editor
Link to this Story
Printer-Friendly Story View
---
--- Advertisments ---