The 'New Dow Corning' Remakes Its Public Image
Bottom Line Shows Dramatic Improvement, Alliances Aim at Homeland Security
January 8, 2003 Leave a Comment
By: Dave Rogers
Chief Information Officer Abbe Mulders exudes confidence about firm's new approach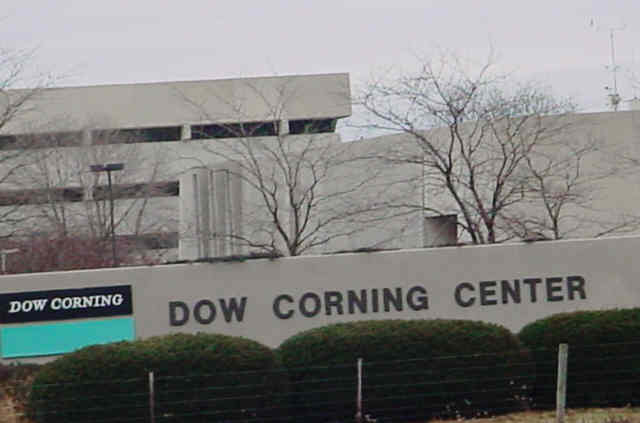 Dow Corning corporate headquarters is at western end of Bay County on Salzburg Road.
What is the "new" Dow Corning?
1)The firm is remaking its image to go with a recent corporate reorganization as a lingering silicone breast implant controversy settlement nears.
2)The company is involved in dramatically important product developments, some related to homeland security and medical diagnostics.
3)And the financial bottom line has shown sensational improvement as a result of these developments and initiatives and increased sales of its silicon-based products boosted by on-line "e-business".
One of Bay County's three largest employers, with 1,560 persons at its corporate headquarters at Garfield Road and US-10, Dow Corning's future is inextricably linked to that of the tri-county area.
Dow Corningdevelops, manufactures and markets more than 7,000 silicon-based products and services to more than 25,000 customers around the world. More than half its $2.7 billion annual sales are outside the U.S. The firm employs aproximately 7,500 people at 40 manufacturing and service locations, holds 1,800 U.S. patents and about 4,800 patents worldwide.
"You can't stay in business long if you don't constantly improve," says Abbe Mulders, a Bay City resident who is executive director and Chief Information Officer (CIO) of Dow Corning, adding emphatically: "We're out there to win in the marketplace."
NEW MARKETING STRATEGY LAUNCHED
Last April the firm initiated an aggressive new strategy, termed "The New Dow Corning," on several fronts:
1)A re-launch of its brand and image;
2) A spiffy new website, www.dowcorning.com which, Mulders says, "promotes behavior necessary to achieve a sustainable future;" and3) A stronger collaborative approach with customers stressing "reliable, consistent products" under a strategy called "Xiameter."
"Xiameter changes the rules for the chemical business and how we do business," says Mulders, who addressed a Bay Area Chamber of Commerce eye-opener breakfast on Jan. 7 at theLantern in downtown Bay City. "We've gotten a lot of publicity over the past 12 months and it's done a lot for our image and employee morale," the CIO commented.
SUSTAINABLE FUTURE IS GOAL
The firm touts "dedication to building a sustainable future" under its Responsible Care(R)framework to manage environmental health and safety performance under six codes of management practice.
Among Dow Corning products which appear mundane but which have tremendous market impact are three currently being promoted as "solutions" for customers: 1) Engineered synthetic gear oil which extends gearbox life by 350 percent; 2) siloxane additive which improves performance of Kodak camera housing; and, 3) silicone sealant and support service which helps manufacturers improve product quality and save money.
Xiameter, a global brand, offers low pricing for high-volume shipping units of commonly-used silicon based materials. It offers more than 350 fluids, resins, silanes and sealants. Xiameter reduces costs to customers through streamlined services, a set of "rules" and transactions on the web. The brand features a sleek Bengal tiger as a logo.
The "publicity" includes an award from Documentum, a management collaboration provider, naming Dow Corning as one of the nation's top firms in e-business. Also, Tom Lane of Dow Corning will be a panel member at an analyst and investor briefing by the Biotechnology Industry Organization (BIO) Jan. 23 in New York. the event is called "The Third Wave of Biotechnology." This half-day program will focus on the progress made by industrial biotechnology in the industrial enzyme, bioenergy and bio-based materials markets, which are rapidly transforming multiple products and industries.
COURT RULING BARS FURTHER LAWSUITS
Mulders did not refer to it, but a recent court ruling by a Detroit federal judge bars further lawsuits against Dow Corning's corporate patents by the thousands of women claiming health problems related to silicone breast implants. U.S. District Judge Denise Page Hood's Dec. 11 ruling was part of a $4.5 billion bankruptcy reorganization plan. That plan, which took almost five years to develop, was approved by former U.S. Bankruptcy Judge Arthur Spector in November, 1999. Soon after approving the plan Spector wrote an opinion stating that the six percent of the women who voted against the reorganization plan could sue The Dow Chemical Co. and Corning Corp., the joint venture partners in Dow Corning. Judge Spector, of Bay City, was mysteriously replaced last year by the Bush administration and now practices law with a prestigious firm in Boca Raton, Florida. No reason for Judge Spector's replacement has ever been revealed and the former judge himself has not commented to the news media.
In February the estimated 170,000 breast implant claimants across the world will receive packages of information and forms to fill out regarding their health. However, no payments will be made until the appeals process is exhausted, the courts have ruled.
BOTTON LINE IMPROVES DRASTICALLY
The corporate reorganization as well as the public relations and marketing initiatives have been highly successful. The firm reported consolidated net income of $46.8 million for the third quarter of 2002, up sharply from the $14.4 million reported in the same period of 2001. Net income was $116.1 million in the first three quarters of 2002, up 50 percent from $77.6 million in the same period last year.
The officials behind the successful Xiameter program are moving up in the corporation. A new Chief Financial Officer (CFO), Joseph D. "Don" Sheets, 42, is slated take over that post Mar. 31, succeeding retiring Gifford E. Brown, 56. Sheets has been heading the Xiameter program, which now is headed by K. Michael Lanham, 42, who had been global commercial director for Xiameter.
ALLIANCES COULD IMPACT HOMELAND SECURITY
A review of recent news items about Dow Corning reveals some startling and positive initiatives, besides the improved bottom line and image.
Potentially most important for national security is a partnership between Dow Corning, an Australian firm, Ambri Limited, and Genencor International, of Palo Alto, California, to apply for U.S. military grants to develop detection methods against biological and chemical weapons. Ambri's technology measures the concentration of drugs, hormones, viruses or bacteria in human blood. It can be used by hospitals to make a diagnosis in less than five minutes where previously the blood samples would have to be sent to a pathology laboratory for a time-consuming analysis. That technology would be vital in case of an attack on the nation using biological or chemical weapons, military and health experts have predicted.
Dow Corning and Genencor also are in the second year of a two-year alliance to create a new proprietary Silicon Biotechnology Platform. The alliance has filed for patent applications in three broad areas and is planning to market biosensors. These areas are biotransformations, used to modify silicon to create new, more environmentally efficient silicon materials; combination of silicon and biological materials for health and personal care and cleaning; and nano-scale systems forbiosensing devices and performance materials.
The alliance also is eyeing business opportunities in biowarfare threat analysis, environmental monitoring of air, water and food, drug research, personal medical testing and animal diagnostics.
Dow Corning is one of the nation's largest and most successful joint ventures, a partnership between The Dow Chemical Co. and the Corning Glass Works (now corning, Inc.)which dates to 1943. The joint venture was formed to explore commercial use of silicones, and resulted in production of a wide range of products made from sand (silica).Web access: www.dowcorning.com
---
---

Dave Rogers




Dave Rogers is a former editorial writer for the Bay City Times and a widely read,
respected journalist/writer in and around Bay City.
(Contact Dave Via Email at carraroe@aol.com)

More from Dave Rogers
---
Send This Story to a Friend!
Letter to the editor
Link to this Story
Printer-Friendly Story View
---
--- Advertisments ---