14 Annual Pig Gig -- 2006
Presented by State Farm Ins.
August 3-6
Covenant Health and Meijer have joined with Labadie to Sponsor the Event
July 31, 2006 Leave a Comment
By: O. J. Cunningham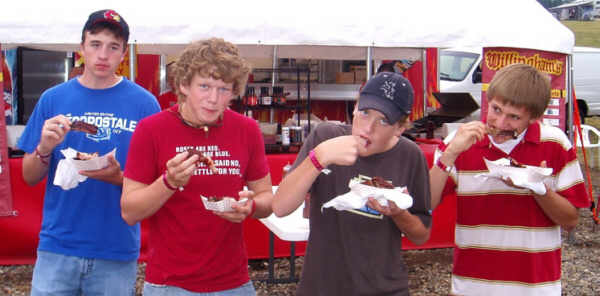 Good Eats - 2006 Pig Gig Will Feature
Ribs, Ribs & More Ribs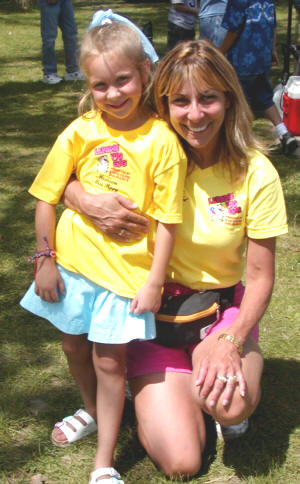 Event Organizer, Wendy Dore and her young assistant (grand daughter) Maddie Larocque, are ready for PigGig 2006
Bay City, MI - The 14th Annual Labadie Pig Gig presented by State Farm is set to kick off August 3rd through the 6th in Veteran's Memorial Park in Bay City. Covenant Health Care and Meijer have joined with Labadie & State Farm and other local sponsors to make sure that the Boys and Girls Clubs of Bay County and other area charities will have another successful fund raising weekend!.
Advance tickets went on sale on July 1st with a special HALF OFF DISCOUNT IF PURCHASED IN ADVANCE @Labadie Auto Company, Labadie Jeep, participating State Farm Agents and 7-Eleven locations. Labadie Pig Gig guests can purchase their daily tickets for just $5.00 for each day. Daily admission at the gate will be $10.00. Weekend passes are only $17.00! Again! Kids 12 and under are FREE!
Wendy Dore
, Event Organizer, says "Our goal is to provide a family event that is affordable for everyone in the community. Without the support and sponsorship of the Labadie Family, the $5.00 advance ticket pricing would not be possible."
"It's like a family church-picnic," Dore continued. Dore said it was her 14th Annual Pig Gig. "Not high-tech. Just good, clean, old-fashioned fun," Dore said.
This Championship Rib Cook-off is the setting for national competitors vying for the title of
The Best in the Midwest
. Rib champions from around the country and even from around the world will participate - as the Aussom Aussie returns again! 2006 promises some exciting new tastes, with numerous new rib competitors all fired up to be crowned the champion!
Competitors so far includes Famous Dave's of Saginaw, Porky and Beans of Port Saint Lucie, Florida, Bone Daddy's of Midland, Meats & Moore of Bay City, Willingham's BBQ of Minnesota, Lumber Barons' of Bay City, Smoken Dudes from Bensalem, PA, Paco's Moonlight Café (Soon to be opening in Bay City.)
---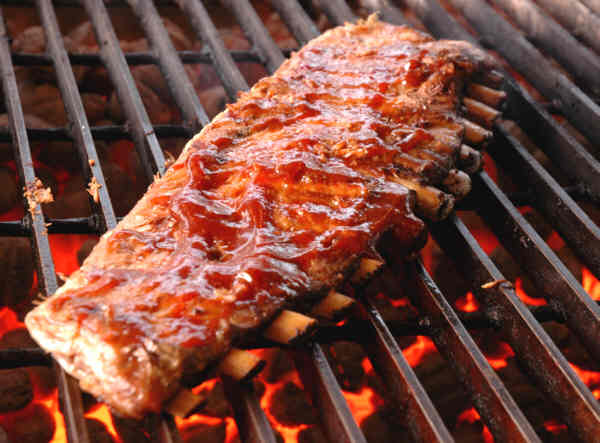 ---
The Labadie Pig Gig will also feature on-going entertainment on the S.C. Johnson Family Stage. The family fun will be non-stop and just as hot as the ribs we're serving up all weekend long! Magic shows, clowns, dance and musical performances will delight young and old alike! In addition, a special appearance will be made by Ronald McDonald courtesy of Larry & Diana Peters of the Bay City McDonalds. Again, this year will be the preschool age appropriate performances with Nan's Play Pals! Do a little performing yourself and sing karaoke with Jay Samborn Entertainment!
Pig Racing returns to the Labadie Pig Gig as well! Several individual races each day will provide fun you can bet on! Back by popular demand, the pig races offer our guests the chance to bet on their favorite pig bringing home the bacon! The Red Cross will host the races with all proceeds donated to their fund raising efforts.
A new exciting event this year is The Nerveless Nocks' Circus Stunt Show featuring the Daring Space wheel, a fast paced act that will keep everyone of the edge of their seats. While revolving on an aerial pendulum, the Nocks will perform leaps, somersaults, handstands and actually walk the wheel blindfolded. Other circus performances include the exciting Tower of Chairs and fire juggling. There will be 3 Shows Daily starting on Friday.
Wendy Dore
made a special effort to thank all of the 2006 PigGig sponsors. "We would like to take this opportunity to thank our presenting sponsor for supporting the 2006 Labadie Pig Gig, with special thanks to State Farm Insurance, who will be hosting a hospitality tent to provide additional covered seating for our patrons," Dore said.
Dore went on to say "Another major sponsor is Meijer, who will be hosting the Michigan Lottery Booth. Meijer is a tremendous addition to Bay City and the surrounding communities and we appreciate their support."
For all that Pig Gig fun in the sun, Covenant Health Care will again be providing the Hospitality Tent as a place to get out of the heat and enjoy your rib dinners. Thanks to Covenant Health Care for helping out by providing sunscreen again this year.
The Boys and Girls Clubs of Bay County will staff the "Kids Kraft" Center, which is sponsored by Meijer. There will also be a Kids "U Build It" area compliments of Lowes. "Sand Art" and many more activities and contests will be ongoing starting Thursday and continuing throughout the weekend. Face painting will be available to transform all the kids into little piggies for the day!
Of course, the most significant aspect of the Labadie Pig Gig is the fund raising effort for the Boys and Girls Clubs and other participating charities. PigGig organizers are proud to share that with the efforts of our volunteers and the continued support the sponsors and patrons, that throughout the years have managed to raise over $525,000.00 for local worthwhile charities.
The Labadie Pig Gig will again this year host a
Celebrity Rib Challenge
in which local media personalities compete against each other with their own "secret recipe" to win
The Best Celebrity Ribs
. Proceeds generated during this competition will be donated to worthwhile charities in the area. The general public can try the ribs specially prepared by their favorite local celebrity and vote for their favorite.
PigGig says "Thank You" to Molson, Gallo & Bartles & James that are distributed by Muehlenbeck Distributing, as well as Coca-Cola who will be sponsoring the refreshment tent! The Bay City JayCees will be hosting the Molson tent as a fund raising effort again this year!
The Boys and Girls Club will operate the Casino Tent again this year! Come spend time in Bay City's own Little Las Vegas!
Don't forget the rest of the fun games and contest going on all weekend, as well! The Jalapeno Eating Contest, Pig Calling "Oink Oink", Dunk Tank, Piggy Putting-green and the Piggy Parade led by the Labadie Pig Gig Piggy.
Thanks also go out to all the additional sponsors supporting the 2006 Labadie Pig Gig, especially Independent Bank, HealthPlus, The Bay City Times, Arnold Sales, Molson, SC Johnson, Coca-Cola, Sprint, Art Van, Belle Tire, Blue Care Network of Michigan, The Americinn, 7-Eleven, Dow Chemical, Outdoor Adventures, Lowes, Skipper Buds, The Michigan Lottery and Papa Johns. In addition, special thanks goes out to Batschke Garden Center for donating the beautiful decorations at the event entrance, VIP "Swine & Dine" tent and the Pig Racing Area. As always, it's sure to look great!
Another great new addition to the event this year is the Rock by The Dock - A new addition will feature teen bands from the Bay Area showcasing the talent of our young people. The event will run on Saturday, the 5th from 11:00 a.m. to 3:30 p.m. sponsored by the Bay Area Community Foundation Youth Group.
Also, a special thanks to all of media sponsors that give their support to their fund raising event.
A new surprise this year is the Give-a-way of the Labadie Pig Gig Party Pick-up!
(Pictured Below)
One lucky winner will receive a 2 year lease on a GMC Extended Cab Pick-up complete with the Molson Grill N' Chill on the back as well as a years' supply of Molson Beer, Party Snacks compliments of Meijer and a year's supply of Slurpee ® compliments of 7-Eleven. Listeners of Citadel Radio stations, WIOG, WHEELZ, WHNN AND Z-93 will be directed where to go to register to win the lease on this fantastic truck with the Molson Grill N' Chill and all of the party goodies to go along with it! The lucky winner will be announced on Saturday, August 5th @ The Labadie Pig Gig!
---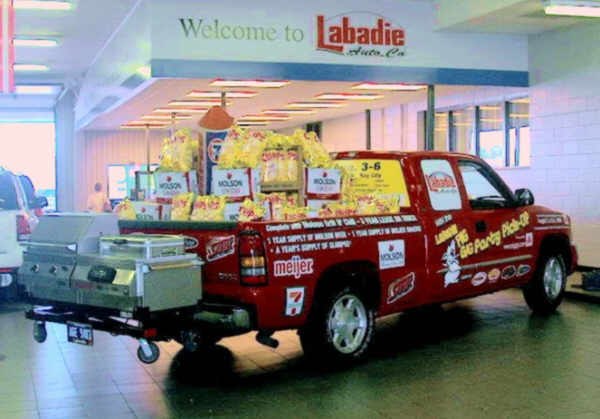 ---
DoreAble Entertainment
, the organizing event company of the Labadie Pig Gig is proud to have been part of this fund raising event. According to
Wendy Dore
, the festival organizer, "The Dore family lives in this community and are proud to contribute along with our sponsors, media representatives, city officials, employees and volunteers to raise the funds for the worthwhile work that our recipient charitable organizations do to keep our area one of the best places to live in this country."
For More Information Contact:Wendy Dore, Doreable Entertainment Inc. (989) 684-0452 Phone, (989) 684-4173 Fax, wldore@yahoo.com
Live Nightly Entertainment
Featuring National Recording Artists All Four Nights!


Thursday, August 3
- Forty Years of Classic Rolling Stones Hits featuring A Rolling Stones Experience
Friday, August 4
- Oldies Legend Herman's Hermits Starring Peter Noone
Saturday, August 5
- Foghat (Slow Ride, Fool For the City, I Just Wanna Make Love To You)
Sunday, August 6
- Country Star, Chris Cagle?
LABADIE PIG GIG SPONSORS
Labadie, State Farm Insurance, Covenant Health Care, Meijer, Molson, Independent Bank, The Bay City Times, SC Johnson, HealthPlus, Michigan Lottery, Belle Tire, Coca Cola, Art Van, Americinn, Blue Care Network, 7-Eleven, Dow Chemical, Batschke Garden Center, Papa Johns, Skipper Buds, Arnold Sales, Outdoor Adventures, Lowes.
LABADIE PIG GIG RECIPIENT CHARITIES
The Boys & Girls Clubs of Bay County

Literacy Council

CORY Place

Bay Arenac Community Living

Child Abuse & Neglect Council

American Red Cross

Johnny Burke Children?s Foundation

Bay County Women?s Center
Studio 23

Santa House

Big Brothers & Big Sisters

Bay County Vietnam Veterans

Area 9 Special Olympics

The Boys & Girls Clubs Auxiliary

The Salvation Army

Holy Trinity B

---
---

O. J. Cunningham




O. J. Cunningham is the Publisher of MyBayCity.com. Cunningham previously published Sports Page & Bay City Enterprise. He is the President/CEO of OJ Advertising, Inc.

More from O. J. Cunningham
---
Send This Story to a Friend!
Letter to the editor
Link to this Story
Printer-Friendly Story View
---
--- Advertisments ---