Bay County Looks to Saginaw Future for Economic Development Format
County Executive, Banker Dom Monastiere Lead Restructuring Effort
January 10, 2003 Leave a Comment
By: Dave Rogers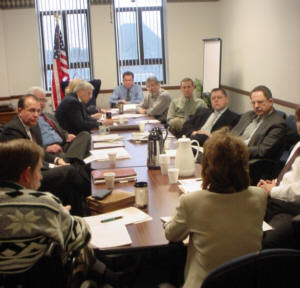 Key players in Bay County economic development planning gather in the County Building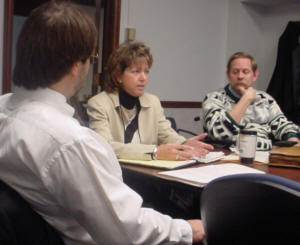 JoAnn Crary, Saginaw's economic development guru, advises Bay County group
Can Bay County restructure its economic development organization in the image of the highly-successful Saginaw Future, Inc. (SFI)?
County Executive Tom Hickner has been meeting for about two years with a group of business and governmental leaders in an attempt to bring the two sides together for future economic growth.
Observers consider the success of the "merger" highly problematic, given the vast divisions which have arisen in the fabric of civic life since a rancorous split between the private and public sectors with the breakup in the early 1990s of the old Bay County Growth Alliance, a community economic development group which was a creature of former Gov. James Blanchard's administration.
But they are trying to mold thebusiness community, governments, labor and other interests into a new, coordinated organization which will have secure funding. The key will be to keep politics out as much as possible and to continue a cooperative attitude for the overall good of the community.
The Bay Economic Development Corporation (BEDC), a strictly private sector initiative, formed to replace the community effort represented by the old Growth Alliance, has been struggling to maintain its funding base. Coupled with that problem is the fact that business and government leaders alike have recognized that "going it alone" is not the most effective way to accomplish economic development in a community.
The Bay County Growth Alliance (BCGA) was reformatted as a private, non-profit institution by former banker and civic leader Cliff Van Dyke and has as its primary function the operation of the Valley Center Technology Park in Monitor Township under contract with the Monitor Township Downtown Development Authority(DDA). That effort has been highly successful, bringing 19 business with more than 900 jobs and about $36 million in investment to the park so far. "Once we got the politics out, we were able to move ahead," says Van Dyke.
Hickner established the Bay Economic Development Forum, which brought in speakers to add ideas and spark to local planning, has resulted in a "coalition" which has had several meetings. Business leaders headed by Dominic Monastiere, of Chemical Bank-Bay City, who also heads BEDC, are urging adoption of an organizational format similar to that of SFI.
JoAnn Crary, president of SFI and a state leader in economic development, met with 12 local leaders on Jan. 9 to describe how the Saginaw group operates. On hand were Hickner, Monastiere, Rob Anderson, city planner; Mike Gray, county administrative services director; new county commissioner Brian Elder, Bill Bartlett and Ken Lange, of the Monitor and Bangor DDA's, respectively; Laura Ogar, county environmental and community development director; Bangor Township Supervisor Jeff Mayes; county legislative-financial aide Bob Redmond; BEDC executive director Greg Stutelberg; and MSU Extension Director Howie Wetters.
"We need to consider how difficult it is to convincepolitical entities to put aside long-standing conflicts," said Monastiere, an opinion shared by many others at the table.
Crary described how Saginaw County brought the city, county, labor and private sectors together and later involved townships and small cities.
The city, county and businesses each contribute about $150,000 to the annual $1 million operating budget of SFI, she said. SFI's non-profit 501 (c) 3 tax exempt status, which provides for donors to receive federal tax deductions, was a key to receiving foundation grants, said Crary, adding: "Saginaw County has received the second highest amount of grants for economic development in the state." The group also gets lots of individual donations.
But, how do you break a long-standing political logjam such as that faced by Bay County, she was asked. "The community will make a change when faced with critical times or when it has changed leadership," said Crary. It's vital to take the politics out of the economic development process as much as possible, she said.
SFI operates under a "contract for services" in which it promises to make a specified number of retention calls as well as conduct outreach activities. Detailed reports are made to each participating unit on projects secured for their community. The success of this strategy is shown in the fact that some units have agreed to increase their allocations to SFI, Crary said.
Most of SFI's efforts, in fact 85 to 90 percent, go to helping existing localbusinesses expand. The rest of the time is spent trying to attract businesses from outside the county, mainly through trade shows.
Although the state economic development fraternity frowns on "raiding" other communities for their industries, there is no prohibition against talking to companies planning to expand outside their areas, she said. that's exactly the strategy Hickner hopes the county commission will fund with a previously-approved allocation which so far has gone unspent.
Thecritical part of Bay County's organizing effort is still ahead, Monastiere indicated. That will involve who will be appointed to the board of the new group, how the staff will be selected, and then "selling" the new format to the city, county, townships and DDAs, as well as to the business community, so that on-going funding is assured. Part of process should involve appointing board members from the entities which provide substantial funding, Crary said. Appointing members who are trusted by their constituents, race and gender balance, and other considerations also must be weighed, she said.
Deals such as location of expanded or new industries or businesses, must be pursued without prejudice to which area receives it, Crary added. "I don't carewhere it goes, I just want that deal."
SFI offers companies financial assistance, an incentive package, government procurement assistance, workforce development and export assistance.
The success of Saginaw Future has come in the form of a series of expansions and business investments in Saginaw County, including a recent "lighting" of a Saginaw "broadband" fiber optic hub by the RVP Fiber Company of Grand Rapids. Saginaw is included among 31 hubs in Michigan with DS1 and DS3 high speedpipeline data connections, tied in with the Link Michigan initiative for telecommunications.
In August, 2001, Crary received the Michigan Economic Developers Association Medalist Award. She received the State Director's Award from the Michigan Small Business Development Center in 1997 and was honored by Governor John Engler in 1996 as Economic Developer of the Year. She is a member of the MEDC Executive Committee along with state leaders such as Philip H. Power, Ann Arbor publisher; Dr. David E.Cole, automotive expert; David C. Hollister, Lansing mayor and new state economic development chief.
More tri-county area economic development cooperation along the lines of that provided to Bay County by Crary appears in the offing. Hickner, Crary and other leaders have been talking with Dr. Eric Gilbertson and Dr. Peter Boyse, presidents of Saginaw Valley State University and Delta College, respectively, about more regional cooperation. And a Small Business Development Center which has been operated by various entities over the past decade at SVSU is reported ready to open at Delta College under state and federal sponsorship. Web contacts: www.co.bay.mi.us, saginawfuture.com, and michigan.org, for (MEDC).
---
---

Dave Rogers




Dave Rogers is a former editorial writer for the Bay City Times and a widely read,
respected journalist/writer in and around Bay City.
(Contact Dave Via Email at carraroe@aol.com)

More from Dave Rogers
---
Send This Story to a Friend!
Letter to the editor
Link to this Story
Printer-Friendly Story View
---
--- Advertisments ---