"Phantom" Voters Remain on Michigan Registered Voter Rolls As Primary Looms
MyBayCity.com Finds Registrations Far Too High for Census Population Totals
August 6, 2006 Leave a Comment
By: Dave Rogers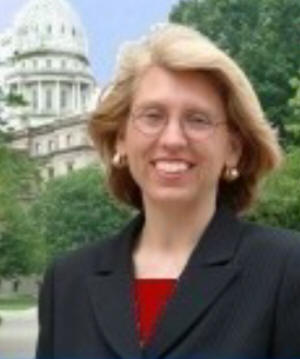 Secretary of State Terri Lynn Land is grappling with problems in cleaning state voter rolls of deceased voters and duplicate voter registrations.
Despite frantic efforts to clean up Michigan's voter registration files, Secretary of State Terri Lynn Land seems to be coming up short, partly because of a technicality in federal law.
As the primary election looms Tuesday, a last minute check by MyBayCity.com of voter registrations shows more registered voters in the Tri-County area of Bay, Midland and Saginaw than the number of adults living in the area.
Likewise, statewide figures appear to be skewed with the Secretary of State showing 7,113,246 registered voters out of an estimated adult population of 7,590,645.
Land recently announced that state and local efforts to clean up Michigan's voter lists are succeeding and the accuracy of the state's Qualified Voter File (QVF) continues to improve.
"The state has about 700,000 records that still need to be cleaned up," a local official said privately. However, no report of such a large discrepancy has been made from Lansing.
Part of the problem is that federal law requires two election cycles to pass before deceased voters can be removed from the rolls.
Turnout for the Aug. 8 primary election is projected at 1.35 million voters, or 19 percent of the 7,113,246 registered voters in Michigan, Land said. The estimate was determined by reviewing turnout in past primary elections in conjunction with absent voter activity and information provided by local officials.
"The more precise our registered voter lists are, the more efficiently we can administer elections in Michigan," said Land. "I applaud the local election officials committed to these efforts. Together we have made significant progress and our election process will benefit as a result. The accuracy of the state's Qualified Voter File is essential to many of the reforms and technological advances we collectively will advance for voters."
Bay County has an estimated 2005 population of 109,029, a decrease of 1 percent from the 2000 figures, the U.S. Census Bureau reports. With 23.2 percent of the local population under age 18, the total adult population of Bay County would be 83,735. State figures from the 2006 Biennial Precinct Report show 81,310 registered voters in Bay County. That would be an improbable 97 percent of the population over 18 registered to vote.
State figures also show 62,927 registered to vote out of 63,048 adults in Midland County and 157,830 registered to vote in Saginaw County while estimates are that only 156,267 adults live in that county.
No political party or group necessarily would gain an advantage in the primary because of ineligible voters on the rolls, sources theorized. And new state equipment has the capability of screening out any possibility of fraud. But the facts seem to indicate that much more clerical work needs to be done to guarantee the integrity of the election system before the November 7 General Election.
The Secretary of State said Tuesday's election will mark two historic firsts. Voters in Michigan's 5,216 precincts will be using an optical scan ballot system, in which they mark target areas on a standard ballot form and then feed it into an electronic tabulator.
Also for the first time, all polling places will have equipment available that is specially designed for voters with disabilities. The devices allow disabled people to mark an optical scan ballot in privacy and without assistance.
"With this primary election, a new era of voting begins in Michigan," said Land. "I encourage all registered voters not voting absentee to make the time to get to the polls on August 8. Your vote is your voice; let your voice be heard."
Since last July, with funds from the national Help America Vote Act, the Department of State has reimbursed local clerks more than $220,000 for the costs of mailing new voter ID cards to registered voters. This is the main method for verifying those records in the QVF. Records are also being checked against the U.S. Social Security Administration's Death Index.
If a voter ID card is returned "undeliverable," the clerk sends a confirmation notice to the voter's last known address. The notice informs the voter that his or her registration will be canceled if he or she fails to respond to the notice or vote over the course of the next two federal election cycles.
As a result of the mailings, the Bureau of Elections, working with local officials, has tagged nearly 169,000 records for possible removal as obsolete. Under federal law, two national election cycles must pass before an obsolete record may be removed from the state's database.
County clerks forward a list of deceased adults to the clerk of each city or township so the voter registrations may be cancelled. The mailing informs the reader that the voter registration of the named deceased individual has been canceled and provides contact information. Roughly 13,000 notifications are involved.
Land notes that the online Michigan Voter Information Center can address many questions. The site at www.Michigan.gov/vote shows citizens if they are registered to vote, assists them in finding local election officials and polling places, and provides information on election topics.
"These are exciting times for election administrators in the state of Michigan," said Detroit Clerk Janice Winfrey. "The state has introduced initiatives that aid local clerks in their efforts to maintain more accurate voter registration files, and the city of Detroit is taking full advantage of them. We are working diligently to clean up our voter lists as this has a two-fold benefit for the city: eliminating the opportunity for fraud and reducing election administration costs. It's critical that we enhance the integrity of the democratic process so voters can have faith in elections. We are doing our part by consistently cleaning up our files while being cognizant of the citizens we serve." Michigan's QVF, created in 1998, was the first statewide voter database of its kind in the nation. It contains a number of records for which verification has been difficult. This is due to the QVF being created from the voting lists from all 1,516 cities and townships, which included the names of deceased voters, as well as many duplicate names.
Land has made it a priority to identify those records in the QVF that are obsolete and subject to cancellation.###
---
---

Dave Rogers




Dave Rogers is a former editorial writer for the Bay City Times and a widely read,
respected journalist/writer in and around Bay City.
(Contact Dave Via Email at carraroe@aol.com)

More from Dave Rogers
---
Send This Story to a Friend!
Letter to the editor
Link to this Story
Printer-Friendly Story View
---
--- Advertisments ---