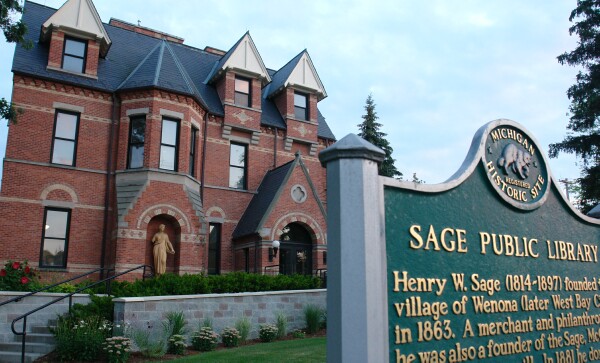 Books, Libraries, Vital Part of Bay County Life for Over 150 Years
Nationwide Poll Shows 94% of Americans Think Library Services "Valuable"
August 6, 2006 Leave a Comment
By: Dave Rogers
Since Elizabeth Birney (Mrs. James G. Birney) purchased a copy of Harriet Beecher Stowe's "Uncle Tom's Cabin" in Rochester, New York, in 1852 and circulated it to her friends, books and libraries have been a vital part of community life here.
Mrs. Birney, whose husband was the first, and second, anti-slavery Presidential candidate, wrote to Mrs. Stowe in 1853, noting that although the local populace was not "a reading one, rather the contrary," her book "has not failed to interest every description of people."
That set the pattern for widespread use of libraries here by all classes of people that started more than 150 years ago and has continued through the present day.
By 1868 there was a "circulating library" here, costing 10 cents per week for every book. The next year the Bay City Library Association was organized, loaning books to all who joined.
One of the organizers of the library association was Aaron J. Cooke, whose collection formed the basis of William Clements's rare book library that seeded the fabulous William Clements Library at the University of Michigan, Ann Arbor.
One of the leading libraries of American history in the nation, the Clements has the largest archive in the U.S. of manuscripts and maps relating to the British conduct of combat in the American Revolution.
Various library associations operated in downtown locations, in the new City Hall, at the Sage Library on the west side, in Banks, in the South End, and in Pinconning. Those varied locations set the groundwork for the Bay County Library System and Bookmobile Service of today, established in 1957 by the Bay County Board of Supervisors.
In 1918, citizens approved a $25,000 bond issue that was matched by a grant from the Andrew Carnegie Foundation and provided the funds to build the main library on Center Avenue at Jackson Street, opened in 1922.
The classic Carnegie Library here, similar to those funded by the foundation in many cities around the nation, served the community well for more than 80 years. It has been sold to the Thumb National Bank and is being converted to commercial operations.
"In general, the people of this community have always supported the library knowing its importance to the progress of our communities," says Marvin Kusmierz, director of Bay-Journal, a popular local history and news website.
"The library is the hub of information for our community, housing the latest novels, historical documents and books on our history, copies of the newspapers since they were first able to be copied, facts and figures, censuses, micro-films, etc. They have it all, even public computers if you don't have one of your own. The library is truly a bargain made possible by a society that understands information as a key to opening up the possibilities of a better life for everyone. And, it is the best educational bargain that we have going for us."
The Carnegie Foundation continues today to support libraries and learning programs, with its scope expanded worldwide, no less than it did a century ago.
A Marist Poll taken in 2003 showed that 67 percent of those surveyed said that access to a public library in their community was "very valuable" and 27 percent said it was "valuable," totaling 94 percent support for libraries among the public. The same poll reported that Americans were willing to pay an average annual tax increase of $49 to support public library services in their community.
"That's impressive -- and very heartening," said Mr. Vartan Gregorian, president of the Carnegie Foundation.
The Carnegie philosophy of support for libraries in communities like Bay City that desire and agree to pay for such services remains constant.
Mr. Gregorian further states:
"We should also focus on libraries as an asset to our society, not simply a bundle of needs. Libraries provide tools for learning, understanding and progress. They preserve the heritage of our society and our nation. They are a laboratory of human endeavor. They are a window to the future. They are a source of hope. They are a source of self-renewal. They are the symbol of our community with mankind. They represent the link between the solitary individual and mankind, which is our community. If we emphasize what libraries do for us, rather than what they need from us, I believe that our message will be met with generous support."###
See related article about Library Millage Renewal.


---
---

Dave Rogers




Dave Rogers is a former editorial writer for the Bay City Times and a widely read,
respected journalist/writer in and around Bay City.
(Contact Dave Via Email at carraroe@aol.com)

More from Dave Rogers
---
Send This Story to a Friend!
Letter to the editor
Link to this Story
Printer-Friendly Story View
---
--- Advertisments ---