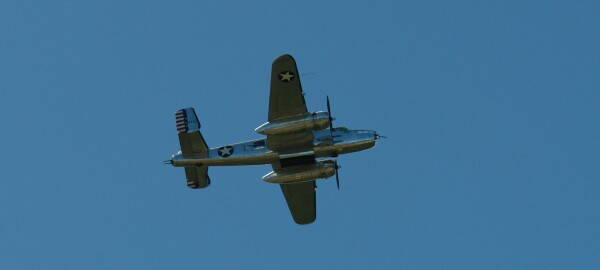 Bay City Airshow Hosts the Pacific Prowler B-25
Famous WW II Bomber Visits Bay City and Offers Rides
August 13, 2006 Leave a Comment
By: Stephen Kent
The Pacific Prowler is an old plane. Commissioned in 1942, she was assigned to the 5th Air force in the Pacific where she flew 25 missions against the Japanese and was credited with sinking four ships and destroying two planes.
After the war, the war-weary Prowler was reconditioned and became a transport ferrying high ranking military officers between Air Force bases. Crews loved her and kept her shined up and well maintained. In 1958 a landing gear failure ended her military service. She was sold for scrap at $875.
Fortunately the story did not end there. She was purchased by Talmantz Aviation and put back into service in the film industry. She became the number one photo ship and appeared in over 80 films including
A Gathering of Eagles
,
Airport
,
Around the World in 80 Days
,
Catch 22
, and the original
Flight Of The Phoenix
. During the filming of Catch 22, a cameraman trying to get a better camera angle fell from the plane while it was in flight.
The B25 is perhaps best known as the plane used in the famous Doolittle Raid on Japan on April 18, 1942. Designed to be a morale booster for the American people, the raid on Japan's heart had great negative impact on the Japanese morale as well.
In a totally secret operation, sixteen B-25 crews were trained to deploy from the deck of the aircraft carrier Hornet. The overloaded planes had enough fuel to fly to Tokyo, drop their bombs then try to find a friendly landing place in China. The planes were intended to launch 400 miles from Japan but the fleet encountered picket boats and were forced to launch over 600 miles out. None of the planes made it to China after the raid but most of the crewmen survived.
The Mitchell was a well-armed plane. Depending on the configuration it could have as many as fourteen forward facing 50 Caliber machine guns. Normally there was a manned nose gun plus a few fixed guns. There were gun pods on the sides, a turret on top, manned waist guns, and a pair in the tail. The plane was rated for six 500 pound bombs but, said crewman Jon Brawner, "We've talked to men who flew the plane during the war and they've said that it was not unusual to overload and carry six 1,000 pounders."
Demonstration flights in the old war birds have become an important source of funds which enable the non-profit associations to maintain the shrinking fleet. Over 11,000 B-25 Mitchell's were built during the war years. Today it is thought that about 74 airframes are still in existence and some 45 of those are flyable. Other planes are much rarer. The SBD-5 Douglas "Dauntless" dive bomber, also on display, is one of only three left flying. 5,936 of the planes were built during the war.
Taking a flight on the Mitchell is like stepping back in time. Like most military aircraft, it's not set up for creature comforts. Most of the interior is bare metal with lots of exposed wires, tubes, and buttons. It's also a lot smaller than you might expect.
Before takeoff pilot Jim Terry gave a safety talk during which he said "The FAA says I must tell you that this is not a commercial aircraft. It does not have redundant systems. On the other hand, this is a combat aircraft. It was built to keep flying after bad guys shoot off pieces. If we don't get shot at we should be fine."
Two of us entered the plane on a ladder in front of the bomb bay. The other passengers got in the back. The bomb bay was a huge hump taking up much of the interior. Some of our crew scrambled on their belly's across that hump to visit the front of the plane once we were flying.
The nose position is also reached by the stomach crawl. This time through a small tunnel, well polished by the many people who have crawled that way, that goes under the pilot's seat. Once in the greenhouse up front the view is fantastic with just enough room for two people, if they don't mind being close.
The take off roll was a bumpy ride. But that didn't last long as the plane quickly became airborne. Cruise speed is 230 mph which makes it easy to enjoy the scenery.
Our thirty minute demo flight reached about 1,800 feet giving a great look at Bay City and the Saginaw Bay. There was time for some of the guests to crawl from the back to the front and into the nose position.
Flying these old planes is a rare opportunity. My Dad was about 25 years old when he flew as crew on a B-17 over Germany. Flying in the B-25 gave me a better sense of what it must have been like to risk life and limb in unfriendly skies aboard those magnificent old machines.
See related article
Bay City Airshow
For more information visit
www.baycityairshow.com
---
Crewman Jon Brawner helps crew mate Kandi Thomas
as she works on the nose gun from inside the turret.

---
Saturday afternoon's crew gets ready for their briefing.

---
The prowler taxi's for takeoff.

---
Aurthur Kulik of West Branch watches pilots
prepare for takeoff from the middle jump seats.

---
Nose gunner's view making the turn back toward Bay City

---
OH YEAH! I had a good time!
---
---
See related article
Bay City Airshow
For more information visit
www.baycityairshow.com
---
---
---

Stephen Kent




Steve Kent and his family have lived in Bay City for 40 years. He is VP of Technical Services at MMCC which produces MyBayCity.Com. Kent is active in many Bay City civic organizations.

More from Stephen Kent
---
Send This Story to a Friend!
Letter to the editor
Link to this Story
Printer-Friendly Story View
---
--- Advertisments ---