Summer Dog Days Near End:
Time to Regroup for Fall Fun
U.S. Open Tennis, College Football, No More TV Re-Runs & Salmon Season
August 27, 2006 Leave a Comment
By: O. J. Cunningham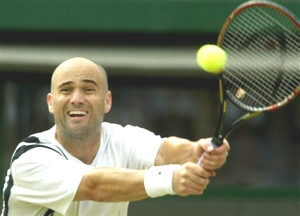 Good-bye to Andre Agassi at the 2006 U.S. Tennis Open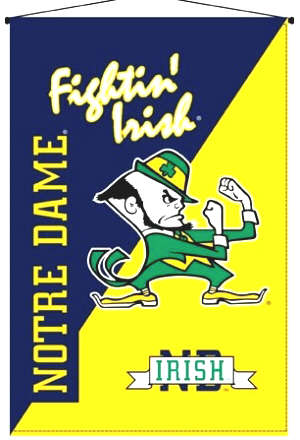 2006 - The Year of the Fighting Irish
I got some good news and some bad news.
The good news is that summer is finally over. The bad news is (also) that summer's over.
You can already tell that I'm a bit confused by the change of season.
Don't get me wrong, I love the "
Hot Town - Summer in Bay City . . . Back of my neck gettin' dirt and gritty . . .
" months of June, July and August heralded by the Lovin' Spoonful back in 1966.
River Roar, Fireworks, Pig Gig, Tall Ships, Wednesday's in Wenona Park, sipping Tanqueray and Tonic on the deck at Stables or the Kingfish Tiki Bar, West Side Wine Walk, Beer Bash, (oops, sorry Dave Vizard), Bike Bash, St. Stan's Fest, Munger Potato, Auburn Cornfest, REO Speedwagon, Fog Hat, Jeff Daniels at the State Theater, Boxing at Hooters, Be Cool Car Show . . . Whew!
Sorry, but I'm about all "Summered" out.
But that's why I (and maybe you) choose to live in Michigan. Fall means re-birth. September means we get to start all over again. The nights are cooler. The days are getting shorter. I love the change of seasons. We get to put away all those by now, mostly-frayed t-shirts and Bermuda short sets and get out the sweaters and cool fall jackets that we haven't seen for almost a year.
Labor Day weekend means one and only one thing to me -
The U.S. Open Tennis Tournament
held in New York at the end of each summer. Yeah! Yeah! Yeah! (I know . . . football too, but we'll get to football in a few paragraphs.)
I spent a lot of time in past years at the YMCA over on Madison swinging a paddle ball racquet with some good friends, played in a few national tournaments and developed a love for most games involving a racquet and a ball.
I was there - glued to my TV - when Jimmy Connors and John McEnroe battled match after match for a place in tennis history.
I have couch-potatoed on a Saturday and Sunday during Wimbledon and/or the U.S. Open for an entire day -- engorged with the one-on-one competition.
Connors-McEnroe gave way to Sampras-Agassi as the premier men's tennis match-up. Sampras (Like Connors and McEnroe) is gone, retired. And after the 2006 U.S. Tennis Open, so will Agassi be gone.
I will watch all of the Andre Agassi tennis that I can see, every chance I get. I can only hope that Andre has a good run at the 2006 championships. He deserves the opportunity to bask in the history of the moment. I deserve the opportunity to cheer and remember.
Click Here
for a link to the Opening Night (Monday, August 28th) TV schedule.
Bad News for Michigan, Michigan State Football Fans
I know that many of you will not want to hear this but Notre Dame is going to win the
National Championship
this year and Brady Quinn is going to win the
Heisman Trophy
. Catch the first chapter on Saturday, September 2 on ESPN - Notre Dame vs. Georgia Tech.
Television Emmy Voters Will Select Hugh Laurie
I cannot watch another TV re-run of
House
or
Grey's Anatomy
. If
Hugh Laurie - Dr. Greg House
does not win the Emmy on Sunday, I may have to lead the charge against the Emmy voting machine.
I Might Not Return Your E-Mail The Same Day
And one last thing . . . If I don't return your e-mail or telephone call the same day you leave me the message . . . Well, it's nothin' personal . . . But the Friday before Labor Day is the beginning of my personal Salmon Season. Oh, I'll call you back. I'll answer your e-mail. It might be later in the day than you're used to hearing from me.
But for a few weeks every September, you'll find me (every couple of days) at one of three places.
http://www.dockhole.com

http://www.ultimateoutfitters.com

http://www.bugwatermedia.com

Wish me luck . . .

---
---

O. J. Cunningham




O. J. Cunningham is the Publisher of MyBayCity.com. Cunningham previously published Sports Page & Bay City Enterprise. He is the President/CEO of OJ Advertising, Inc.

More from O. J. Cunningham
---
Send This Story to a Friend!
Letter to the editor
Link to this Story
Printer-Friendly Story View
---
--- Advertisments ---