City Gears for Economic Rebound; Uptown, Airport Among Projects Planned
Vision for City Development Sketched by Deputy City Manager Steve Black
September 13, 2006 Leave a Comment
By: Dave Rogers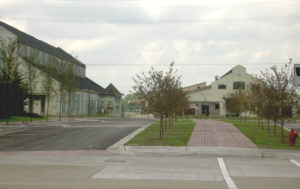 The new 11th Street entry to Uptown at RiversEdge is proposed to be focus of a large new marina, bridged for access to the Foundry Marketplace on an island.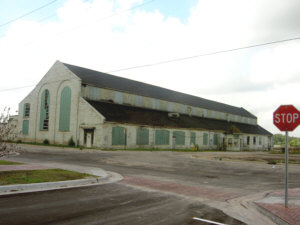 Historic main factory building of the old Industrial Brownhoist complex will be demolished under plans to be considered by city officials.
Beginning next year the City of Bay City will take a great leap forward on several development fronts, says Deputy City Manager Steve Black.
"Be ready, the economy will improve," he exclaimed, adding: "We want to encourage more manufacturers to make an investment in the city."
Mr. Black outlined a series of projects on the drawing board at City Hall at a seminar during the Bay Area Chamber's "Bay City On The Go" conference last week.
Key redevelopment plans will be unveiled Sept. 25 at a meeting of the City Commission, including a feasibility study from Public Sector Consultants, Lansing, regarding a proposed marina on the 48-acre Industrial Brownhoist (I-B) riverfront site.
Much of the Uptown at RiversEdge site will become a huge u-shaped marina with most old I-B buildings demolished and only the foundry building left on an island.
The city airport will be improved and will be a hotspot for corporate travel in the new small jets coming on the market.
Marquette Industrial Park will become a "high quality park" like Zilwaukee and Monitor Township's Valley Technology parks with improved streets, sidewalks, streetlights and slick signage.
James Clements Airport will get new life as runways will be extended to handle a host of small VLJs (very light jets), operations will be boosted by fuel sales and a dozen new hangars will pop up.
Nineteen OPRA (Obsolete Property Rehabilitation Act) districts have been formed under Public Act 146, providing a 60 percent reduction in property taxes to developers. Six projects already are underway, including the Jennison Boathouse, Shearer Building, Pere Marquette Depot and others on Broadway.
A master plan calls for improvements to Wenona, Carroll, Birney and north Veterans parks. Funding will be sought from the state and foundations, said Mr. Black.
A $500,000 grant has been approved for upgrading Wenonah Park from the Michigan DNR trust fund, he said. The total $1.1 million project will include amphitheatre and gateway remodeling and expansion and a tiered waterfront promenade with lower seawall entry for boaters. Local match will come from the Downtown Development Authority, he said, and local foundations.
Marina Park Drive under Liberty Bridge will be extended in a $166,000 project to provide access for redevelopment of the balance of the former Surath site.
Liberty Harbor parking lot also will be resurfaced and the parking lot at Henry and John streets will be reconstructed and expanded in a $130,000 project.
James Clements Airport is a bright spot in city operations, says Mr. Black, who oversees community development.
Because of an improved financial picture, addition of about a dozen hangars in a $480,000 project and $350,000 in new runway lighting are proposed for next year and a seaplane ramp and taxiway are on the drawing board two years hence.
Two recent changes have impacted the airport, said Mr. Black:
1-After 9-11 general aviation, involving small planes that use airports like James Clements, has become very popular;
2-The advent of VLJs (very light jets) that land on shorter runways gives promise for more traffic for James Clements.
"This bodes well for the airport where the VLJs will be able to land," he said, adding: "This is a real growing market."
Mr. Black said the city has planned a $350,000 project for replacement of runway lights next summer. Grants have been approved for the project from the Michigan Department of Transportation (MDOT)while the city's share of the cost will be $17,500, he said.
"Finances of the airport have improved considerably," he said. Part of the reason for that is initiation of a fuel farm. "We're in the gas business," he exclaimed, noting that gasoline revenues were about $38,000 on 9,923 gallons sold in the past year. The city nets about 50 cents a gallon on high octane aircraft fuel that sells for about $4.17 per gallon at present, he indicated.
The hangar project will be financed by a 97.5 percent grant from MDOT, he said.
The seaplane base improvements, planned for 2008-9, will allow the airport to exploit its position as one of few airports in the area with water access. Seaplanes headed for an air show in Oshkosh, Wisconsin, stopped on the river in Bay City to refuel last summer, he said, an indication that improved facilities will draw even more seaplane traffic.
---
---

Dave Rogers




Dave Rogers is a former editorial writer for the Bay City Times and a widely read,
respected journalist/writer in and around Bay City.
(Contact Dave Via Email at carraroe@aol.com)

More from Dave Rogers
---
Send This Story to a Friend!
Letter to the editor
Link to this Story
Printer-Friendly Story View
---
--- Advertisments ---