Consumers Energy May Be Poised to Expand Karn-Weadock Facility Here
Midland, Palisades, Sold; Big Rock Returned to Greenfield Status
September 25, 2006 Leave a Comment
By: Dave Rogers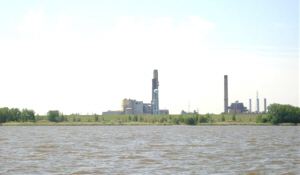 Massive Karn-Weadock electric generating complex of Consumers Energy Company dominates skyline at mouth of Saginaw River.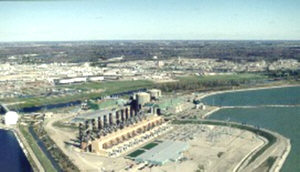 Midland Cogeneration Venture, formerly Midland Nuclear Plant, fired by natural gas, began operations in 1990.
Local business developers are hoping that Consumers Energy looks at Bay County if and when the firm decides to expand its generating capacity.
Pending sales of the Palisades Nuclear Plant near South Haven and the natural gas fired Midland Cogeneration Facility may position Consumers for expansion of other facilities, perhaps including the Karn-Weadock plant here, according to industry observers.
"Consumers has stated out of corporate in Jackson that additional power generating capacity is needed," says one usually reliable business source. "Several locations are obvious, including Ludington and Bay City since they have land and they have been in the neighborhood for years."
The Karn-Weadock plant at the mouth of the Saginaw River has more than 1,000 acres and has the ability to receive large amounts of coal via 1,000 foot long Great Lakes supercarriers like the W.J. McCarthy. Much of the coal used here comes from western sources.
The plant also has natural gas and oil fired components, and uses about 3 million tons of coal, half a billion cubic feet of natural gas and 19 million gallons of No. 6 heavy oil in its operations.
Consumers Energy, a subsidiary of CMS Energy, provides natural gas and electricity to about 65 percent of the 10 million residents in Michigan's 68 Lower Peninsula counties.
Sale of the Palisades plant to Entergy Corporation for $380 million is pending and expected to close in the first quarter of 2007, subject to federal and state regulatory approvals, according firm spokesmen.
Consumers also has reached an agreement to sell its interest in the Midland Cogeneration Venture to GSO Capital Partners and Rockland Capital Energy Investments for $60.5 million, the companies have announced.
Midland Cogeneration Venture, formerly Midland Nuclear Power Plant, operates one of the largest cogeneration power plants in the US (at one time the largest gas-fired steam recovery power plant in the world). With a generating capacity up to 1,500 MW, the plant produces about 10% of the electricity used in Michigan's lower peninsula. Midland Cogeneration Venture is jointly owned by CMS Energy (49%), El Paso Corporation (44%), and Dow Chemical (7%).
Other recent developments at Consumers include:
More than 700 former and current workers, elected officials, and business and nuclear industry leaders gathered to celebrate the return of the Big Rock Point nuclear plant site to a green field.
Consumers Energy operated the nuclear plant for 35 years, then decommissioned and restored the plant site. After the expected approval from the U.S. Nuclear Regulatory Commission, about 475 acres and 1.5 miles of Lake Michigan shoreline will be available for use without any restrictions.
"As the first commercial nuclear plant in Michigan, Big Rock Point and its workers were pioneers in safely employing the atom for electrical generation," said David Joos, Consumers Energy's chief executive officer and a former Big Rock Point employee.
"The plant and its workers continued that leadership throughout decommissioning and site restoration by again employing a number of innovative practices and processes to safely return the site to a natural state. Today, we celebrate the results of their work and dedication."
Big Rock Point was shut down permanently on Aug. 29, 1997 after 35 years of providing electricity for Consumers Energy customers. Workers have been decommissioning and restoring the site for the past nine years, company sources said. All the former nuclear plant structures have been removed and the area restored to a natural state.
"Consumers Energy has fulfilled its promise to return this spectacular piece of property to a condition much as we found it more than 45 years ago," said Robert Fenech, Consumers Energy's senior vice president of nuclear, fossil and hydro operations. "While this milestone truly is one to be remembered and celebrated, we also are here to remember and celebrate the significant contribution that this small, 67-megawatt plant made to the entire nuclear industry and the contribution that the plant workers made to this community." Big Rock Point was named a Nuclear Historic Landmark for its many contributions to the nuclear and medical communities. It was Michigan's first, and the nation's fifth commercial nuclear plant.
At the time of its closing in 1997 it was the nation's longest running and oldest operating nuclear plant. The plant achieved a number of operational and decommissioning milestones that have helped set industry standards.
A State of Michigan Historical Marker and a permanent landmark honoring the achievements of the plant and its workers will be located on or near the plant site.
The plant's spent nuclear fuel is stored in dry fuel storage containers located on Consumers Energy property near the plant site, company sources said. "It will remain there until the U.S. Department of Energy meets its obligation to accept and store spent fuel from commercial nuclear plants," according to a Consumers statement.
Consumers recently celebrated a combined 175 years of service to customers by two landmark Muskegon River hydroelectric generating facilities, the Rogers and Hardy dams.
"The Rogers Dam has been a reliable generator of renewable electricity for Consumers Energy customers for 100 years and the Hardy Dam isn't far behind at 75 years," said Robert A. Fenech, Consumers senior vice president of nuclear, fossil and hydro operations.
Consumers was a pioneer in the development of hydroelectric power early in the 20th century and in the long-distance transmission of high-voltage electricity from the dams to Michigan cities.
Consumers Energy's 13 hydroelectric dams have the capacity to generate 132 megawatts of electricity at facilities on the Au Sable, Manistee, Muskegon, Grand and Kalamazoo rivers. Reservoirs created by the dams provide recreational opportunities; nearly 30,000 acres of Consumers Energy land adjacent to the dams are open to the public.
###
---
---

Dave Rogers




Dave Rogers is a former editorial writer for the Bay City Times and a widely read,
respected journalist/writer in and around Bay City.
(Contact Dave Via Email at carraroe@aol.com)

More from Dave Rogers
---
Send This Story to a Friend!
Letter to the editor
Link to this Story
Printer-Friendly Story View
---
--- Advertisments ---