State Theatre Wins State Historical Society Top Award for Preservation
Conference in Bay City Highlights Seventeen Statewide Awards
October 8, 2006 Leave A Comment
By: Dave Rogers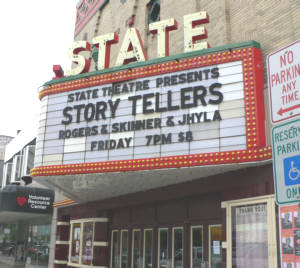 State Theatre in downtown Bay City is cultural anchor of community, state award winner.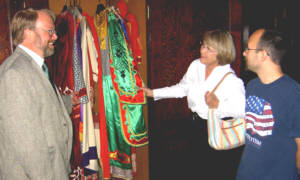 Sue David, Bay City committee member for the State History Conference, and Larry Wagenaar, left, executive director of the Historical Society of Michigan, examine ritual costumes in the Scottish Rite Masonic Center with Fred Garcia, center custodian.
The State Theatre was among winners of the Historical Society of Michigan's 2006 State History Awards presented recently at the 132nd State History Conference in Bay City.
Two State History Awards were presented in the Restoration and Preservation category.
"The community of Bay City recognized the importance of the cinema in the lives of the people in their community by preserving the Bay City State Theatre," said Larry Wagenaar, executive director of the Historical Society of Michigan.
"The Friends of the State Theatre, which received the first award in this category, spearheaded the charge to preserve this landmark by marshalling together human and financial resources."
The State Theatre was built in 1908 and first renovated in 1930. Preservation efforts began at that time when it was renovated by renowned architect, C. Howard Crane, transforming it into a single screen movie palace, transforming the theatre into a Mayan temple with 9,500 square feet.
The most recent preservation effort features a multi-million dollar project that is in the final phase of the restoration process. The State Theatre will serve as a landmark for future generations to remind them "newer is not always better."
These awards are the highest recognition by state's official historical society and its oldest cultural organization, dating to 1828.
Seventeen awards were presented in categories including Publications: University and Commercial Press Local Societies, Publications: Private Printing, Publications: Children and Youth, Communications, Media, Educational Programs, Restoration & Preservation, Distinguished Volunteer Service, Distinguished Professional Service, and Special Programs and Events.
Five books were recognized with State History Awards in the Books: University and Commercial Press category.
Dr. Randall Jelks received a State History Award to for his book "African Americans in the Furniture City: The Struggle for Civil Rights in Grand Rapids" published by the University of Illinois Press.
Nora Faires and Nancy Hanflik were recognized with an award for their book "Jewish Life in the Industrial Promised Land, 1855-2006" published by Michigan State University Press. This volume examines the history of the Jewish community in Flint.
Paul Finkelman and Martin J. Herschock received a state award for their book "The History of Michigan Law" published by the Ohio University Press. This book represents the first serious survey of Michigan's rich legal past.
The Society recognized author Robert Beasecker, editor, for "I Hope to Do My Country Service" issued by Wayne State University Press.
In University and Commercial Press category, the Historical Society of Michigan presented a State History Award to Timothy J. Todish and Todd E. Harburn for their Purple Mountain Press book "A Most Troublesome Situation: The British Military and the Pontiac Indian Uprising of 1763-1764."
In the category of Books: Private Printing, the Historical Society of Michigan presented two State History Awards. The first award was presented to Robert W. Emmert of Bangor, for his book "Bangor, Michigan: a Pictorial History" that takes readers on a visual journey through the history of the town, while its narrative sets the city in a broader context of state and national events.
A second award in the category of private printing was presented to Evelyn Johnson, for "Barns of Old Mission Peninsula and Their Stories," a compilation of stories and photographs of the barns of Old Mission Peninsula.
In the category of Books: Children and Youth, Anna Egan Smucker was recognized with a State History Awards for her book, "To Keep the South Manitou Light."
This year's award in the Local Societies category was given to the Belding Museum. The Belding Museum Board took a derelict building - and a largely forgotten bit of Michigan history - and revitalized them both. The museum rehabilitated a hundred-year-old dormitory building that housed single girls working in the community's silk mills and restored and breathed new life into the now very handsome colonial revival building.
In the Communications: Newsletters and Websites category, The Elk Rapids Historical Society was given a State History Award for its newsletter, which goes far beyond the run-of-the-mill. Its summer 2006 newsletter included a special feature entitled "Farmers: The Last Geniuses," that the state society's awards committee deemed truly outstanding.
In the category of Media, the Historical Society of Michigan presented a State History Award to Equity Studios for the film "From Moccasins to Main Street." The film is "a cross between a historical documentary, a drama and a travelogue."
In the category of Educational Programs the Society presented awarded to the Michigan Department of Natural Resources L.A.P.s program created by EDCO Publishing of Auburn Hills, Michigan. L.A.P.s stands for "Learn from the past, Appreciate the present and Preserve our outdoor heritage" and was created in partnership with the DNR as a supplemental curriculum for fourth graders. L.A.P.s is a multi-media program that showcases state parks, natural resources, geography and history. Since 1999, the program's educational materials have been distributed to more than 950,000 fourth graders while about 12,000 Michigan educators have attended free workshops.
A second restoration and preservation award was presented to the Sleeping Bear Dunes National Lakeshore. Many of our national parks have seen the deterioration or even the complete loss of historic material culture within their care. In an effort to minimize this kind of tragic loss, park staff at Sleeping Bear Dunes National Lakeshore researched, nominated and placed on the National Register of Historic Places a concentration of intact farmsteads and other community structures known as the Port Oneida Rural Historic District. This District includes 19 historic farms, more than 300 buildings, houses and barns, a large variety of specialized vernacular outbuildings, and an equally rich variety of fields, orchards, fence rows, road, cemeteries and forested landscapes.
They also developed a special community partnership and collaboration that is today effectively preserving and restoring historic resources within this District. This pioneering "Partnership Program" includes an arrangement whereby select not for profit organizations can adopt historic properties for their use in exchange for providing renovation services and restoration dollars. This informal partnership is saving, preserving and restoring historic properties, and at the same time, engaging public participation and much needed monetary support in a variety of ways.
In the category of Distinguished Volunteer Service the Society awarded John Alquist the 2006 State History Award. Historic preservation in Michigan's Upper Peninsula has for many years been blessed with the services of a dedicated corps of volunteers, and John Alquist ranks as a most outstanding contributor to this very important cause.
In the category of Distinguished Professional Service a State History Award was presented to Catherine A. Larson. In February, 2006, Catherine retired as the local history librarian of the Kalamazoo Public Library after a career of 32 years with Kalamazoo Public Library, 25 of those as the local history librarian.
A Special Programs and Events award was presented to the Matrix Theatre Company of Detroit. Historical knowledge is typically presented through the written word in books and articles, but in recent years other formats have become increasingly popular. The Matrix Theater Company has brought Michigan history to life on the stage through a series of dynamic projects.
The theater's production of "Homelands" looks at Detroit history through the experiences of two young people trying to find their place in the community.
The play "Boomtown" introduces audiences to five women from the 1920s, including a Hungarian widow, a widowed black woman, and a wealthy young socialite. Boomtown opens a window into early 20th century Detroit's racial, social and cultural conflicts and alliances. A third play, "Once Was Paradise," was written for Detroit's tercentennial. Probably the theater's most ambitious undertaking, a cast of several dozen actors present a history of the area that spans several hundred years and ranges from Detroit's prehistory to the Civil Rights Movement.
Nomination forms for 2007 Awards can be found on its website at www.hsmichigan.org.
For more information visit www.hsmichigan.org, call toll toll-free (800) 692-1828 or write the Historical Society of Michigan, 1305 Abbott Rd. East Lansing, MI 48823.###
---
History Article 1315
---

Dave Rogers




Dave Rogers is a former editorial writer for the Bay City Times and a widely read,
respected journalist/writer in and around Bay City.
(Contact Dave Via Email at carraroe@aol.com)

More from Dave Rogers
---
Send This Story to a Friend!
Letter to the editor
Link to this Story
Printer-Friendly Story View
---
--- Advertisments ---