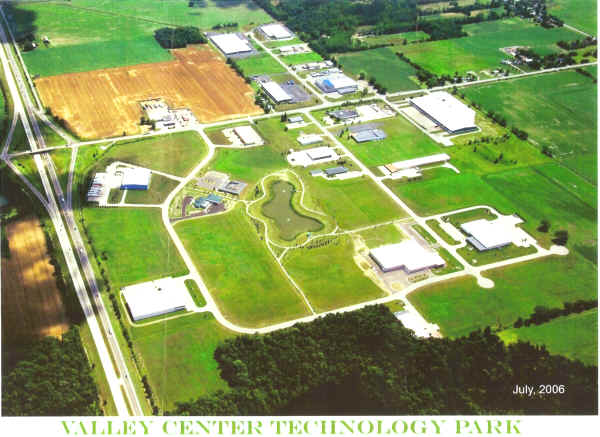 Latest aerial photo of Valley Center Technology Park at US-10 and Mackinaw Road shows several new buildings and vacant land ready for development should a downstate marketing plan be launched and succeed.
---
Bay Future, City Aides Oppose County Exec's Plan to Lure Downstate Firms
Lower Risk, High Growth Manufacturing Future Eyed for Saginaw Valley
October 11, 2006 Leave a Comment
By: Dave Rogers
In a shrinking economy with jobs moving elsewhere, should Bay County try to interest companies in other counties to move here?
County Executive Thomas L. Hickner vehemently says, "yes," noting that the idea was suggested several years ago by Doug Rothwell, then head of the Michigan Economic Development Corporation (MEDC).
Fred Hollister, the director of Bay Future, Inc., the public-private economic development agency, and Steve Black, development director of the City of Bay City, say "no."
Hickner has proposed a "pilot marketing effort directed at companies in Oakland County and the Ann Arbor area using materials that we have already produced."
The County Executive stated further: "Follow-up visits might also be part of the plan. Funding exists in the county's FY (fiscal year) 2006 budget for this type of project. Given the state of the local economy, we need to do this as we continue to focus on retention and expansion of our existing job providers."
"I would be very hesitant to undertake a program like this," said Hollister in an e-mail. "I am concerned that it would be miscontrued by the other communities in Michigan as an attempt to 'steal' their companies. In-state recruitment programs have always been very controversial where they have been attempted."
"I concur with Fred's reaction," wrote Bay City's developer, Black. "The negative reaction/backlash to a targeted in-state recruitment effort would be severe."
Hollister continued: "I have always found that private individuals, such as Realtors and developers, are much better at this kind of work. No one can fault a Realtor for going to Ann Arbor to find a buyer for a listing. We have provided community information to any Realtor who has asked and would be happy to help anyone who needs our information for their business activities."
Hickner has asked Black, former Saginaw development director, if a "code of ethics" exists among Michigan's government or other economic developers that would inhibit agencies from marketing to other areas.
"If one exists, then I would certainly not expect you or Fred to be directly involved," Hickner wrote. "In my case, I am answerable to the citizens of Bay County who really, really, really want to see economic growth.
"I guess I have to ask the question, why would Doug Rothwell have made the suggestion when he was head of MEDC if it had such downside risks?"
"My experience is that most folks I meet from downstate either do not know where Bay City/Bay County is, or, have never visited our community, and for the most part are clueless about the assets of our community."
Hickner added: "While I assume your peers in Oakland County and Ann Arbor might take notice, it would just be an incentive for them to work a little harder. Both groups have demonstrated a very aggressive attitude toward recruitment of employers to their areas."
---
--- Advertisements ---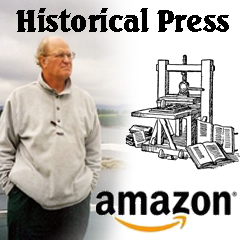 ---
Officials said privately that Bay Future was asked if the agency had a plan to use $20,000 left over in the county budget that was earmarked for development efforts. Hollister's answer, reportedly, was that he could think of no way the funds could be used.
Despite the apparent standoff in development philosophy, Hickner wants to meet with the Bay Future and City of Bay City development chiefs "to talk about it in person."
Officials of Valley Center Technology Park in Monitor Township have not conducted aggressive marketing downstate but stress the advantages of Bay County in low cost land and ample, affordable supplies of electrical power and water. Industrial land here is about $25,000 per acre while it is about $250,000 per acre in Oakland County, which is reluctant to accept more growth, local private developers note.
Meanwhile, the Center For Manufacturing Improvement and Saginaw Valley State University and the Michigan Manufacturing Technology Center, in conjunction with the Center for Automotive Research of Ann Arbor is pushing the Mid-Michigan manufacturing base to get moving toward a lower-risk, higher-growth future.
A dinner meeting October 17th at Curtiss Hall, SVSU, will present an opportunity that is sponsored by the government's WIRED (Workforce Innovation in Regional Economic Development) program.
Tom Hasse of MMTC will present details of how our Michigan economy is affected by the on-going deterioration of market share loss of Ford and General Motors and the impact those reductions are now, and will continue to have, on the supplier base.
Attendees will hear how a three point program of Assessment, Training, and Custom Consultation can deliver a market diversification that will result in at least 25 new potential customers for each of our regional manufacturers that take advantage of this program.
MMTC's initiative is aimed at bringing customer diversification to Saginaw Valley Manufacturers for expansion of the base for sustainability and to help build Michigan's future.
###
---
---

Dave Rogers




Dave Rogers is a former editorial writer for the Bay City Times and a widely read,
respected journalist/writer in and around Bay City.
(Contact Dave Via Email at carraroe@aol.com)

More from Dave Rogers
---
Send This Story to a Friend!
Letter to the editor
Link to this Story
Printer-Friendly Story View
---
--- Advertisments ---