Louisville, Boise St., West Virginia & Rutgers Should Sit At Kid's Table
Thanksgiving Is a Time When Everyone Gathers Around the Family Table
November 5, 2006 Leave A Comment
By: O. J. Cunningham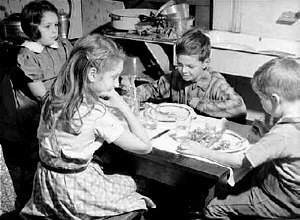 On New Year's Day, will ANYONE want to see a Michigan-West Virginia BCS Championship game? How about Rutgers - Notre Dame? Anybody for Texas - Boise State? I didn't think so.
By Thanksgiving Day, the Bowl Championship Series (BCS) Rankings should be close to being finalized.
Michigan (hopefully) will have just defeated Ohio State on the 18th and be firmly entrenched at the top spot of the BCS list.
But there will still be a number of
Big Games
left to be completed. Notably: Notre Dame @ USC; Florida @ Florida State; Georgia @ Georgia Tech; and Texas A&M @ Texas.
Strange as it may seem, the most important games just might be: Louisville @ Pitt; Boise State @ Nevada; Southern Florida @ West Virginia; and Syracuse @ Rutgers.
The very idea that any of these 4 games (involving Louisville, Rutgers, West Virginia and Boise State) might have an impact on the NCAA Division I Championship has me a bit unsettled.
It seems so odd to me that these 4 teams, or their schedules, could have any meaning at all late in the season. The best analogy (concerning these wannabe teams from the Big East) that I can come up with is the Thanksgiving Kid's Table at Grandma Cunningham's (back in the 50's) when I was a kid.
Every Thanksgiving during the 1950s and 60s, the Cunningham family would gather at Grandma Cunningham's (my dad's mom) for the holiday feast.
Cunningham cars would be parked all down the West side of Farragut Street and around the corner onto Sixth Street.
I would always run ahead to get a big Gramma Hug and then hunt around the kitchen (with my young cousins) for the special holiday cookies and treats. "You're going to ruin your dinner," someone's mom would always warn. But Grandma always let us have a cookie to tide us over until the big meal.
The house would always smell of bread and turkey and gravy. Grandma Cunningham would have her best silverware set out for the family. I still remember the fancy silver napkin holders.
Everyone cheered when the turkey came out of the oven and everyone applauded as Grandma placed the bird in the middle of the long, family table.
I remember Thanksgiving when I was just a kid of 10 at Grandma Cunningham's. But most of all, I remember the Kid's Table.
After my dad, the oldest boy, said "grace," the adults sat at the big family table and the young ones (my cousins and I) went off to the Kid's Table.
When I think of West Virginia, Louisville, Rutgers and Boise State, I can't help think of them as the Kid's Table of NCAA Division I college football. They have no actual NCAA Division 1A status. They play no one of significance during the season. In fact, it's not really what they've done that's got everyone's attention. It's what they haven't done - LOSE! But then, who have they played? Big East football is hardly comparable to any major NCAA Division I Conference. And that's why they need to go sit at the Kid's Table. Have you noticed that they play all the
"Big East BIG Games"
on Thursday night. Wonder Why? Simple!
Nobody would watch if they played on Saturday
.
The Kid's Table is where you sit until you grow up and are ready to play with the big people. At the Kid's Table, you can wear silly clothes (Rutger's Red) and act all silly (Louisville 44-West Va. 34, What Defense?) and nobody cares. It's OK to run option football at the Kid's Table. It's OK to play Howard, Middle Tennessee, Connecticut, Southern Florida, Nevada and Eastern Washington when you're sitting at the Kid's Table.
At Grandma's on Thanksgiving, we all knew our place in the family hierarchy. We were the kids. They were the adults. The Big East better get a perspective. And the bleeding heart college football TV pundits, who consider Rutgers & Louisville or Boise State with the same analytical breath as Ohio State, Michigan, Texas and Notre Dame, had best wake up and smell what the Rock is cooking.
On New Year's Day, will ANYONE want to see a Michigan-Louisville BCS Championship game? How about Rutgers - Notre Dame? Anybody for Texas - Boise State? Rutgers - Ohio State?
I didn't think so, either.
"Gramma . . . Can I have more dressing.?"
Login Here
to add your opinion about Big East Football.
---
Columns Article 1339
---

O. J. Cunningham




O. J. Cunningham is the Publisher of MyBayCity.com. Cunningham previously published Sports Page & Bay City Enterprise. He is the President/CEO of OJ Advertising, Inc.

More from O. J. Cunningham
---
Send This Story to a Friend!
Letter to the editor
Link to this Story
Printer-Friendly Story View
---
--- Advertisments ---