January in Michigan
The Heat Is On!
January 28, 2003 Leave A Comment
By: MyBayCity Staff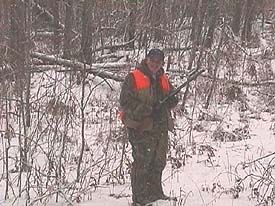 Andrew Berkobien - SHHHHH I'm hunting Wabbits
A Nice Days Catch!
Okay, Here we are in the great state of Michigan. Mother Nature is making ice by the minute with a little touch of snow here and there. What is one to do on day's like this? Go Ice Fishing or Bunny Hunting of course!
Last weekend we took off insearch of rabbits. The sun was shining and the snow was on the ground, unfortunately the tempature's had the bunnies hiding and nothing was going to make them come out of their hutch. We followed tracks right into brush piles and only had one rabbit run across our path. Which, we couldn't get a shot off because of the direction it took. All I saw was this bunny running directly at me, and the only thing you could hear for miles was - DON'T SHOOT! So, that bunny was smart, and I was lucky - not a shot wastaken.
So, after not doing so hot in the woods, we took for for the Bay!
We found good ice and quite a few perch. One or two Walleye were also taken, nothing much in size but, they were big enough to take home and have them for dinner.
With Shiver on the River going on we stayed clear of the main river. We mostly concentrated on the mouth and off from Patterson Rd. docks.
From what I hear the Bay is not totally frozen over so, please take note and do not go riding out away from shore if you can't see what's in front of you! A few weeks ago I was checking out the ice and saw a bunch of guys near Hoyle's running towards shore. I don't think anyone fell through but, they were not all running for the shore because the dinner bell was ringing. Again, I'm sure the ice is better than it was before this cold snap but still, Be Careful!
---
Outdoors Article 136
---
---
Send This Story to a Friend!
Letter to the editor
Link to this Story
Printer-Friendly Story View
---
--- Advertisments ---