The Greatest Underdog Story of Our Time is Back - For
ONE FINAL ROUND!
ROCKY BALBOA Opens in Bay City Theaters
December 20, 2006
December 3, 2006 Leave a Comment
By: Julie McCallum, Entertainment Editor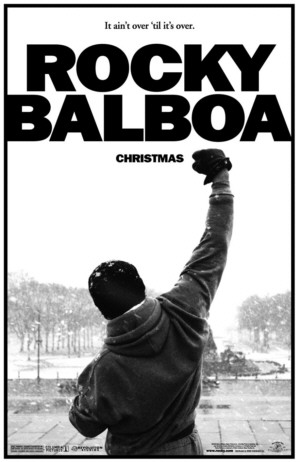 Courage - Integrity - Faith - Victory
The greatest underdog story of our time is back for one final round of the Academy Award-winning Rocky franchise.
Former heavyweight champion Rocky Balboa, "The Italian Stallion", steps out of retirement and back into the ring, putting himself against a new rival in a dramatically different era.
After a virtual boxing match declares Rocky Balboa the victor over current champion Mason "The Line" Dixon, the legendary fighter's passion and spirit are reignited. But when his desire to fight in small, regional competitions is trumped by promoters calling for a rematch of the cyber-fight, Balboa must weigh the mental and physical risks of a high profile exhibition match against his need to be in the ring.
Christina Appold, Manager of Bay City 8 Theater - Bay City Mall, says she has no details yet on the movie's showing schedule. "We will not find out if the movie Rocky Balboa will be here or at Hampton. We are usually notified a week before the movie comes out," Appold said.
Kristina Dinsmore, Manager of Hampton 6 Theater - Essexville, said, "We have been getting many calls questioning the opening date, on the upcoming movie Rocky Balboa." Dinsmore went on to say, "If we get the movie here, we expect a big turnout."
(Check Back to MyBayCity Calendar of Events for location and show times, when available.)
A few of the returning characters include, Paulie played by, Burt Young. Duke, who is played by, Tony Burton, is famous for playing the corner man in six Rocky movies. Burton in real life, was a professional heavyweight boxer. Spider Rico is back, played by Pedro Lovell.
New character, Mason 'The Line' Dixon, the current champion, is played by, Antonio Tarver.
Milo Ventimiglia plays the roll of Rocky Balboa, Junior. Stallone's real son Sage acted with him in Rocky V. Stallone has a total of 5 children: Sage, Seargeoh, Sophia, Sistine & Scarlet.
Click Here for Rocky Balboa Preview
Courtesy YouTube
Stallone raised eyebrows with the 2005 announcement that, at age 60, he would reprise his role as boxer Rocky Balboa for a sixth Rocky movie, tentatively titled "Rocky Balboa," that will see the legendary prize fighter coming out of retirement to mount yet another heavyweight comeback. On December 20, the movie will hit local theaters.
1976 - Rocky
1979 - Rocky II
1982 - Rocky III
1985 - Rocky IV
1990 - Rocky V
2006 - Rocky Balboa
The original "Rocky" is ranked #4 on the American Film Institute's 100 Most Inspiring movies of all time.
Local Bay City boxers from the A.B.A.A. expressed their inspiration of Sylvester Stallone's character Rocky Balboa.
Dakaota Lowe, 11, who just received a trophy, as we talked, from his last bout, said he thought Rocky movies are "pretty awesome".
C.J. Glover, 31, Pro Boxer, who is married and a father of six, said, "I just watched
Rocky
the other day." Glover continued, "I have the Rocky soundtrack in my CD player right now, and I do listen to it before a fight."
Cory Peterson, 37, a Bay City native, made his Pro boxing debut on November 24, 2006 in Manistee and came out on top with 4th round knock-out against Eddie Tice. Peterson said he shares his birthday with Sylvester Stallone on July 6th. Peterson said his father took him to the theater to see Rocky when he was 8. "That movie is what inspired me to start boxing, and I have been boxing ever since." said Peterson.
The following is a quote from the biography of Sylvester Stallone:
"People accept Rocky Balboa as authentic. I can't tell you how many people have come up to me and asked about my boxing career. It's like they really want to believe that Rocky exists. You know , I'm amazed by all of this. At one time I thought people would get over their fascination with the character and move on. Didn't happen. After thirty years, Rocky has taken hold to a degree I never could have imagined." . . . Sylvester Stallone, Actor, Director, Producer, Screenwriter.
For an additional Rocky Balboa YouTube preview
Click Here
---
For all you Sylvester Stallone fans - its official, Sly has signed up for Rambo IV. Rambo IV is tentatively scheduled to go into production in January 2007.
Stallone also has his own nutrition company, "INSTONE", that produces protein pudding, a testosterone booster, an energy booster and two different protein shakes.
Click Here for More Info
---
---
---
---
Send This Story to a Friend!
Letter to the editor
Link to this Story
Printer-Friendly Story View
---
--- Advertisments ---