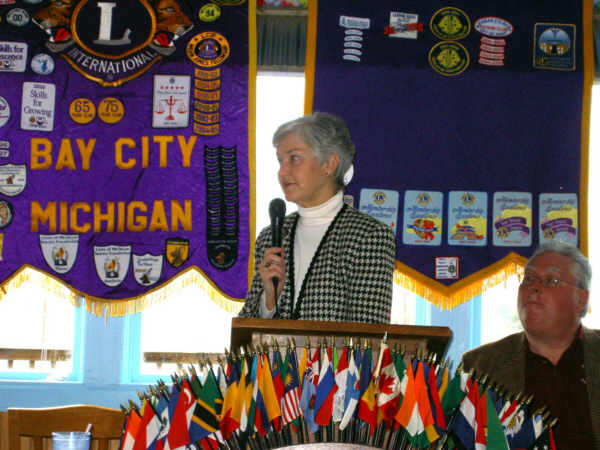 Linda Heemstra and Dennis Poirier (right), Lions Club president, react to a tough question about the Bay County Library System at last Wednesday's Lions meeting.
---
Libraries Need to Change, Heemstra Tells Lions; Elected Board Eyed
Millage Defeat 'Not A Vote Against Libraries,' is View of Supporters
December 3, 2006 Leave a Comment
By: Dave Rogers
"Bay County people love their libraries," interim director Linda Heemstra told the Bay City Lions Club last Wednesday at the Kingfish Restaurant.
But, after an ultra-slim .004 percent defeat (198 votes out of 45,748 cast), voters indicated they want change.
Several members of the Lions Club noted that "the kids are going to suffer" from loss of library services.
---
--- Advertisements ---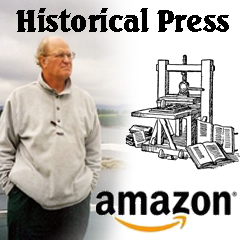 ---
Mrs. Heemstra noted that it not only young people in school who will be deprived of service, but folks with low to moderate incomes, too. She said 51 percent of the households in Bay County don't have computers and noted how busy the computer rooms are at all the branches on a consistent basis.
Lion Vaughn Begick, a County Commissioner, wondered if a district library system with an elected board would make a difference. Under that system voters would elect library trustees directly instead of the present system of appointment of trustees by the County Commission.
"It's a real difficult long process and hard to get there," observed Mrs. Heemstra, noting that the library supporters and the Bay Area Chamber of Commerce studied such a proposal in 1992 that was not positively acted on by the library board so was dropped.
Forming a district library takes the positive vote on any two political entities in the county, such as the County Commission and the City Commission, or any combination of two small cities or any of the 14 townships.
Over the next few week, the Bay County Library System's five trustees will decide how to make cuts in service and personnel to meet the budget that must be reduced from $5.5 million to about $2.1 million annually, she said.
The defeat in the Nov. 7 election of a 1.2 mill renewal request means about $3.4 million less revenue per year, said Mrs. Heemstra.
"Our goal is to provide the three main population centers the maximum hours of library operations possible," said Mrs. Heemstra.
The closing scenarios range from the ridiculous to the sublime, from closing the main Wirt Library downtown entirely to leaving Wirt open 41 hours a week, opening Auburn and Pinconning 16 hours a week, closing Sage and South Side and taking the Bookmobile off the road. (Wirt is now open 68 hours a week.)
Another of seven possible schemes would open all branches one day a week. Yet another would leave Wirt open and park the Bookmobile in the parking lots of the other branches on a periodic basis.
Today, Monday, Dec. 4, all library branches will close at 2 p.m. for an emergency staff meeting from 3-5 p.m. at which all closing and other budgetary options will be discussed.
---
--- Advertisements ---

---
"There will be drastic professional layoffs," said Mrs. Heemstra, noting that the annual meeting of the library board will be Dec. 13 and layoffs will take effect Dec. 31. "There will be a different look to the staff come Jan. 1, 2007."
She described the negativity that arose from a series of problems and issues as "a feeding frenzy" that contributed to the millage defeat. "I don't think people are against libraries, they were just expressing frustration at a lot of problems that arose," she said.
"There was a lot of misinformation out there," she said, referring to the election campaign. Some people thought the positive vote on building the libraries a few years ago also provided all the operating revenue. "Of the 2.2 mills, half went to construction and half to increased operating costs," she said.
"The people in this community who value libraries have the opportunity to for a grass roots effort to speak on what needs to be changed," she said.
The library system is not lavish or over-funded, she said, noting that Saginaw levies 4 mills for operating its five libraries and does not provide bookmobile service in a much smaller service area that the Bay County Library System.
###
---
---

Dave Rogers




Dave Rogers is a former editorial writer for the Bay City Times and a widely read,
respected journalist/writer in and around Bay City.
(Contact Dave Via Email at carraroe@aol.com)

More from Dave Rogers
---
Send This Story to a Friend!
Letter to the editor
Link to this Story
Printer-Friendly Story View
---
--- Advertisments ---