Tourism Season Promises Exciting Series of Events
Birney Sword Movie, Banquet, Trolley Tours, Naval Ship Dinner Highlights
February 6, 2003 Leave a Comment
By: Dave Rogers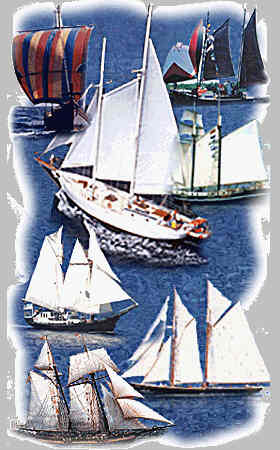 Tall ships dominated Bay City skyline in first festival two years ago.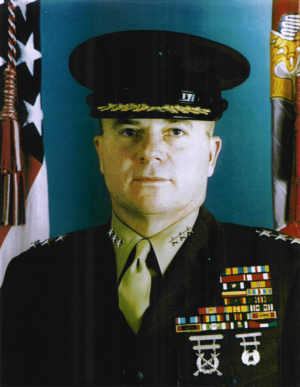 Marine Lt. Gen. Martin R. Steele will speak here April 10 at naval museum fundraiser
The calendar of events related to Bay County history and tourism is filling up for the spring and summer.
The evolution of these events proves that local folks, and those from far flung points as well, are recognizing the fabulous history of BayCity, Bay County and the Saginaw River and Bay region.
Will we return to the glory days of the Water Carnival of the early 1930s, Wenonah Beach which drew tourists by train from around the Midwest, and the time when the Wenonah Hotel was the convention headquarters for the state? Who knows? But it appears that the critical mass of marketing and attractions is coming together to recreate just such a time for Bay City.
Here is a cornucopia of history-related events for those who relish Bay County history, or who just want to be entertained. These events range from trolley tours of Bay City historic sites to a Civil War banquet and a dinner featuring a retired Marine general on "Life After 9-11."
Of course it's all building up to the biggest event of the year, the visit of the Tall Ships in the third week of August and then to the greatest outdoor historical pageant in the state, the River of Time, in September.
The lineup:
Saturday, Feb. 15 - 2 p.m., Bay County Historical Society Ghost Trolley Tour of Bay City; tour guide Dave Rogers; visit the sites where violent deaths of the past have been visited by the spirits of the present and hear the tales of which will haunt your imagination forever.
Saturday,Feb. 22 - 2 p.m., Bay County Historical Society Trolley Tour of the Center Avenue Historic District; tour guide Kathy Branigan; see, and hear about, the historic buildings of Bay City, and the people who built and inhabited them. We have one of the most fascinating towns in the country; come and find out more.
Saturday, Feb. 22 - At 7 p.m. in the State Theater, the 1942 movie, "They Died With Their Boots On," featuring Errol Flynn and Olivia De Havilland. A benefit for the Birney Sword project, this classic film is about Gen. George A. Custer and his leadership in the Battle of Gettysburg leading the Michigan Cavalry Brigade, which included 19-year-old hero from Bay County, James G. Birney IV.
Saturday, Mar. 1 - 2 p.m., Historical Society Tour of the West Side; tour guide Debbie Wurtella; see and hear about the fabulous Village of Wenona, historic Trombley House, the eccentric lumberman Henry Sage, temperance preacher Rev. C.C.C. Chillson and his pre-Civil War home on Midland Street, Capt. James Davidson and his massive wooden vessels, and captains of ships and industry who built the village.
Saturday, Mar. 8 - 2 p.m., Center Avenue Trolley Tour with Kathy Branigan.
Saturday, Mar. 15 - 2 p.m., Ghost Tour with Dave Rogers.
Saturday, Mar. 22 - 2 p.m., Bay County Historical Society Tour of old Portsmouth Village, with tour guide Marge Olson. See, and hear about, the little known historic oldest area of settlement of Bay City, the McCormicks, Chief O-ge-ma-ge-ga-to, and Noder Anderson. (Find out how the doctor who delivered the boy gave him his strange name).
Saturday, Mar. 29 - Wenona Village Tour with Marg Anderson.
Tuesday, April 1 - Civil War Dinner and Program at the Grand Banquet Center, Essexville. Ante-bellum food delights, "live" demonstrations by Civil War re-enactors and other historical attractions will be featured in this fundraiser for the Birney Sword Project.
Thursday, April 10 - Lt. Gen. Martin Steele, (USMC-Ret.), will speak at a fundraising dinner for the Saginaw Valley Naval Ship Museum at the Bay City Country Club. Gen. Steele's topic will be "Life After 9-11." Contact Mike Kegley 686-3125 or e-mail is kegley@Chartermi.net
On Memorial Day, tours will be held at Historic Pine Ridge Cemetery as part of the fundraising effort for the Birney Sword Project. Please contact the Bay County Historical Museum, 893-5733, or Dave Rogers, 686-5544, for information.
---
---

Dave Rogers




Dave Rogers is a former editorial writer for the Bay City Times and a widely read,
respected journalist/writer in and around Bay City.
(Contact Dave Via Email at carraroe@aol.com)

More from Dave Rogers
---
Send This Story to a Friend!
Letter to the editor
Link to this Story
Printer-Friendly Story View
---
--- Advertisments ---