Dow Chemical Following Dow Corning in Restructuring Aimed at Profitability
Oil Prices, Mideast Crisis Threatens Chemical Giant, Nation's Industries
February 10, 2003 Leave a Comment
By: Dave Rogers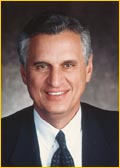 William S. Stavropoulos, CEO, leads Dow Chemical restructuring.
Will The Dow Chemical Company be able to remake itself and return to profitability as Dow Corning is doing? (See MyBayCity's last issue archives for Dow Corning report.)
Absolutely, and the process is well underway, say local business observers.How? By cutting or controlling costs, laying off some employees and delaying hiring, holding off on new projects, selling $1.5 billion in assets, and, of course, increasing prices to customers and raising sales volume.
The latest step byDow was borrowing up to $500 million through a Bank of America InterNotes debt issue announced Feb. 10. These notes are sold to retail investors by Incapital, LLC, of Chicago. However, much larger debts than that of Dow were booked by Boeing, CIT Group, GE, Household Finance and Sears.
Although the firm has about $13 billion in debt, Vice President and Treasurer Fernando Ruiz says Dow has financial stability. Forecasters see problems dissipating if the firm has a good year.
Dow should have made more news than it did several weeks ago when it became the first Fortune 100 company and first chemical manufacturing firm to sign an alliance with the Occupational Safety and Health Administration (OSHA) to promote worker safety and health. Dow boasts that it is committed to the principles of sustainable development and seeks to balance economic, environmental and social responsibilities. The firm recently received a PR News award for corporate social responsibility reporting for publication of the Dow Global Public Report.
War in the Middle East could throw a monkey wrench into the works at Dow, and most other industries, as well as the nation's economy. The crisis faced by Dow is mirrored across Michigan and the nation as all eyes are on the standoff in Iraq and Washington over weapons inspections and the potential threat to America from terrorism. The cost of oil is over $36 a barrel and other petroleum feedstocks Dow uses also are up drastically.
Dow, which purchased Union Carbide two years ago to become the nation's largest chemical firm, is in the throes of organizational restructuring which impacts many tri-county residents.
William S. Stavropoulos, chairman of the board, was returned to the CEO post, replacing Michael D. Parker, in December, 2002. Parker has recently retired. Stavropoulos immediately launched cost cutting programs now underway.
One key to the success of Dow's restructuring is a plan to restore profit margins in polyurethanes, mainly by raising prices. Dow is the world's largest producer of key components used in the production of polyurethanes, used for adhesives, coatings, sealants, foams and other products.
Increasing costs of chemical feedstocks and energy led to a $338 million loss in 2002, following a loss of $385 million the previous year. Last month the chemical giant announced it would lay off 125 Michigan division employees by May and 3,000 to 4,000 worldwide as part of a $1 billion cost-saving program.
The firm announced recently that its finances also were affected by a pretax charge of $828 million connected to a potential Union Carbide liability for asbestos claims and a pretax charge of $225 million for merger costs.
Investors aswell as corporate chiefs were disappointed when a Chicago financial firm, Fitch Ratings, recently lowered Dow's senior unsecured rating a notch from A to A-.
Dow's sales have remained constant at more than $27 billion in each of the past twoyears. It serves customers in about 170 countries with chemical, plastic and agricultural products and services. Dow has about 6,000 employees in Michigan, mainly Midland, and 50,000 worldwide.
Dow Corning, which is a joint venture of Dow Chemical and Corning, Inc., on Feb. 10 named 48-year-old Stephanie Burns, Ph.d., as president and chief operating officer (COO). She is a silicon chemist and had been executive vice president. Her doctorate is from Iowa State University, Ames, Iowa.
---
---

Dave Rogers




Dave Rogers is a former editorial writer for the Bay City Times and a widely read,
respected journalist/writer in and around Bay City.
(Contact Dave Via Email at carraroe@aol.com)

More from Dave Rogers
---
Send This Story to a Friend!
Letter to the editor
Link to this Story
Printer-Friendly Story View
---
--- Advertisments ---