Happy New Year
Hoping for a Very Brady 2007
The Holidays - The Time Between All the Spending and When The Bills Show Up
January 1, 2007 Leave a Comment
By: O. J. Cunningham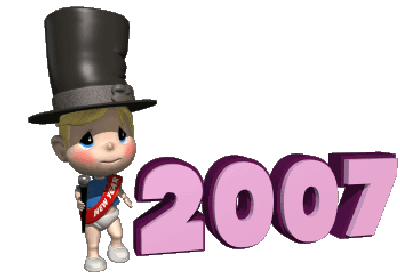 Happy 2007 - It's Gonna Get Better!
2007 is going to be grand.
I know this for a fact.
The feeling came over me on Sunday, exactly at the moment when Lion linebacker, Ernie Sims tackled Cowboy QB Tony Romo on the last play of the Lions' miserable 2006 NFL season. The tackle by Sims clinched the Lions' victory.
I'm quite sure there was an angelic aura of light around my television. I know that I felt an almost holy warmth emanating from my picture tube. There were angels singing.
Isn't it ironic . . . or isn't that moronic?
Click Here for the Alannis Morrissette video.
Like 10,000 spoons when you just need a knife . . .
. . . Ironic that Ernie Sims (Lions' #1 Pick in 2006) would make the tackle on Romo to stop the Lions from having the #1 pick in 2007.
But then I thought: Don't despair . . . There will be other opportunities. There will be 2007, 2008, 2009 even 2010 when the Lions will get yet another chance to get the best of the NFL dregs of professional football . . . like Oakland.
If Millen stays as Lions' GM, we'll have other opportunities to snatch defeat from the jaws of victory . . . We'll get that #1 pick back into Matt Millen-land. (There's always next year. We'll get 'em next year. Yeah, that's the ticket. Next Year.)
But it is next year!
The Lions' (3-13) win over the Cowboys allows the lowly Oakland Raiders (2-14) to claim the Number One pick in the upcoming 2007 NFL Draft.
My sarcastic, knee-jerk reaction was that the Lions were not able to "hold on for the loss" and thereby let the Number One Pick slip through their fingers.
But then I remembered the light. It couldn't be a coincidence that Mike (Not Roy) Williams caught a game-winning touchdown pass on the same day that Ernie Sims made a game-saving tackle.
It has to be more than coincidence.
After all, if the Lions had the #1 Pick, they'd have to take Brady Quinn. And . . . Brady Quinn has had 2 years of schooling under Charlie Weiss - the offensive guru that made Tom Brady great.
And . . . Brady Quinn? . . . He's kinda like Tom Brady? . . . They both have
Brady
in their name. Get it? Tom
Brady
.
Brady
Quinn.
But now, the Raiders have the #1 Pick. Our best chance (and only chance) is that the Lions fire Millen. Oakland hires Millen. Oakland needs a linebacker. (I knew we should have taken Matt Leinart last year.)
2007 New Year's Resolutions:
To Eat no fast food in 2007 (Is pizza considered fast food?)

To Walk at least 200 miles (4 miles per week - every week) in 2007.

To Run virus scan protection every day on my laptop. Back up important files every week.

Next week: Shower Soothers . . .

---
---

O. J. Cunningham




O. J. Cunningham is the Publisher of MyBayCity.com. Cunningham previously published Sports Page & Bay City Enterprise. He is the President/CEO of OJ Advertising, Inc.

More from O. J. Cunningham
---
Send This Story to a Friend!
Letter to the editor
Link to this Story
Printer-Friendly Story View
---
--- Advertisments ---