Mild Winter No Help to Water Levels; Saginaw River Lags, Seaway Sets Record
Green Marine Initiative Aimed at Reducing Truck Traffic, Greenhouse Gases
January 2, 2007 Leave a Comment
By: Dave Rogers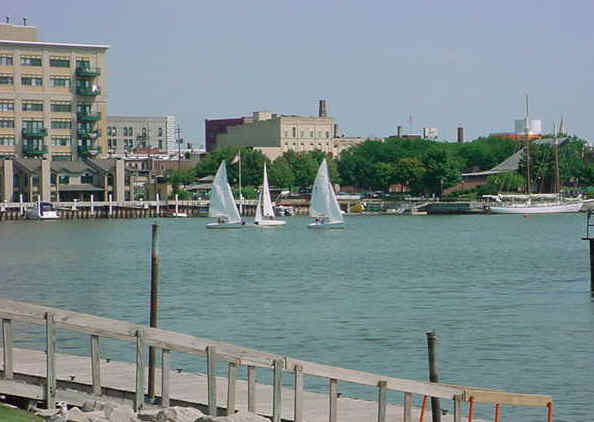 Experts are predicting that a a winter without ice and snow will cause even lower water levels.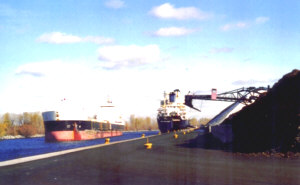 Saginaw River shipping is down about 8 percent in the past year from 347 to 320 ships according to The Bay City Times and boatnerd.com
Another winter without ice on the rivers, bay and lakes will likely cause even lower water levels, experts are predicting.
With a warmer and drier than normal winter forecast through March, evaporation will continue to suck water out of the lakes, especially with little or no ice cover.
Saginaw River shipping, down about 8 percent in the past year from 347 to 320 ships according to The Bay City Times and boatnerd.com reporter Todd Shorkey, will no doubt suffer more from low water even as regional shipping is growing.
Buffalo, Toledo and other Great Lakes ports are already capitalizing on St. Lawrence Seaway growth while the Port of Bay City-Saginaw, on the Saginaw River, plagued by red tape slowing dredging, is unable to climb aboard.
The St. Lawrence Seaway closed for its 48th navigation season on December 30th with the passage of the vessel Kathryn Spirit through the St. Lambert Lock.
Collister Johnson, Jr., of the St. Lawrence Seaway Development Corporation, said officials of the U.S. and Canada are collaborating on the "Green Marine Initiative." "We want to deliver the message that moving more cargo volume via the marine mode provides a ready answer to increasing energy efficiency and lowering greenhouse gas emissions," said Mr. Johnson.
The Seaway's season commenced on March 23rd, with the system remaining open for a record of 283 days, exceeding by two days the previous record set in 2004.
Meanwhile, a new study is underway to try to determine if low water levels are resulting from a 1960s dredging project in Lake St. Clair or are just because of normal weather variations.
Some experts say settling of the Earth under the Great Lakes, an effect left over from the last glacial period, is continuing to spill more water out of the basin, lowering levels.
Upper Great Lakes levels remain below historical averages, Tim Calappi, a hydraulic engineer in the Detroit office of the U.S. Army Corps of Engineers told news media.
The level of Lakes Michigan-Huron is now about 35 cm (14 inches) below its long-term average beginning-of-January level, but is 5 cm (2 inches) higher than a year ago.
There is no ice on the Great Lakes, Calappi said, so it's unlikely that an ice bridge to Mackinac Island will appear this winter. "I'd be surprised if one formed," he said.
The study also will look at whether a dredging project on the St. Clair River in 1962, which allowed more water to leave lakes Huron and Michigan, has contributed to low water levels. When the river was dredged to 30 feet deep to allow heavier ships to pass, erosion scoured parts of the river to more than 60 feet deep. Some say that has opened a wider funnel out of the upper lakes. But because the lake's record high came in the 1980s, after the dredging, skeptics say climate variations -- not dredging -- are the primary factor in Lake Superior water levels.
"We are very pleased to report that Seaway traffic for the 2006 navigation season is projected to amount to a total of 48 million tons, a 10 percent increase over the 2005 results," stated Richard Corfe, President and CEO of The St. Lawrence Seaway Management Corporation (SLSMC).
"This achievement bodes well for the future of our Seaway, as a strong performance within our traditional bulk and breakbulk staples was complemented by a series of new and diversified cargo movements," he said. "Our market development efforts, centered on the Hwy H2O campaign, brought in over 500,000 tons of new cargo movements over the course of 2006, adding over $1.2 million in incremental revenue to our top line," continued Mr. Corfe. "As these results represent an approximate 100 percent year over year increase in the volume of new cargoes coming into our system, momentum is clearly on our side."
Mr. Corfe also outlined that "within the existing locks and channels, the Seaway can accommodate a further increase of over 60 percent in cargo volumes. The technological initiatives that we are undertaking, backed by consistent investments in our employees, prepare us for a future where the Great Lakes / Seaway System, - 'Hwy H2O' - will play a key role as a complement to heavily congested road and rail links within the intermodal cargo network."
The Seaway is now closed for the winter to accommodate annual maintenance on its infrastructure and equipment at a cost of about $28 million.###
---
---

Dave Rogers




Dave Rogers is a former editorial writer for the Bay City Times and a widely read,
respected journalist/writer in and around Bay City.
(Contact Dave Via Email at carraroe@aol.com)

More from Dave Rogers
---
Send This Story to a Friend!
Letter to the editor
Link to this Story
Printer-Friendly Story View
---
--- Advertisments ---