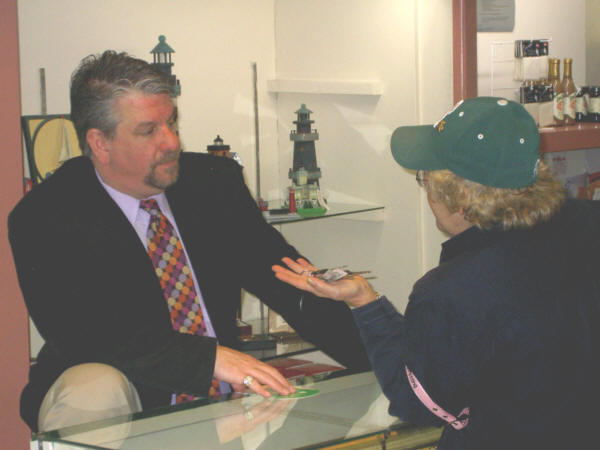 Gemologist David V. Nelsen greets a customer at the counter at Simmons Jewelry, 208 Center Ave.
---
Simmons Jewelry Loves Valentines Day, Says Gemologist David Nelsen
Gnomes Buzzing Through Store Getting Ready for Sales Set Feb. 7-17
January 21, 2007 Leave a Comment
By: Dave Rogers
St. Valentine's Day is still three weeks away, on Feb. 14.
But you should see the activity already going on at Simmons Jewelers, 208 Center Ave., Bay City.
David V. Nelsen, graduate gemologist and his staff of gnomes are busily polishing up the sterling silver, "popular this year because of the price," says David.
They're counting carats on the diamond pendants with a graduated row of stones, small to large, that, he says, are "a hot item."
They're checking the price of gold, that has doubled in the last year and a half. "Gold fluctuates every day, but thankfully we made our jewelry purchases back when prices were lower," says Mr. Nelsen. He is a graduate gemologist and member of the American Gem Society (AGS).
The downtown store with the ornate architectural facade is one of a handful of jewelry stores left in a city that had dozens of jewelers during the lumber boom.
---
--- Advertisements ---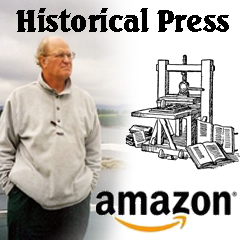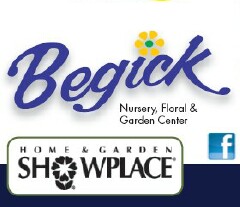 ---
The building in which Simmons is housed was a jewelry store more than 100 years ago. It has since had many uses like Lloyd's dress shop that preceded the store established by his father in the early 1970s. The alcoves where dresses were displayed are still visible inside the store and are preserved for decorative effect, said Mr. Nelsen.
In 1929 the building housed a Mary Lee Candy store and Edward Mack, a bookseller. In 1942 the present Simmons Jewelry building housed Hart Credit Jewelers and Grinnell Brothers Musical Instruments. Upstairs was Dr. Manuel Pasick, dentist.
In those days the Center Theater, 200 Center, was on the corner at Saginaw, the Red Lion lunch, 201 Center, was buzzing along across the street along with Czuba's Ben Franklin Store at 205 Center. The long popular Home Cafeteria and Dairy was directly opposite at 207 Center, with Max McKay, optometrist, upstairs. L.E. Oppenheim & Co. and Ford's Men's Wear were opposite each other at 209 and 210 Center, respectively. Bay City Bank and the Ee Be Dress Shop spanned the corners of Center and Washington.
The per capita count of jewelry stores was extremely high because most of the lumberjacks were single and had ready cash from their months in the woods. And, they liked baubles for their girlfriends, watches, rings, and diamond-crusted belt buckles for themselves if they were dandies or beau brummels.
Almost every lumberjack had a gold watch on a fancy chain. Such wares were pretty common compared to the items sold in today's full service jewelry stores like Simmons.
Look around. There are the earrings and bracelets, 75-100 different styles of engagement and wedding rings and the wonder of the age -- the tension ring. The diamond is held only by tension between the ends of the ring. "They're safer than prongs," Mr. Nelsen says of the tension rings.
Simmons has a line of Elle jewelry, produced by the fashion magazine of the same name. "These are gorgeous sterling silver pieces, some with gemstones, and we have them exclusive to the area," he says proudly.
Among the unusual things offered by Simmons are awards, trophies and sublimation items (images transferred to mugs, plates, shirts and other flat surfaces). Repairs, appraisals, sandblasting, engraving, custom jewelry -- all are in the Simmons store.
Simmons and other Bay City stores have another positive factor: the downtown itself. "Local people take a lot for granted, but we have a wonderful downtown. We're on our way up; a lot of positive things are happening," says Mr. Nelsen, who sees tourists streaming into town during attractions like River Roar, Tall Ships, the Pig Gig and other events.
"We are very much a specialty downtown and tourists love Bay City," he says. "Keep 'em comin'!"
Contact Mr. Nelsen at 893-4706 or e-mail him at Diamonddaveags@yahoo.com.###
---
---

Dave Rogers




Dave Rogers is a former editorial writer for the Bay City Times and a widely read,
respected journalist/writer in and around Bay City.
(Contact Dave Via Email at carraroe@aol.com)

More from Dave Rogers
---
Send This Story to a Friend!
Letter to the editor
Link to this Story
Printer-Friendly Story View
---
--- Advertisments ---