Book About Teddy Roosevelt's Most Intrepid Journey Gets Boffo Review
TR's Bull Moose Party, Launched in Bay City, is Part of Political History
February 11, 2007 Leave a Comment
By: Dave Rogers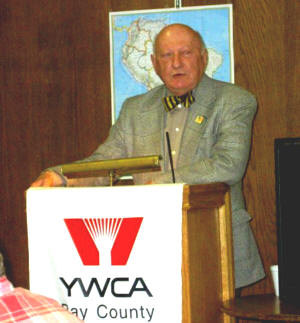 Robert Czerniewski Review: Teddy Roosevelt - He was not in Bay City but his Bull Moose Party was launched at the armory here, now the Bay County Historical Museum.
Robert Czerniewski, former patent office librarian at The Dow Chemical Company, reviewed a book about Teddy Roosevelt's most intrepid voyage and was, well, wowed.
The popular "Booked for Lunch" series at the YWCA of Bay County had an overflow crowd for the review. Even Virginia Hayes of Barnes & Noble, Saginaw, showed up to display the book "The River of Doubt: Theodore Roosevelt's Darkest Journey" by Candice Millard.
The 416 page book, published by Broadway Books division of Random House, Inc., has drawn rave reviews from major newspapers like The New York Times that gushes: "A rich, dramatic tale that ranges from the personal to the literally earthshaking."
Czerniewski, a World War II Navy veteran, knows something about trips on the water and was impressed by this account of Roosevelt's first descent of an unmapped, fast-flowing tributary of the Amazon River in Brazil.
"I don't understand how these men survived this trip," commented Czerniewski. Roosevelt's son Kermit and a priest from Notre Dame University, Fr. John Zahm, were along on the voyage that was part safari and part white-water rafting.
Czerniewski called it "the most exciting book I have ever read." That says a lot coming from a bibliophile whose favorite hangout is the Alice and Jack Wirt Library in downtown Bay City.
The book starts with a taste of political history that touched Bay City. It recounts how TR was defeated in the 1912 Presidential election. He ran on the Progressive Republican, or Bull Moose, Party that had its roots in the National Guard Armory in Bay City. That was where the 1912 Republican state convention was held that first pitted Roosevelt and William Howard Taft forces and led to TR's third party bid.
The trip began Oct. 4, 1913 following a lecture tour that took Roosevelt to Brazil, Uruguay and Chile. The 22 men launched seven boats and headed up the Paraguay River into what was then called "the unknown," a remote 1,000 mile stretch. Only a handful of explorers had survived to reach the headwaters.
Because of currents, travel was only one way: north. There was to be no turning back. The travelers had to stay away from the shores for fear of native tribes about which little was known. Those tribes included the legendary Amazons, six foot tall vicious women warriors.
Among the "critters" encountered were 500 pound Anaconda snakes, pit vipers, howling monkeys, alligators, piranha, poison-dart frogs and the garden variety mosquitoes, flies and other insects that, without the chemical protections available today, were nearly life threatening.
"Roosevelt wrote in his diary every day until he got sick," said Czerniewski. The famed American caught malaria and a bacterial infection and nearly died; he continually refused medicine or other care and at one point he considered suicide, according to the author.
Canoes lost in the rapids had to be replaced by chopping new ones from trees in the forest. Portages were required around waterfalls. Three men died during the trip.
Roosevelt's fearless, reckless son, Kermit, 24, who had been sent by his mother to watch over Teddy, also got malaria. But he soldiered on and when the crucial moment came, Kermit was on hand to keep his father from shooting himself. Then it was TR's turn to be concerned about his son's health.
ANOTHER BOOK NOTE: In an introduction on C-Span today of author Robert W. Sonnenfeldt, whose book "Witness to Nuremberg,", has been published by Arcade Books, the speaker identified Sonnefeldt as "the only man living who has had conversation with members of Hitler's General Staff." There is at least one other person who can claim that distinction: Andrew Wendland of Bay City.
Wendland does not give interviews on the subject but he was an 18-year-old U.S. Army enlisted man assigned to guard the Nazis on trial at Nuremburg in 1945 and, as part of his duties, conversed with Hermann Goering, Rudolf Hess and other defendants. Those duties included checking the cells of the Nazis every 15 minutes, not often enough to keep Goering from committing suicide. Theories abound about who slipped him the potassium cyanide used in the suicide. Sonnenfeldt, who was a 22-year-old chief interpreter for U.S. prosecutors at Nuremberg, has finally written his memoirs about the trial.###
---
---

Dave Rogers




Dave Rogers is a former editorial writer for the Bay City Times and a widely read,
respected journalist/writer in and around Bay City.
(Contact Dave Via Email at carraroe@aol.com)

More from Dave Rogers
---
Send This Story to a Friend!
Letter to the editor
Link to this Story
Printer-Friendly Story View
---
--- Advertisments ---