Stock Market Volatility
Is There an Explanation?
Remember To Be an Investor, Not a Speculator
March 18, 2007 Leave a Comment
By: Jerry Cole - Retirement, Investment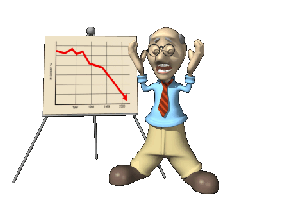 Even when the stock market goes down, it is important to think in terms of percentage.
We are not over the subprime jitters and probably won't be for some time. The Dow Jones Industrial Average fell 242.66 points or 1.97% on Tuesday, March 13, 2007. This was the second-largest one day decline in four years and took away the gains we had made since February 27 when it plunged 416 points.
Many of you remember the Dow Jones Industrial Average's 500 point drops in 1987 and 1997. Some long-time investors may even remember the Great Crash of 1929. We are not even close to those events in percentage. It is important to think of market events in terms of percentage. It helps to keep things in perspective.
What is behind volatility? The usual explanations have to do with unexpected economic data, geo-political events or surprising earnings reports.
However, in today's market place we have a technological impact that has increased the dynamics of the market.
Consider for example the INTERNET. Anyone can get quotes from stock exchanges worldwide. Add to this the instant communications we get from cable television, e-mail, and satellite communications.
Then we have techniques used by professionals such as hedging options. These can help protect a portfolio but also encourage large price swings. We also see more trading in retirement accounts as the shift to contribution type plans increases.
We have to be careful not to take drastic measures. Be sure you are diversified and keep your risk tolerance in sight. Remember, to create long term wealth - be an investor, not a speculator.
I invite your questions.
E-Mail Jerry Cole
(The opinions expressed are solely those of the author and not Genworth Financial Securities Corporation.)
---
---
---
Send This Story to a Friend!
Letter to the editor
Link to this Story
Printer-Friendly Story View
---
--- Advertisments ---