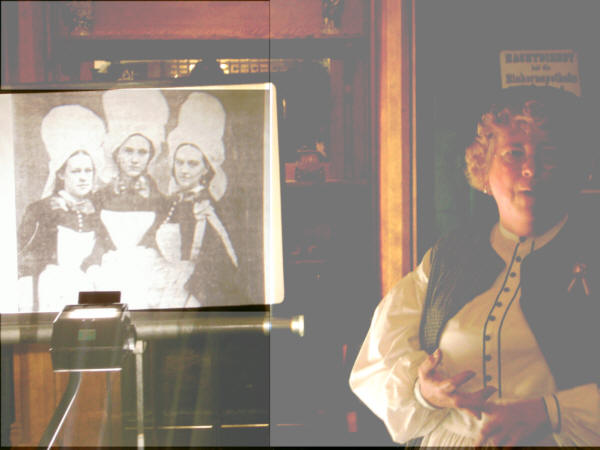 Dee Dee Wacksman, in period costume, shows photo of Civil War nurses with outlandishly large hats.
---
400 Women Fought in the Civil War; Some Were Nurses, Spies
Dee Dee Wacksman Draws Largest Crowd Yet to Civil War Round Table
March 18, 2007 2 Comments
By: Dave Rogers
More than 50 people crowded into the meeting room at the Stein Haus last Wednesday night to hear Dee Dee Wacksman's presentation on Women in the Civil War.
It was the largest crowd yet for a program sponsored by the 7th Michigan Cavalry Civil War Round Table (CWRT), headed by Mrs. Wacksman.
Next month, the evening of Wednesday, April 11, Dr. John Lore will present a program at the annual dinner meeting at the DoubleTree Hotel -- Bay City Riverfront. Dr. Lore will facilitate the showing of clips from the Civil War movies "Glory," "Gettysburg," and "Gods and Generals."
Highlight will be the appearance of local re-enactors who appeared as extras in those movies. The re-enactors will explain their roles in the movies and comment on aspects of their participation in the films. Program details are being finalized and will be announced soon. Reservations for the $25 dinner program are being accepted by calling Mrs. Wacksman, 892-1136.
About 400 women fought in the Civil War, impersonating male soldiers in most cases, and others served in a variety of roles: nurses, spies, aides to their husbands, etc., according to Mrs. Wacksman.
---
--- Advertisements ---

---
"The real heroes were the ladies on the home front, although few were of the Scarlett O'Hara type with 19-inch waists, she said. "They rolled bandages, worked in powder cartridge factories, made jams and breads for the troops and raised money at "Sanitary Fairs."
Nurses were first organized by Dorothea Dix, a stern taskmaster who turned applicants away if they were too pretty. It seems Miss Dix and doctors thought pretty girls were too weak and didn't want to have to deal with romantic issues between attractive nurses and soldiers.
Clara Barton had been to Europe and seen the Red Crescent operating during wars there, so she created the Red Cross for America. One of the main jobs of the early Red Cross was identifying soldiers who had died at the Confederate Andersonville Prison in Georgia. "It was a great service to many families and the Red Cross identified from 13,000 to 20,000 dead," said Mrs. Wacksman.
Noted female spies included the notorious Rose Greenhow, featured in a book by Thomas Nast called "The Life of A Spy." Rose knew and entertained many politicians at her home in Washington. She passed on information to the rebels through coded papers tied into the hair of a female slave who carried the messages to Confederate lines.
It was believed that because of intelligence furnished by Rose that Gen. P.G.T. Beauregard knew exactly where the Union troops were going to be at First Bull Run.
She was arrested by the famous detective Charles Pinkerton and confined to her home in Richmond. She escaped and traveled to England and France on a rebel diplomatic initiative but died when her boat sank.
Another rebel spy, Belle Boyd, was luckier. She was captured but the Union ship captain transporting her fell in love and married her.
Actress Pauline Cashman was a spy for the Union in Louisville and of course was captured. Gen. Braxton Bragg let her go because she was sick. Lincoln made her an honorary major.
The exploits of Sara Edmonds, who fought as a Union soldier named Franklin Thompson in the 2nd Michigan Infantry, convinced Mrs. Wacksman to become a re-enactor, she said.
Women were able to pass for men because many soldiers were young boys, some as young as 14, related Mrs. Wacksman. A common ploy was to put a slip of paper with the number 18 written on it in their shoe. When asked how old they were, the youngster would answer "I'm over 18" and not be lying.
###
---
History Article 1527
---

Dave Rogers




Dave Rogers is a former editorial writer for the Bay City Times and a widely read,
respected journalist/writer in and around Bay City.
(Contact Dave Via Email at carraroe@aol.com)

More from Dave Rogers
---
Send This Story to a Friend!
Letter to the editor
Link to this Story
Printer-Friendly Story View
---
--- Advertisments ---