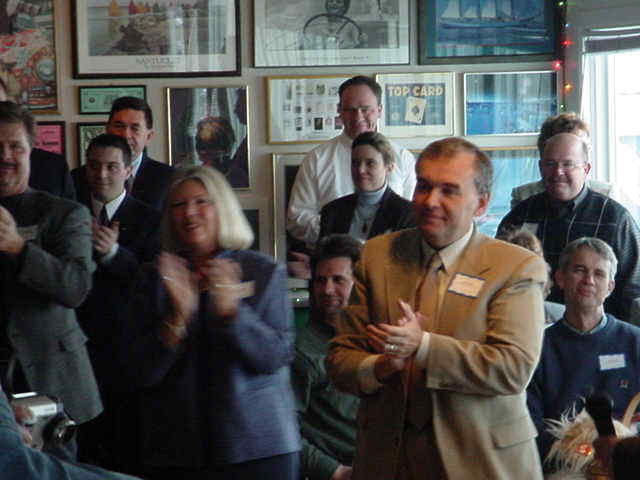 Bay Med CEO Robert Wright and Chamber President-Elect Mitzi Dimitroff "fire up" at breakfast rally.
---
BAY MED RECORDS $14 MILLION TURNAROUND UNDER MCLAREN BANNER
CEO Wright Gives Positive Report to Chamber Breakfast Meeting
Bay Medical Center has recorded nearly a $14 million turnaround in finances in the year since it affiliated with McLaren Health Care of Flint, president and CEO Robert N. Wright told the Bay Area Chamber of Commerce recently.
Wright's report wasa rapid fire fusilade of positive facts about the medical center, mainly the turnaround figures from revenues of $167 million and a loss of more than $10 million in the year ending Sept. 30, 2002, to $170 million in revenues and $3.5 million in net income the following year.
"The turnaround began even before McLaren took over," Wright said privately. As Bay Med struggled two years ago with high costs and a shrinking patient base, Wright was hired to replace former CEO Anthony Armstrong and BrianKay became finance chief replacing Fred Meyer.
Other upbeat portions of his report included:
*McLaren's AA- credit rating has saved Bay Med about $1.5 million in interest charges on long term debt;*Local cancer patients now have access to cutting edge technologies and drugs they can't get in a community hospital through the new Great Lakes Cancer Institute, a joint venture between McLaren and Michigan State University's two schools of medicine; and
*The local hospital will install within 45 days a new rapid CT scanner which reveals calcification of the arteries and will help identify heart problems earlier.
"We're trying to keep our equipment state-of-the-art," said Wright before a packed house at the Lantern.
After a horrendous period of more than two years of continual losses, Bay Med signed on with McLaren, which was still coming through a protracted labor dispute at its 467 bed headquarters hospital in Flint.
Mclaren, which also has Lansing and Lapeer hospitals as corporate members of its not-for-profit (501 (c) 3) organization in addition to Bay Med, has the advantage of size to create the leverage necessary for financial success in the tough world of hospital finance today.
"We've started to see (patient) volume come back," Wright said, indicating that the addition of a new open heart surgeon and vascular surgeon has helped.
Does McLaren call the shots in the management of Bay Med and other affiliates?
"McLaren has certain reserved powers regarding contracts, sales or exchange of property, changes in service or programs -- things you would expect of an owner," said Wright.
Together the four hospitals have 1,709 licensed beds, 65,000 inpatient admissions, and 2.5 million outpatient visits. The hospital group employs 13,000 including 1,700 physicians. It has $1.8 billion in gross revenues and is the fourth largest hospital corporation in the state.
Other services are delivered through the McLaren Health Plan, a Medicaid HMO which has 22,000 "lives" covered, Health Advantage, a third party provider; McLaren Medical Management, which runs 100 primary and special centers employing 150 physicians, and the Visiting Nurses Service of Michigan.
Thehospital group is starting to outsource more services, according to Wright. Mclaren is connected to Provider Health Net Services for $250 million in annual information technology services. Purchasing is handled through a group of 2,000 hospitals nationwide, and human resources are bolstered by a combined leadership development program.
Problems still persist, Wright noted:
Inpatient and Medicare admissions are both up two percent.
*Employee turnover is 6-10 percent and "we're always hiring somebody; nurses especially for the night shift and cardiac cath lab are hard to find," Wright said; the hospital also needs respiratory therapists, ultra sound and operating room technicians;
The Medicare system is underfunded and many physicians are leaving it faced with 4.5 percent cuts or frozen reimbursements, threatening to jam the emergency room. Bay Med is somewhat fortunate with its 10-12 percent Medicare patient load, while in Detroit Medicare patients make up about 40 percent of the total.
*"Post 9-11 the excess insurance market went nuts," with costs skyrocketing from $2.5 million to $5 million a year, Wright said. OB-GYN premiums, for example, are up $50,000 a year. Despite the fact that Michigan is looked at asa national leader in tort reform because of its $250,000 cap on pain and suffering judgments, McLaren is developing an "offshore" insurance company to combat high costs.
"We can't afford to have the best and brightest physicians leave practice and go into engineering or on to greener pastures," he concluded.
---
---

Dave Rogers




Dave Rogers is a former editorial writer for the Bay City Times and a widely read,
respected journalist/writer in and around Bay City.
(Contact Dave Via Email at carraroe@aol.com)

More from Dave Rogers
---
Send This Story to a Friend!
Letter to the editor
Link to this Story
Printer-Friendly Story View
---
--- Advertisments ---