"Mad Bomber" Goes For 4th Straight Win in Illinois
Bay City Native, Cory Peterson Puts Undefeated Record on the Line in Peoria
April 1, 2007 Leave a Comment
By: Julie McCallum, Entertainment Editor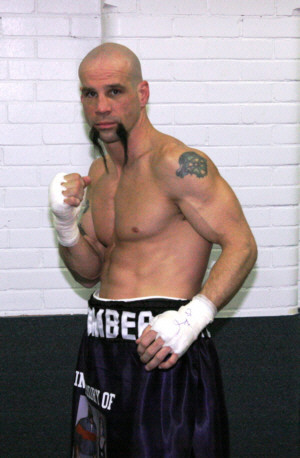 Cory "Mad Bomber" Peterson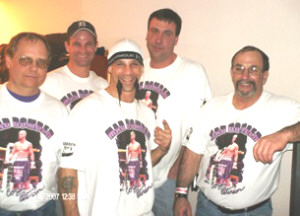 From L/R: Steve Samborn, Scott Peterson, Cory Peterson, Tom Jablonski, John Militello
37 year old, Cory Peterson, a Bay City native, made his Professional boxing debut on November 24, 2006 in Manistee with a 4th round knock-out against Eddie Tice.
Peterson is right handed, 147lbs and 5' 8" and currently has 3 wins & 0 loses (2 KO's). .
Peterson's next fight is April 7, 2007 in Peoria, Illinois. It is a scheduled 6-round fight against Joshua Rodriguez from Davenport, Iowa who also has 2 wins & 0 loses (2 KO's). Peterson said, "This will be a good fight for me to see where my career will take me and how far I will go."
Peterson is also set to fight here in Michigan on April 21, 2007 in Lansing at the Harry Hill Center, 5815 Wise Road. 8:00 pm is fight time, doors open at 6:30 pm. A Ron DeLeon Promotions which features Tyron "Fists of Fury" Harris.
Click Here for more information on the April 21st fight in Lansing.
(Above)
Peterson trains out of a garage in the South End that his coaches put together for him.
(Above)
Peterson with brother and trainer Scott Peterson. Cory said, "My brother is my running partner and trainer, he helps me with my training for my fights."
Peterson continued, "I have 3 other trainers, Steve Samborn, John Militello, and Tom Jablonski, my manager, who all give up their time to help me out, with money out of their own pockets and they are all great coaches so I would like to give them credit for all that they are doing." "If it wasn't for all 4 of them I wouldn't be where I am today."
Peterson added, "I also have a great deal of support from my fiancée Veronica Galindo, my son, Quinn Alvarado, 16yrs, and my daughter Alicia Galindo, 18yrs, and her friends," Peterson said. "My Promoter Ron Deleon from Lansing, who promotes me in Lansing and throughout Michigan is also a big part of my career," Peterson said.
Peterson is in great physical and mental shape. He says he is very determined and his goal is to make it into the top ten Welterweight Contenders in the world. Peterson hopes to one day be a Welterweight World Champion.
His training schedule includes, eating right, a work out at the YMCA every morning for 2 hours, with cardio, including swimming and sauna. Next, he runs with his brother Scott about 3 to 5 miles a day. Then at 6:00 pm till 9:00 pm he works out at the garage/gym, using all the boxing training equipment, hitting the Pads and working the abs.
Peterson said, "My inspirations have been my Mom, Judy Bialobrzeski and My Dad, Mike Peterson, who died while I was incarcerated in 1993. I always said I would dedicate my pro boxing career to my dad once I got out and now I'm doing that," Peterson went on to say.
"My Dad was a great coach who dedicated himself to train me and that's why I'm so dedicated now. I've missed out on alot, because of wrong choices I made at an early age. I know if he could see me now he would be proud at what I'm doing and how I've changed my life around." Peterson said.
Mad Bomber Productions sells T-shirts and buttons, which include Peterson's sponsors which are: Michigan Driving School - Over R Heads Salon - Wedding Daze - All Star Realty - Voodoo Tattoo - Grampa Tony's and Good Life Barber Shop.
If you would like to become a Sponsor, contact: MAD BOMBER PRODUCTIONS - Madbomberproductions@yahoo.com or Tomvpmanager@yahoo.com
---
---
---
Send This Story to a Friend!
Letter to the editor
Link to this Story
Printer-Friendly Story View
---
--- Advertisments ---