Asset Allocation is Critical to Preserving
Financial Wellbeing
Harry Markowitz's Basic Concept Has Withstood the Test of Time
April 1, 2007 Leave a Comment
By: Jerry Cole - Retirement, Investment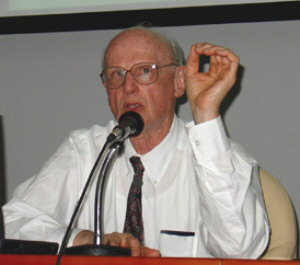 Harry Markowitz won the 1990 Nobel Prize in Economics by his 1952 article "Portfolio Selection" and 1959 book "Portfolio Selection: effective diversification". Markowitz's thoery was regarded as "The Wall Street's First revolution".
People who favor traditional savings vehicles usually have their reasons.
Some need the liquidity that cash equivalents offer, others feel reassured by stability, and still others depend on the guaranteed returns and regular income.
. . . . .
This is embarrasing, but only paid subscribers can view archived articles on MyBayCity.com.

The maximum of 1 free blocks have been shown.
A paid subscription is required to read the full article.

If you have a subscription, please use the Log-in (top of screen) to log in.

If you do not have a subscription you may use the Log-in (top of screen) to subscribe now.


---

Diags build while calculating max body blocks.
P3_Article.ArticleID: 1544
P3_Article.CategoryID: 90
P3_Article.ArticleDate: 2007-04-01 127 months old

1 P3q_CurrCategory records
WHERE CategoryID = '90'
CategoryName [Ask The Experts]
Category_Free []


The following are read in P3v3-t010.cfm
PUB_Free_Article_Age [120] months
PUB_Free_Blocks [1]
PUB_Subscription_Fee [120]
PUB_Subscription_Term [12] in months
session.LoginID [Default]
session.Login_Type [reader]

0 P3q_CurrSubscriber recs ---------------
Subscriber_Paid_From []
Subscriber_Paid_To []

Diag-020:
P3q_CurrSubscriber.RecordCount: 0
P3q_CurrSubscriber.Subscriber_Paid_From: []
P3q_CurrSubscriber.Subscriber_Paid_to: []
Diag-024:
After date test.
Not logged in as subscriber
P3body_Sub_from [2001-01-01]
P3body_Sub_to [2001-12-31]

Diag-100:
P3wkURL [subscriberid ='9191919' ] Used by t010 to get subscriber
P3body_Sub_from: [2001-01-01]
P3body_Sub_to: [2001-12-31]
Diag-200:
P3_PublicationDef.PUB_Free_Blocks: 1
P3body_Subscribed: N

P3body_MaxBlocks defaults to 9999.

Teaser only
P3body_Subscribed NOT = "Y"
P3body_MaxBlocks=1 are allowed

Build P3_Fulltext looping over 12 bodytext records WHERE ArticleID = '1544'
We've already com up with the P3body_MaxBlocks above.
We test it now and display the message at the top if necessary.
---
---
---
Send This Story to a Friend!
Letter to the editor
Link to this Story
Printer-Friendly Story View
---
--- Advertisments ---