Asset Allocation is Critical to Preserving
Financial Wellbeing
Harry Markowitz's Basic Concept Has Withstood the Test of Time
April 1, 2007 Leave a Comment
By: Jerry Cole - Retirement, Investment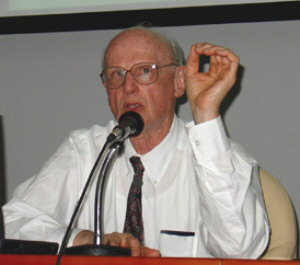 Harry Markowitz won the 1990 Nobel Prize in Economics by his 1952 article "Portfolio Selection" and 1959 book "Portfolio Selection: effective diversification". Markowitz's thoery was regarded as "The Wall Street's First revolution".
People who favor traditional savings vehicles usually have their reasons.
Some need the liquidity that cash equivalents offer, others feel reassured by stability, and still others depend on the guaranteed returns and regular income.
But it is the very safety and stability of cash-equivalent vehicles that keep them from providing for the long haul: growth. In today's world the average 65-year-old is expected to live another 20 years. Many can -and should be- viewed as long-term investors.
Of course, it is understandable to worry about losing assets you can't easily replace. But the need to out-pace inflation and maintain your standard of living may override that concern.
To be sure we have experienced less growth in this decade than we did in the 90's and we have to keep in mind that past performance does not guarantee future results.
Thus as you get older, allocating assets appropriately is critical to preserving your financial well-being.
A gentleman by the name of Harry Markowitz developed the basic concepts of asset allocation. His theories are commonly accepted today. In the 1950's he demonstrated that it was possible to assemble a portfolio of risky stocks that was less risky overall than any of the individual stocks comprising it. In the years since he first propounded his theories, his asset allocation and diversification principles have been the subject of much research.
When Mr. Markowitz initially developed his theories, he spoke in terms of diversifying among individual stocks. However, time has shown that his theories apply even more to diversification of whole classes of assets. A list, by no means complete, of investment categories follows:
Domestic fixed income (government and corporate)

Cash equivalents and short term debt

Intermediate and long term debt

Life insurance cash values

Preferred Stocks

Bonds (including convertible bonds)

Domestic stocks

Foreign stocks

Natural resources

Real estate

Farm

Precious metals

Collectibles

Commodities

The goal of asset allocation and diversification is to arrive at a portfolio that is efficient. An efficient portfolio is one that provides the maximum amount of return for any given amount of perceived risk.
Remember, as someone once said "success is some thing you can't pay for. You buy it on the installment plan and make payments every day."
I invite your questions.
E-Mail Jerry Cole
(The opinions expressed are solely those of the author and not Genworth Financial Securities Corporation.)
---
---
---
Send This Story to a Friend!
Letter to the editor
Link to this Story
Printer-Friendly Story View
---
--- Advertisments ---