History Shows That Dollar Cost Averaging Is Good Investment Strategy
Continuing to Make Investments in Both Good & Bad Times Can Eliminate Risk
April 15, 2007 Leave a Comment
By: Jerry Cole - Retirement, Investment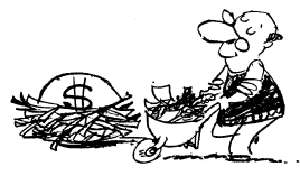 Dollar-cost averaging can ease the sting of making a big one-time investment at the wrong time.
Investor psychology is perhaps one of the most complex subjects on the face of the earth. Throughout history, investors have had different reactions to many similar events. Geo-political events, inflation events, environmental events, etc. You name it and you will find that investors have reacted at times in totally different ways to similar events.
So what can you do to keep a relatively steady positive return on your investments? One thing that history has proven to be true is that by continuing to make your investment in both good times and bad, you will come out ahead. This is called dollar-cost averaging. Dollar-cost averaging can ease the sting of making a big one-time investment at the wrong time. Because of market volatility, this method can help trim investment risk and may lower your average cost per share. With a regular investment you are buying more shares when prices fall.
Perhaps the most important thing to avoid is to rely on emotions to make investment decisions. For example, don't be overly influenced by the media. The constant flow of information and advice from newspapers, television and the Internet can be overwhelming. Wanting to react to what you read and hear is understandable. But it's an unlikely way to reach your long-term goals because the information is often old and isn't always relevant to your retirement needs.
Also, don't follow the crowd. Just because your neighbors, relatives, co-workers, and friends invest in a particular investment, doesn't mean you should too. Your financial situation and investment objectives may differ from theirs. The investment may carry more risk than you should. And if everyone else has already made the investment, the potential for a gain may be affected.
Knowing when to sell is often more difficult than when to buy. Many investors will go out of their way to try to avoid a loss. In fact, studies show that investors who are unlikely to take additional risk when it could result in a gain are willing to assume extra risk to avoid a loss.
Investor psychology comes into play when trying to understand why shareholders don't sell under-performing funds. Poor performance doesn't always prompt shareholders to sell. Selling means admitting we made a mistake. The reluctance to realize losses affects everyone, professionals and amateurs alike. One way to bring yourself to action is to find another like investment you really want to own. Think of it as finding a winner and you may be more ready to get rid of that loser.
The important thing to remember is that steady buying pays off. Don't try to time the market. The streets are paved with the broken bodies of those who thought they could time the market. During the three years from 2000 to 2002, the market did not experience a 10% rate of return, which is the historical rate of return over the last 80 years. However, the market is up over 50% since. Who knew just when the market would turn?
As someone once said -"There is no evidence that profitable market timing can be done on a consistent basis. But there is sufficient evidence to suggest that market timing involves extreme risk of being out of the market at the wrong time."
I invite your questions.
E-Mail Jerry Cole
(The opinions expressed are solely those of the author and not Gen worth Financial Securities Corporation.)
---
---
---
Send This Story to a Friend!
Letter to the editor
Link to this Story
Printer-Friendly Story View
---
--- Advertisments ---