Re-enactors Give Inside View of Numerous Retakes During Civil War Movies
CWRT Dinner Program at DoubleTree Emceed by Dr. John Lore Ends Season
April 16, 2007 Leave A Comment
By: Dave Rogers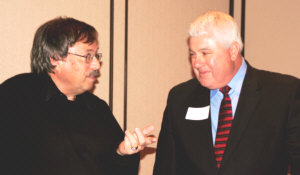 Paul Davis and Dr. John Lore confer on movie re-enactment program at annual dinner of Civil War Round Table last Wednesday. (Photos by Judy Lore.)
Re-enactors Bob Bouquette, Scott Cumming, George Mason and Len McInerney recall their experiences.
Marching in mud for hours.
Retake after retake.
Average seven takes for each scene.
Twenty-six takes the most.
Dust, cold, mud, heat.
Bay Cityans interested in history had an unusual opportunity last Wednesday to hear the inside story about filming Civil War movies.
And to see graphics and film put together by technical director Paul Davis.
"We are so fortunate to have re-enactors with a sense of commitment it takes to do these films," said Dr. John Lore, master of ceremonies. "It's quite extraordinary."
"Re-enactors had tears in their eyes after Jeff Daniels' speech as Col. Chamberlain," he observed.
"Gods and Generals."
"Gettysburg."
"Andersonville."
Len "Irish" McInerney, Gods and Generals; Scott "Soldier Boy" Cummings, Gettysburg; Bob "Sailor Bob" Bouquette, "Andersonville."
These are the guys who endured the trials to contribute to the cause of historical re-enactment and education of the public in cinematic re-enactments of one of the world's most interesting events: the American Civil War, 1861-1865.
"I saw an ad in a Civil War newspaper; they needed actors for Andersonville, lean actors. I sent my resume, picture, description. They contacted me. I headed for Atlanta." -- Bob Bouquette.
Fake blood on the cheek.
Fuller's earth all over their faces to create realism.
Picture taking with a dead "horse."
Attacking Seminary Ridge as a member of Buford's cavalry.
Jamming into the crowd on Pickett's Charge.
Ken Martin and George Mason are other local re-enactors who played in these blockbuster movies
Virginia.
West Virginia.
North Carolina.
Twelve hours in the stockade.
The artillery redoubts.
A stream.
Playing Confederates and Yankees both.
Show up in uniform. Throw dirt everywhere on ourselves and be ready to go.
Live and dead.
"Fresh fish."
Far from home; weeks at a time; living in tents.
A few fleeting shots may turn up visible in the films. In one case, just the knee of a dead Yankee.
"We couldn't do the movie without you guys."
Townies.
Actors.
Backgrounders.
$300 a week.
"Martin Sheen didn't seem like he ever needed any preparation." Worry about some fool shooting a ramrod into your skull.
The bit players from these movies "made" the program at the annual dinner meeting of the 7th Michigan Cavalry Civil War Round Table (CWRT), emceed by Dr. John Lore.
"I don't look at movies the same way anymore," commented Cummings.
Next year the CWRT will enter its fourth year with 32 members, reported Dee Dee Wacksman, chairperson of the group.
---
History Article 1567
---

Dave Rogers




Dave Rogers is a former editorial writer for the Bay City Times and a widely read,
respected journalist/writer in and around Bay City.
(Contact Dave Via Email at carraroe@aol.com)

More from Dave Rogers
---
Send This Story to a Friend!
Letter to the editor
Link to this Story
Printer-Friendly Story View
---
--- Advertisments ---