Tired of High Fuel Prices, Looking for Ways to Improve Fuel Economy?
Switch to AMSOIL
Synthetic Motor Oil
April 19, 2007 Leave a Comment
By: Julie Munger
AMSOIL, motor oil, is the first in Synthetic motor oils. AMSOIL can be used in any mechanically sound gasoline or diesel fueled engine; car, truck, motorhome, boat, dirt bike, lawn mower, and weed wacker to name a few.
Below are ten Reasons Synthetic Motor Oil Is Superior To Conventional Petroleum Oil:
1. Superior wear protection . . . Engines last longer
2. Improves fuel economy . . . More miles per gallon
3. Easier cold starts
4. Cooler running engines in high heat
5. Reduces engine deposits
6. Resists oxidation and thermal breakdown
7. Increases horsepower
8. Superior shear stability and film strength
9. Extended drain intervals produce environmental benefits
10. Reduces exhaust emissions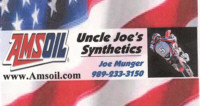 Contact "Uncle Joe's Synthetic Lubricants" at 989-233-3150 to order products. Joe Munger is a Representative and dealer for AMSOIL. You can also go on-line at http://www.amsoil.com
I am a supporter of AMSOIL, during the spring and fall, I spend time out at Bulldogs Motocross track (Millington, MI) , helping out my brother, Joe, (who is also the President of Bulldogs MX Track), with the sales of AMSOIL.
Below are a just a few well known, supporters of AMSOIL you might recognize.
(
Terry Rinker
, Pictured below-top left, celebrated his 3rd Champ Boat victory last summer at the 2006 Dobson Bay City Roar finals on the Saginaw River, Bay City.)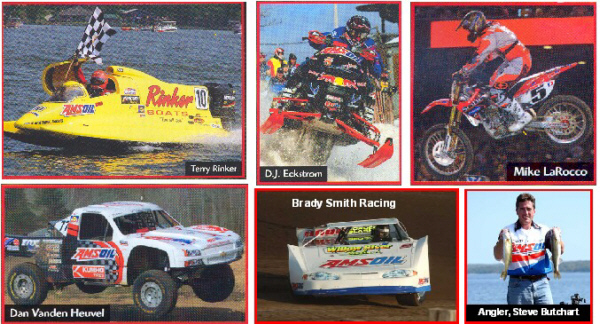 ---
The history of AMSOIL:
During Lieutenant Colonel Al Amatuzio's 25 years as an award-winning jet fighter pilot, he gained a solid appreciation for the extraordinary lubricants that protected the engines of the jets he flew. He knew that only these lubricants, synthetic lubricants, could stand up to the demanding operating conditions of jet engines and the severe temperature extremes they encounter.
He knew also that the same outstanding performance benefits synthetic lubricants provide for jet engines would prove invaluable to car, truck and other internal combustion engines.
In the mid-1960s, Al Amatuzio began an intense period of research and development. He assembled the industry's most knowledgeable chemists and directed the formulation of the first synthetic motor oil in the world to meet American Petroleum Institute service requirements.
The introduction of AMSOIL synthetic motor oil in 1972 set all-new standards for motor oil quality. AMSOIL synthetic motor oil outperformed conventional petroleum motor oils on all counts. It was clear from the start that this innovative product would play a major role in engine performance and engine life.
Today, virtually every other motor oil manufacturer has recognized the superiority of synthetic lubricants and has followed the AMSOIL lead with introductions of synthetic motor oils of their own. They spend millions of dollars advertising their "new" and "revolutionary" products. No one, however, can match AMSOIL experience and technological know-how. And no one delivers products like AMSOIL. Accept no substitutes - AMSOIL is "The First in Synthetics." ®
---
---
---
Send This Story to a Friend!
Letter to the editor
Link to this Story
Printer-Friendly Story View
---
--- Advertisments ---