Dow Jones Heads For 13,000
What Does It Mean To You?
Recessions, Depressions, Bull/Bear Market Corrections Create Variability
April 22, 2007 Leave a Comment
By: Jerry Cole - Retirement, Investment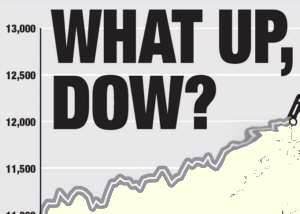 Dow Jones Industrial Avearge Is On the Rise - What Does It Mean?
The Dow is at 12,913 as I write this, less than 100 points from the 13,000 mark! Who would have thunk it? Some of remember the Dow in terms of 3 digits. But do all boats rise with the tide? Not necessarily.
On Wednesday when the Dow closed over 12800 for the first time in history, 19 of the 30 component stocks fell. This condition is known as systematic risk and as the name suggests, it is the variability that is inherent in our market system and is due to general economic and market conditions. Recessions, depressions, bull markets, bear markets, GDP, market corrections - all create variability within the market as a whole.
Another reason all boats may not rise is the business cycle. It may vary with different industries. The business cycle is characterized by changing employment, industrial productivity (e.g. output per unit of labor) and interest rates.
Stocks tend to be more sensitive to the business cycle than bonds do. However, even among stocks there is a large variance in the way individual industries respond to different stages of the business cycle.
For example, shares in "defensive industries" such as utility, food, telephone and beverage companies do not decrease in value as quickly as other securities during a recession, nor does their value increase as quickly during a period of recovery.
Growth industries have a track record of growth year after year. They pay out lower dividends or no dividends at all because they reinvest their earnings in research, machinery and equipment. High technology, E-commerce, and biotechnology companies are examples of growth industries.
Cyclical industries rise and fall with the overall market. The profits, dividends and market prices vary widely as the economy goes through the business cycles. Examples of cyclical stocks include those of steel, railroads and the automobile industries.
To help in evaluating the movement of a particular security, there is a measure called beta. The beta factor measures the degree to which an asset moves with the market as a whole, with the "market" being determined by the S&P 500 index. A beta of 1 means that a security moves in tandem with the market; a beta above 1 means that it is more volatile than the market; and a beta below 1 means that it is less volatile than the market.
Remember to keep in mind your risk tolerance when jumping aboard those boats you think will rise with the tide.
I invite your questions.
E-Mail Jerry Cole
(The opinions expressed are solely those of the author and not Gen worth Financial Securities Corporation.)
---
---
---
Send This Story to a Friend!
Letter to the editor
Link to this Story
Printer-Friendly Story View
---
--- Advertisments ---