Bay City's Warren Avis, Car Rental Pioneer, Leaves Legacy of Positive Ideas
Avis Made $8 Million in 8 Years, Became One of Nation's Famed Entrepreneurs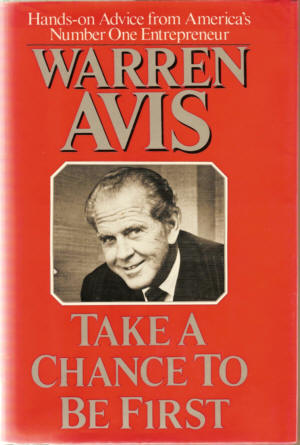 Warren Avis's best known book documented his experience in the rent-a-car business and gave tips to succeed.
Warren Avis, one of the nation's top entrepreneurs, has left a legacy of positive thought that Bay City, and Michigan, sorely needs in today's transitional economy.
Avis, perhaps the best known, most famous Bay City, after Madonna, died at age 92 last week and was buried in Elm Lawn Cemetery here.
Although the Avis firm became famous for bragging they were No. 2, Avis himself had an overwhelming drive to be No. 1. "You don't have to be No. 1, but you have to want to be No. 1," he philosophized.
Hardly anybody remembered Mr. Avis since he graduated from Central High in 1933, joined the Air Corps and became a bomber pilot with service in World War II and after the war became a Ford dealer in Southfield.
His fortune was made with the nation's first car rental business to be located at airports. It took Hertz several years to realize that Avis had "one-upped" them, mainly because the larger company wouldn't admit that airports were where the market was best.
He stressed team-building and employee participation in the decision-making process. He called his approach "the not-so-lone ranger," noting that consensus decision-making was the best way to solve problems. He copyrighted a procedure for team management processes.
In one of his seven books, "Take A Chance to Be First," Avis wrote: "I put my Air Force savings into my Ford dealership; and then, in turn, I put my Ford profits into the Avis car-rental system. You work hard -- your money should too!"
Avis started in 1946 with $10,000 of his own and a borrowed $75,000 at airports in Miami and Ypsilanti's Willow Run. From the beginning with two employees and less than 200 cars he grew to multiple sites in eight years and sold out for $8 million -- $1 million a year for each year he was in business.
How did he do it? Avis wrote about personal qualities necessary to be a successful entrepreneur:
No. 1: A belief that nothing in your business is impossible;
No. 2: A willingness to lose the business;
No. 3: Sufficient start-up money;
No. 4: A determination to make your first product profitable; and
No. 5: A pragmatic approach to business and life. He wrote: "The most successful entrepreneur is a person possessed by a drive to excel -- and that often means beating out all the other competitors in the race."
The company he started now is called Avis Rent A Car System LLC, part Avis Budget Group, Inc., Parsippany, New Jersey.
Later, Avis headed Avis Enterprises, a high-technology electronics investment firm in the Midwest, Avis Sports Inc., with wholesale sporting goods businesses in Portland, Ore., Sauk Rapids, Minn., and Morehead City, N.C.
"Mr. Avis personally, you knew when he walked in the room he was somebody, he had that presence," an associate said. "He was shrewd but he truly believed in the team approach and listening to people at all levels." Avis made a second fortune converting rental properties to condominiums and founded Behavioral Science Training Laboratories Inc., based on applying human relations in business management.
He would later write seven books, including his 1986 business memoir "Take a Chance to be First," which chronicled the Avis Rent A Car story. Other books were entitled "The Avis Rent-A-Car Adventure," "The Gunslinging Entrepreneurial Personality," "How To Raise Venture Capital and Deal With Banks," "Crossing the Megabuck Border into the Big Time," "Avis's Marvelous Mistakes," and "The Basic Secrets for Hitting the Business Bulls-Eye."
Of course, having the by then famous Avis name helped sell his books and enhance his reputation as one of the nation's best-known entrepreneurs.
Another book was "Avis Axioms for Entrepreneurs." Along the way Avis proved he was for real by starting Avis Farms in Ann Arbor and making good in other ventures worldwide.
In 2002 he was honored with an exhibit at the Automotive Hall of Fame in Dearborn.
In 2002, Avis helped dedicate an exhibit in his honor at the Automotive Hall of Fame in Dearborn.
In addition to his farm, Avis and his wife maintained homes in New York and Acapulco, Mexico, where he enjoyed para-sailing and other water-sports.
Avis is survived his wife of 26 years, and three children and six grandchildren from a previous marriage. A private funeral was held Saturday in Bay City.###
---
---

Dave Rogers




Dave Rogers is a former editorial writer for the Bay City Times and a widely read,
respected journalist/writer in and around Bay City.
(Contact Dave Via Email at carraroe@aol.com)

More from Dave Rogers
---
Send This Story to a Friend!
Letter to the editor
Link to this Story
Printer-Friendly Story View
---
--- Advertisments ---