Original Toughman Contest Returns to Fox TV In June!
Toughman & Fox Sports Net seek to Separate the Might from the Mouthy
May 13, 2007 Leave A Comment
By: Julie McCallum, Entertainment Editor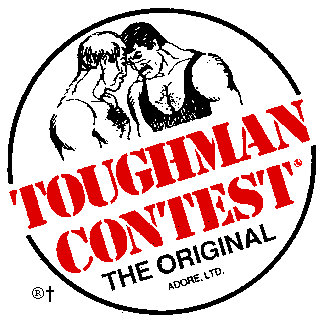 It's the contest with more guts, more glory, and more girth than any other sporting event -- the Original Toughman Contest, which is as REAL as it gets. Big men with big dreams, with real guts, and real heart attempt to work their way through their own local event with one goal in mind - to be crowned the "Toughest Man Alive"!
A formal announcement was made by the Original Toughman Contest slated for June 1 & 2 at 8:00 p.m. at the historic Heritage Hall in Ardmore, Oklahoma.
Spokesperson Lydia Robertson reported the two day event will be broadcast on national television, "That's right, the fighters will be the stars on Fox Sports Net's Best Damn Sports Show, Period, and the crowd will be the "studio audience" for three airings scheduled for June 28. Cameras, the fighter entry way, and $150,000 worth of lighting, editing technology, blood, bruises and babes will make the Original Toughman Contest's return to television a huge "hit".
Emails and calls from interested fighters have already started pouring in to the 1-800-TUF-GUYS line since almost $2,500 in prize money will be given away more than a full field is expected.
Fighters in the southern Oklahoma and northern Texas area are expected to come from all walks of life: a roofer from Ardmore, a law enforcement officer from Sherman, an unemployed sanitation engineer from Wichita Falls, and assorted other wranglers, roughnecks, farm boys, fat boys, bouncers, and bar room brawlers. Every tough man and woman is invited and they will all be looking to fight for fame and fortune in front of friends and family,
Interested participants can sign up by calling 1-800-TUF-GUYS. In addition to the cash, champions will receive, embroidered jackets proclaiming them "Champ" and bragging rights! Toughman Contest divides the determined from the die-hard talkers, and the tough from the timid.
Featuring fighters from the immediate area, the Toughman Contest allows the armchair athlete to test himself in a sanctioned brawl with a trained referee, headgear, large gloves, mouthpieces and padded kidney belts.
The losers can go home, and the winner prepares to fight again and again ...and again - until there is just one champion left in each of the divisions. There will be a Light Heavyweight Division from 160-184 and Heavyweights will be from 185-400 pounds.
Often imitated, never duplicated, the Toughman Contest was the subject of a Twentieth Century Fox movie that starred Dennis Quaid and is the basis for a video game that features one of the more famous Toughman Alumni -
ButterBean
, plus this is the event that gave rise to
Mr. T
. and
Grady Brewer
, the most recent winner of The Contender. Brewer got his start in the Lawton, OK Toughman Contest 7 years ago. Tough man aired on Fox's FX Network from 1999 to 2003.
Toughman was created 28 years ago in Bay City, by Art Dore (who will serve as the ring announcer/master of ceremonies on the TV show) who wanted to give the armchair athlete a chance to compete in a "Golden Gloves" for grown-ups fight tournament, "Toughman has the best safety record among all forms of boxing thanks to our very short rounds and maximum safety equipment. But never forget, the fights are real!"
---
Sports Article 1583
---
---
Send This Story to a Friend!
Letter to the editor
Link to this Story
Printer-Friendly Story View
---
--- Advertisments ---